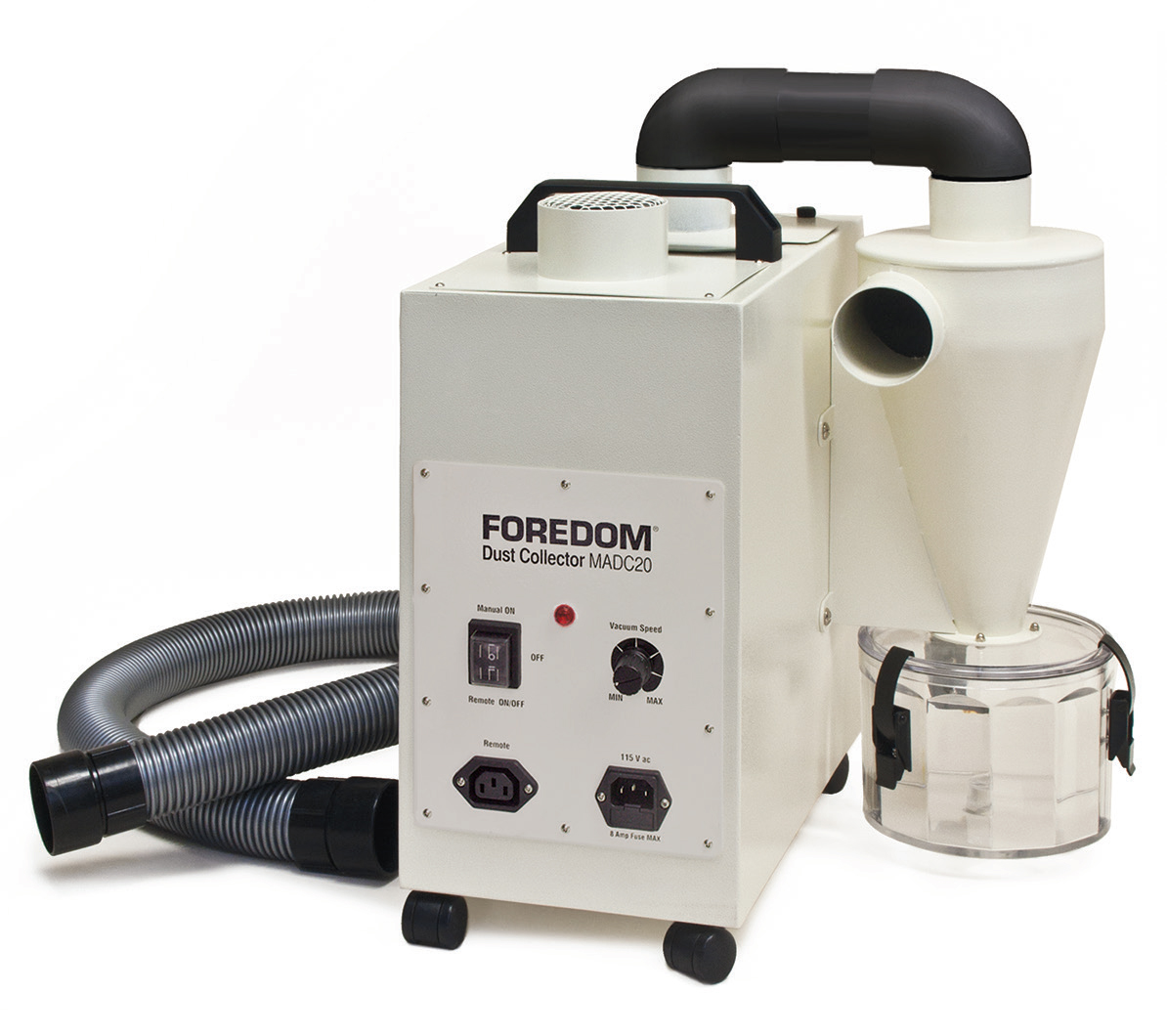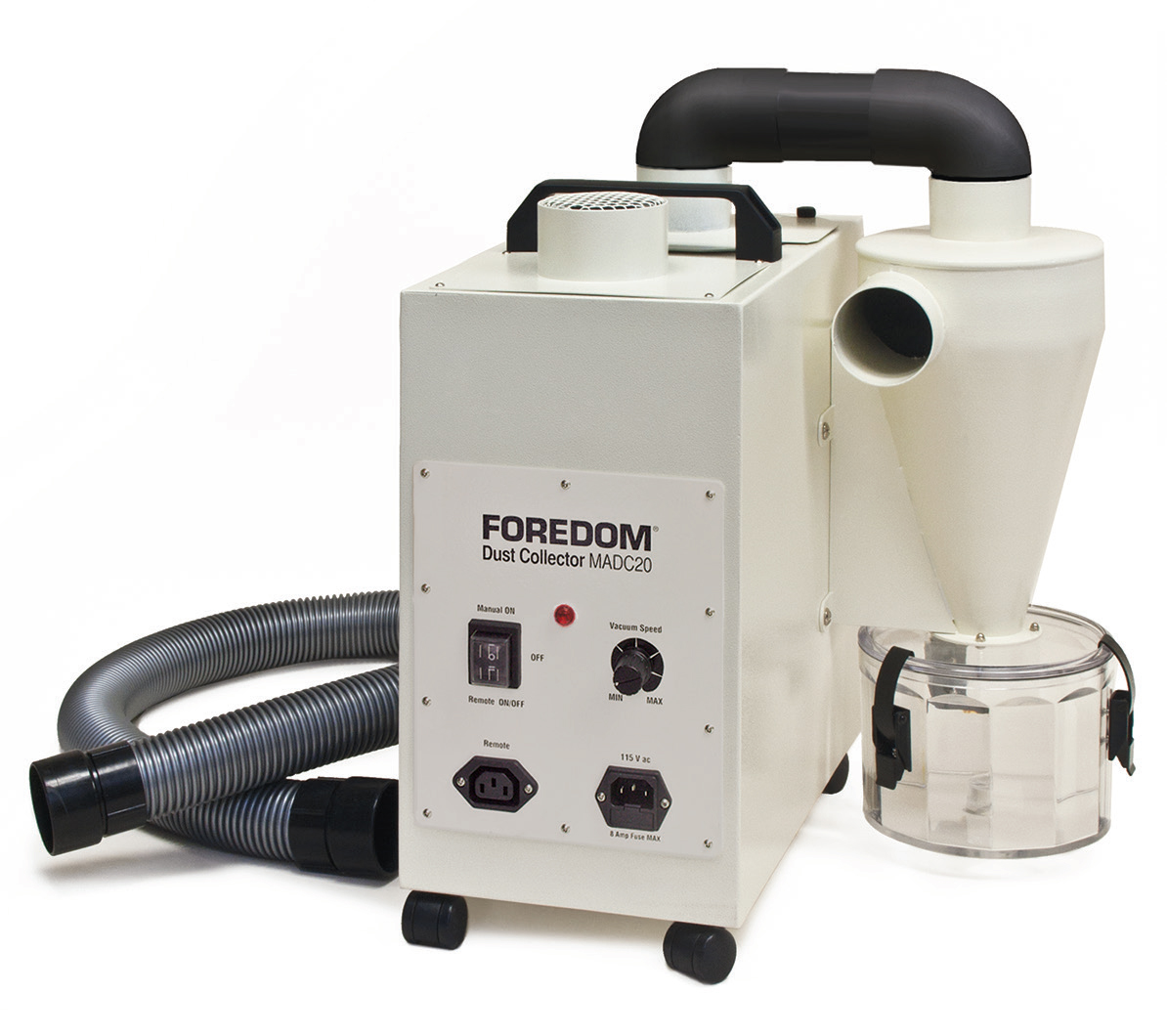 Pollution Control / Metal Recovery
---
1 Minute Read
This segment from the 2017 MJSA Journal November issue is dedicated to metals, tools, software and more that aids jewelers and designers in their quest to create their masterpieces.  In this article we talk about Pollution Control / Metal Recovery.
See related topics:
********************
Pollution Control / Metal Recovery
MADC20 Dust Collector
Suitable for use with dry materials only, the MADC20 Dust Collector filters dust and debris from grinding, sanding, buffing, filing, and polishing operations. It comes with a polycarbonate collection chamber that pre-filters 99 percent of all debris and a HEPA filter that eliminates 99.98 percent of debris up to 0.3 micron. With a suction of 115CFM, the system comes with a cyclone collection chamber, 5-foot vacuum hose assembly, a remote switch box and cable for powering on the unit without having to use the main power switch, two HEPA filters, and a 6-foot power cord. Designed to be whisper quiet at 52 decibels, the system can be operated as a standalone unit or as a companion to Foredom's MALC15 Lighted Work Chamber, MALC30 Jumbo Chamber, and MADCH-6 Fishmouth. Weighing 30.5 lbs, the unit has casters for easy portability and measures 19.5 inches high by 15.25 inches wide by 15.25 inches long. Contact: Foredom ElectricCo., 16 Stony Hill Road, Bethel, CT 06801; 1-203-792-8622; fax 203-796- 7861; e-mail customerservice@blackstoneind.com; foredom.net.
In association with

The award-winning Journal is published monthly by MJSA, the trade association for professional jewelry makers, designers, and related suppliers. It offers design ideas, fabrication and production techniques, bench tips, business and marketing insights, and trend and technology updates—the information crucial for business success. "More than other publications, MJSA Journal is oriented toward people like me: those trying to earn a living by designing and making jewelry," says Jim Binnion of James Binnion Metal Arts.
Click here to read our latest articles
Click here to get a FREE four-month trial subscription.
You assume all responsibility and risk for the use of the safety resources available on or through this web page. The International Gem Society LLC does not assume any liability for the materials, information and opinions provided on, or available through, this web page. No advice or information provided by this website shall create any warranty. Reliance on such advice, information or the content of this web page is solely at your own risk, including without limitation any safety guidelines, resources or precautions, or any other information related to safety that may be available on or through this web page. The International Gem Society LLC disclaims any liability for injury, death or damages resulting from the use thereof.
---
The All-In-One Jewelry Making Solution At Your Fingertips
When you join the Ganoksin community, you get the tools you need to take your work to the next level.
Become a Member
Trusted Jewelry Making Information & Techniques
Sign up to receive the latest articles, techniques, and inspirations with our free newsletter.