This segment from the 2017 MJSA Journal November issue is dedicated to metals, tools, software and more that aids jewelers and designers in their quest to create their masterpieces.  In this article we talk about Pollution Control / Metal Recovery.
See related topics:
********************
Pollution Control / Metal Recovery
MADC20 Dust Collector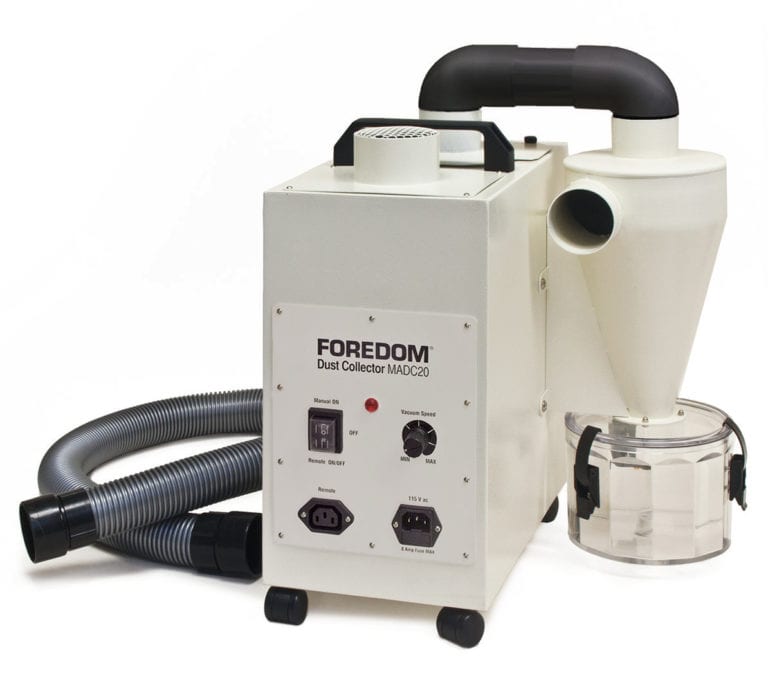 Suitable for use with dry materials only, the MADC20 Dust Collector filters dust and debris from grinding, sanding, buffing, filing, and polishing operations. It comes with a polycarbonate collection chamber that pre-filters 99 percent of all debris and a HEPA filter that eliminates 99.98 percent of debris up to 0.3 micron. With a suction of 115CFM, the system comes with a cyclone collection chamber, 5-foot vacuum hose assembly, a remote switch box and cable for powering on the unit without having to use the main power switch, two HEPA filters, and a 6-foot power cord. Designed to be whisper quiet at 52 decibels, the system can be operated as a standalone unit or as a companion to Foredom's MALC15 Lighted Work Chamber, MALC30 Jumbo Chamber, and MADCH-6 Fishmouth. Weighing 30.5 lbs, the unit has casters for easy portability and measures 19.5 inches high by 15.25 inches wide by 15.25 inches long. Contact: Foredom ElectricCo., 16 Stony Hill Road, Bethel, CT 06801; 1-203-792-8622; fax 203-796- 7861; e-mail customerservice@blackstoneind.com; foredom.net.