Manufacturing a Free-Form Pendant
This article features the manufacturing steps for a one-of-a-kind free-form pendant designed and created by Barney Jette . The center stone is a one-of-a-kind chrysoprase carving by Steve Walters, Ramona , CA and is highlighted by a cultured pearl.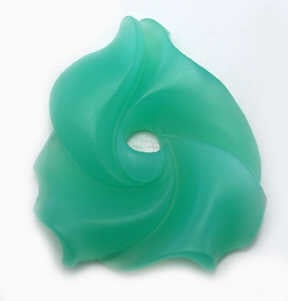 This chrysoprase carving was done by Steve Walters of Ramona, CA. Barney Jette designed a pendant and will create the model using the build-up wax technique. He will cast the model in 18-karat yellow gold. His overall design goal is not to compete with the beauty of the carving, but to enhance it with a subtle framework which echoes its form while protectively cradling the delicate outline.
| | |
| --- | --- |
| | Jette begins by smearing a light coating of oil over the carving. This will keep the wax from sticking to it during the build-up process. Next he places the carving over a piece of sheet wax that's about 1.4 millimeters thick. He uses his Foredom Wax Carving pen with the scoop tip to build-up wax around the carving. |
| | After creating his design, Jette trims away excess wax and shapes the perimeter of the framework using a scalpel, wax files and other wax tools. |
| | After the basic shape is formed, Jette does additional work, building-up and forming various parts of the design. The Foredom Wax Carver wax pen features a compact control box, an extremely flexible cord with a lightweight cork-insulated handpiece. It comes with 3 popular shape tips or with a complete set of all 7 tips. Tips are available individually. All tips are made of brass and can easily be reformed or shaped to meet the user's specific requirements. |
| | Jette puts the finishing touches on the pendant. To build-up the pendant design, he used New York pink wax that he melted into a block. With the Foredom Wax Carver pen and scoop tip, he takes wax from it to create his design around the carving. |
| | For Jette, the back of the pendant is as important as the front. Here he meticulously shapes the built up wax on the back, leaving the stone carver's etched signature visible. |
| | The pendant is completely built-up, shaped and smoothed using wax solvent. It is shown here with the cultured pearl nested where it will be set after casting and finishing. |
| | After casting and pre-finishing by Jette, Rod Smith, Jette's shop foreman solders on the pearl post and does some pre-polishing using 3M's Radial Bristle discs. The bristle discs are supplied in a variety of grits and diameters and are designed to use progressively. Here, Smith is using the pink disc which is equivalent to pumice grit. Because there are 6 steps in the progressive system, Smith finds it easier to use the Foredom No. 20 quick release handpiece with a lever-type collet control device to quickly change the tools. |
| | After pre-polishing, Smith places the pendant onto a holding device he's created for use in his engraving block. He made the device from wood and uses doping wax to hold the objects he's working on. To mount the pendant in the holding device, Smith heated the wax and carefully and placed the pendant on it. After the wax has cooled, Smith placed the carving in the pendant. It's now ready to set. |
| | Smith uses his Foredom Micro Motor Reciprocating Handpiece to set the gemstone carving. The unit can be used either manually or with a foot control and Smith selects the foot control option at the control box. He adjusts the impact of the reciprocating handpiece by twisting the control on the handpiece. He starts with medium impact and turns on the control box. He depresses the foot pedal and places the hammer point precisely at the position where he wants it and applies downward pressure, engaging the impact. |
| | He hammered metal downward closing the free-form bezels at the bottom of the pendant first. Next he uses inward pressure as shown in this photo to tighten the assembly. Then he works his way toward the top portion of the pendant, securing the carving. |
| | After the setting is completed, Smith removes the pendant from the holding device and cleans it in denatured alcohol and the ultrasonic. After the pendant is cleaned, he uses a graver to bright-cut the top portion of the bezel that he hammered. Next, he uses Foredom Rubberized Abrasive Wheels. They contain ceramic abrasives and run cooler than standard rubber wheels. There are six wheels in the progressive system and the grit ranges from 120 (coarse) to 1500 (super-fine). |
| | The pendant is ready for polishing and Smith uses a small natural bristle brush to polish in the tight areas. Then he uses a loose-stitched buff to polish the larger areas. For both polishing procedures, he uses Foredom's Platinum Blue polishing compound. |
| | The cultured pearl is glued to the post for the final step. Here are the front and back views of the finished product. |
For questions related to this procedure, contact Barney Jette. Jette operates a design and manufacturing retail store specializing in design, custom order, repair and they produce a line of one-of-a-kind original designs. Jette can be reached at barneyjettejewelry.com
Ganoksin is sponsored by
By Mark Mann
Technical Contributions b
y Barney Jette and Rod Smith
All rights reserved internationally. Copyright © Mark Mann. Users have permission to download the information and share it as long as no money is made. No commercial use of this information is allowed without permission in writing from Mark Mann.by Mark Mann - Technical Contributions