Artist Darcy Miro takes the term "precious jewelry" and turns it on its head. Her careworn cuffs, rings, and neckpieces, most constructed of sterling silver or 18-karat gold, are more wearable sculpture than status symbol; they seem almost embarrassed to be valuable. An occasional shy diamond, garnet, or sapphire peeks from beneath a tendril or under a fold.
Cuff, 1999
Sterling silver, diamond
2 3/8 x 2 1/4 x 5/8″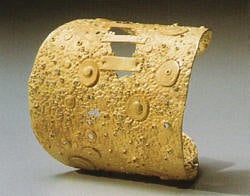 Cuff, 2001
18k gold
3 x 2 ¼ x ¼"
These "precious" pieces are not coddled into being. Miro pierces, pulls, and otherwise batters her wax casts to reflect forces of nature few jewelry designers choose to explore: erosion, decomposition, eruption. Once the piece is case, Miro works the metal itself, leaving it grainy as an anthill or smooth as a pebble-or a little of both.
The resulting work is like a fragment of a coral reef, shell, or rusted metal found washed up on the sand. The owner herself becomes the final link in the creative process, as the piece bends and changes color with wear.
Cuff, 2001
Sterling silver
3 x 2 ¼ x 3/8″
Neckpiece, 1999
Sterling silver, diamond
7/8 x 5 x 3/8″
Each Miro piece seems both thoroughly modern and at the same time an archaeological find. One recent large-scale sculpture commission, a paneled, rough-hewn bronze hearth, dares to remind its streamlined surroundings of the forests and ore from whence they came. With every jagged surface, with every hidden jewel, Miro questions the concept of material pleasure. Her art seems an ironic reminder that the joy found in it is fleeting; that the work itself will long outlast the wearer.
Ring, 2001
18k gold
1 x 5/8 x ¼"
Cuff, 2001
18k, gold
3 3/8 x 2 x 3/8″