Some artists leave the big city reluctantly, chased out by high rents. For Owen Sound, Canada-based jewelers Andrew Goss and Sandra Noble Goss, living away from an urban center was a conscious choice that has driven their careers.
The pair left Toronto in 1973, and haven't looked back since."We wanted to live in the country. We thought it would be neat to be self-employed, and that jewelry was a way we could do it, "recalls Sandra, who now laughs at the casual way they chose their life's calling. Night-school courses and a year at Hornsey College in England were followed by formal training as jewelers at George Brown College in Toronto.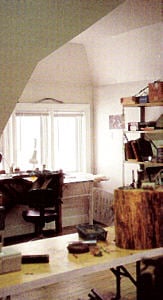 Upon graduation, the couple headed for the countryside. In 1976 they built a solar-heated house fifteen miles outside of Owen Sound, a town of 20,000 situated on Georgian Bay, 100 miles northwest of Toronto. When the struggle of raising two children in an isolated rural area became too formidable, they sold the house and moved into town. A renovated cottage now offers a lakeside retreat.
A gallery-like showroom is the first space you encounter upon entry into their turnoff-the-century home, featuring terra-cotta walls, custom-built display cases, and spotlights. The living area, painted in golden yellow, is filled with art by family and local artists. Ceramics figure prominently in the mix – Sandra points at that her first choice for night-school classes way back when was pottery, but the waiting list was too long! An office is tucked way on the second floor, along with family bedrooms, one of which will become a photography studio when their university-age sons leave home permanently.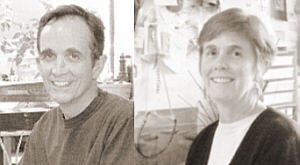 The Gosses' studio occupies a renovated third-floor attic. White walls, plants, and lots of windows give the space an airy feel. In the winter Georgian Bay is visible, as is the river that runs behind their property. It's hard to believe that the house is right downtown. Each artist's bench is beside a window; the adjacent walls reveal their individual sources of inspiration. Andrew's philosophical bent is evident through poems and quotations from thinkers such as Lao Tzu and Andre Breton. In Sandra's area, images of paisley designs, seashells, and a postcard of the young Queen Elizabeth II in full regalia reveal her appreciation of intricate pattern.
"The motivation of the concrete is a reaction against preciousness," says Andrew; his works include pendants in which diamonds are submerged in concrete. Conceptually challenging as a material for jewelry, concrete also presents practical difficulties. "It makes things much more chaotic in my life, "he says; the mess concrete creates doesn't mix ewll with the cleanliness required in metalsmithing. A second worktable was recently added, to give both artists enough room to work.
In addition to ensuring sufficient physical space, the pair have also learned to give each other creative space. One unofficial rule is that when one of the artists is exploring a particular technique or material, the other will leave it alone. "At one point we did have to figure it out," Sandra explains. "Because if you see someone else doing something new, you automatically say, 'Oh you could do this.' But it interferes with that person's development of that idea."
While their work has evolved in different directions, some friendly creative cross pollination does occur. Sandra uses etching to create jewelry, wall pieces, and books that speak of memory and the passage of time. Andrew recently borrowed her technology to etch the word "inappropriate" into concrete bricks – his comment on how the use of concrete in jewelry is often perceived.
The issue of influence comes up again when I ask how living in Owen Sound has affected their work. Sandra fells that no living in a big. Fashion-oriented center may be more conducive to developing a distinctive style. "You tend to go off in your own direction," she observes. Andrew speculates that their business might have been quite different if they'd stayed in Toronto, with commission work replacing their current bread-and-butter activity: successful production lines that are sold in galleries across Canada. The income from these lines, as well as the sales of their one-of-a-kind pieces, means they need only do a few selected craft shows each year. They admit that what they've been able to achieve has been possible precisely because of their rejection of the urban lifestyle. For the Gosses, small is beautiful.