Author
Barbara Isherwood
Website: http://www.snagmetalsmith.org
---
Articles and Videos by Barbara Isherwood: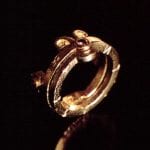 Ken Vickerson's jewellery is a study in balance. While respected as a consummate craftsman, a deep philosophical streak compels this artist to move beyond decoration into the realm of ideas. Like many jewelers, Vickerson was introduced to metalsmithing by chance….
Some artists leave the big city reluctantly, chased out by high rents. For Owen Sound, Canada-based jewelers Andrew Goss and Sandra Noble Goss, living away from an urban center was a conscious choice that has driven their careers. The pair left Toronto in 1973, and haven't looked back since.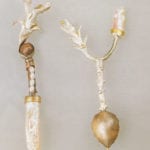 "I make jewelry the way I draw," says Vivienne Jones. "That's one of the great thins about metal, you can do that." That Jones cites drawing, a very direct and personal mode of expression, as the closest parallel to her jewelry, seems fitting. Her reputation as one of Canada 's preeminent artist-jewelers stems from a body of work that is likewise spontaneous, intimate in scale, and highly expressive.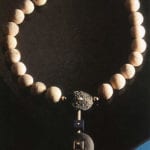 Someone once called Donald Stuart a Renaissance Man, an that doesnt seem too far from the truth. In a career that has stretched over 35 years, Stuart has mastered the arts of gold and silversmithing, textile weaving, and woodworking. He has taught jewelry-making around the globe, has founded a unique postsecondary jewelry program, and is an acknowledged leader in the craft world. Not content with his long list of achievements, exhibitions, commissions, titles, awards, and accolades, Stuart presses on, creating "Souvenirs," a new body of work that combines his uncanny design sense and signature inlay technique with a personal iconography that is a fresh element in his work.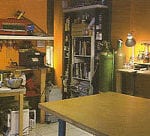 At Nanopod Hybrid Studio in Toronto, owner and chief alchemist Tosca Terran forms metal and glass into elegant adornments of otherworldly beauty. Under her leadership students learn to manipulate materials, and follow her path in the creation of decidedly unusual jewelry. Located in a storefront on a busy corridor in Torontos Annex area, the studio is also a retail outlet for Terrans work. Behind glass windows frosted with the swirling tentacle designs that are part of the Nanopod "look," lies a compact 400-square-foot space that is a veritable beehive of activity; an appropriate metaphor, considering the uncanny organic feel of Terrans work..