Author
Chris Ploof
Website: http://www.chrisploof.com/
---
Articles and Videos by Chris Ploof: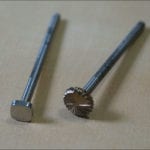 By Old burs can serve a number of useful purposes in daily bench work. Here are two tips from jewelers at Chris Ploof Studio in Pawtucket, Rhode Island, for giving new life to old burs.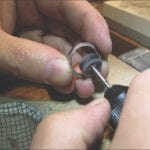 With the high price of gold, jewelry makers are looking to incorporate alternative metals into their lines. I frequently work with palladium and stainless steel in my shop. The following are a few tips and tricks you can use to work more effectively with these metals. Soldering Secrets Whenever I solder palladium and have to forge it afterward, I steer clear of palladium or platinum solders, opting instead for 20 karat white gold hard solder. This enables me to have seams that can withstand the various types of forging I do to combine palladium with other alternative metals, such as stainless steel. If the solder seams are precise and meet well, it is difficult to detect any color difference.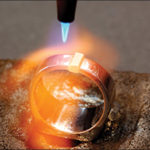 In this article Chris Ploof shares tips for sizing, welding, and engraving palladium.
If you're just starting to work with palladium or interested in taking the leap, you should know a few critical details about its working characteristics. Palladium isn't difficult to work with; it's just different. Combining some gold habits with some platinum habits is the key to using this newly popular white metal at the bench.