By old burs can serve a number of useful purposes in daily bench work. Here are two tips from jewelers at Chris Ploof Studio in Pawtucket, Rhode Island, for tool reincarnation of giving new life to old burs.
If you take an old bur and grind off the teeth, you can make a great burnisher for smoothing out porosity or surface-hardening a piece.
Giving New Life to Old Burs
Smooth It Over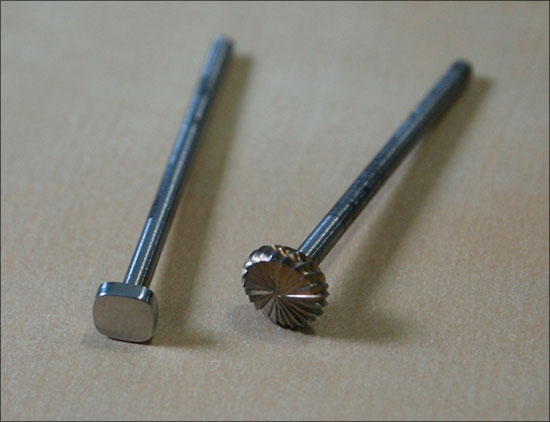 To create the burnisher shown here (above), take a round-edge wheel bur and square it off by flattening the sides into four even facets. Because the corners of the burnisher will perform all of the action, keep them parallel with the shank of the bur so they make contact evenly, and polish them well.
Keep it Cool
Also, when grinding the bur into shape, be sure to keep it cool by constantly dipping it in water so you don't lose the temper of the tool steel.
You can turn virtually any old bur into a burnisher; for example, you can use a bud bur to make a small five-sided burnisher that gets into crevices and small areas. The options are only as limited as your imagination-and your used tool supply