At Nanopod Hybrid Studio in Toronto, owner and chief alchemist Tosca Terran forms metal and glass into elegant adornments of otherworldly beauty. Under her leadership students learn to manipulate materials, and follow her path in the creation of decidedly unusual jewelry.
Located in a storefront on a busy corridor in Toronto's Annex area, the studio is also a retail outlet for Terran's work. Behind glass windows frosted with the swirling tentacle designs that are part of the Nanopod "look," lies a compact 400-square-foot space that is a veritable beehive of activity; an appropriate metaphor, considering the uncanny organic feel of Terran's work.

The innovative nature of Nanopod Hybrid Studio is characteristic of the forward-thinking owner. Born in San Francisco, Terran made Taos, New Mexico, her home for 13 years before moving to Toronto in 2001. In addition to being trained in metalsmithing and glass, Terran is a computer wiz who has been incorporating multimedia into her jewelry since 1997, when she was invited into the exhibition, 'Taos, The Next Generation." "The impetus to stretch the boundaries for what I was doing was the fact that some of the painters in the exhibit were vocally upset that a 'jeweler' had been curated to exhibit work beside theirs," says Terran. "Although none of the painters had seen my work, it was a classic case of craft versus art."
Terran turned a negative into a positive, and has been engineering fascinating marriages of precious metal and high technology ever since, inspired by biotechnology, anatomical studies, and all things microscopic. "I like to mimic organic forms and create 'transgenic' organisms," says the artist, whose creations often appear ready to wiggle away. In the 'Transgenic Implants" series (2003-07), she combined touch sensors, sterling silver, LED, a motor, motion detectors, animal intestine, sound chips, and muscle wire to create strange prostheses with lives of their own. For her installation Orbis Tertius at Toronto's *new* gallery in 2004, Terran supplemented her futuristic adornments with experimental video, creating an immersive environment inspired by a Jorge Luis Borges story about an alternative world.
Terran got a taste of running a studio open to the public while working out of Fishbowl Studio, a space in Toronto's fashionable Historic Distillery District. But visitors to this tourist destination were not the right audience for her adventurous work. However, when instructing students there, "the unexpected happened," she says: "I realized that I really enjoyed teaching."
Searching for a space where she could work, teach, and showcase her jewelry, Terran chose Harbord Street, just west of the University of Toronto and close to downtown. Lined with boutiques, specialty bookshops, a well- known bakery, and both take-out and high-end restaurants, Harbord attracts university students, alternative culture buffs, and Annex residents turned off by shopping malls. Combining her studio with a teaching facility and small gallery provides Terran with additional revenue streams that she can schedule to her convenience. Although small, Nanopod Hybrid Studio is fully equipped. "I am set up for almost all aspects of metalsmithing: enameling, hydraulic press, respousse, centrifugal casting, electroforming, plating/anodizing, etching, including screen-printing in the basement," says Terran.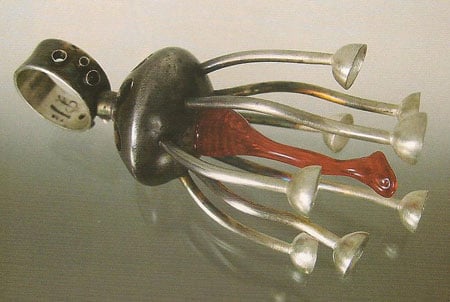 TOSCA TERRAN
Perelandrian Ring,
2006-08 sterling silver,
flameworked/blown glass 4 x 2 3/4 x 1 3/4 "
Nanopod also has facilities for glasswork, including torches and annealers for flame working and a larger kiln for glass fusing and casting. "I was looking for a medium that could offer transparency and convey a sense of "flow," says Terran, who added glass to her artistic arsenal several years ago. "I also discovered and was greatly inspired by the glass works of the Blashka brothers, who made scientific models, and works based on the drawings of biologist Ernst Haeckel." Her lovely Perelandrian Ring features a glowing red glass tentacle surrounded by silver tendrils that sprout from a mushroom-shaped base perched high on a band. Terran does her multimedia work at home, where she shares a digital audio and video studio with her collaborator and partner Andrei Gravelle.
Courses and workshops at Nanopod cover jewelry making, glass fusing, and flame working, in groups of up to seven students working at the six available benches. The student work on her web site, nanopod.tv, illustrates the imaginative approach Terran elicits from her pupils.
Nanopod's Open Studio allows individuals to rent bench time to work on their projects with or without Terran's guidance. Terran also offers limited private workshops and individual instruction. "While it's not very efficient for me to teach one on one, I occasionally do so, based on the merit or my interest in the project," says Terran. "One of my recent private students was a mount maker for the Art Gallery of Ontario who was looking at expanding their resources to mount an upcoming exhibit."
Each December Nanopod hosts the Nanotacular, a holiday sales event showcasing local artists' craft-based work in all media. Guests enjoy hot apple cider and treats while talking to the artists and choosing from one-ofa-kind and limited production pieces. These events increase awareness of Nanopod and generate sales, although Terran reports that most of her work is in fact sold online.
Her current work-in-progress, "Descent to Perelandra," is a series of flame-worked and blown glass and metal adornments inspired by Descent, a C.S. Lewis story that describes "…a misty world of strange desires, sweet smells, and delicious tastes…" Terran and Gravelle are writing a soundtrack for an installation that will evoke the atmosphere of this magical land. Multiple elements linked by a central concept is a key aspect of Terran's vision, and is very evident at Nanopod, where space-age domed showcases on varying levels replace the boring boxes so typical of jewelry display.
Despite the challenges of working in such a small space–"nano, in fact" says the artist–Terran is deeply satisfied with the direction of Nanopod Hybrid Studio. 'The space, what I am doing in it, the branding, is all congruous with the vision that I have, and by at least being able to be true to my own artistic vision, the collision of art and commerce has been a gentle one," says Terran. "It's a space I enjoy walking into because I feel revitalized and inspired by it, and it makes me happy when my students say the same thing."
Barbara Isherwood is a Toronto-based writer on visual arts and culture.