Brown trunks of beetle-decimated pinon trees crowd the landscape on the way to Tom Joyce's Santa Fe studio. This endangered species imparts a poignant note to my visit. The blacksmith has engaged a longtime physical and intellectual dialogue with the extinction of virgin iron and the perpetuation of its 3000-year-old living history. It may be pathetic fallacy, but I notice that the reddish brown hue of once-verdant hills approximates the color of iron oxide.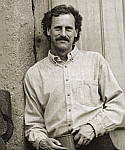 Along the gravel path to Joyce's studio one lone tree thrives. Its caretaker is inside. His studio office teems with the evidence of an artist's habitat. Here are African hoe and spear currencies, dance rattles, anklets, forged fireplace tools, a prototype section of a gate, Tibetan document seals. A skinny oil-on-panel painting shows a hand striking an anvil with a hammer. A bookshelf includes technical, archival titles: a 1939 Metals Handbook, and New Mexico arcania such as Firearms, Traps and Tools of the Mountain Men.
Arrayed on a studio table are photographs Joyce's elder daughter, Kate, a photojournalist studying at Duke University's Center for Documentary Studies, made of her father at work. They are black-and-white compositions at once intense and concentrated, like their subject.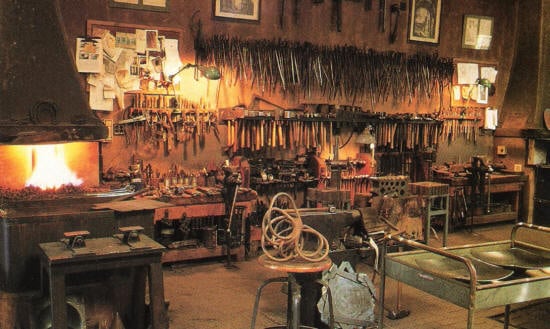 View of forging area in Tom Joyce's workshop, 2003
Photo: Micahel Long
Joyce is catching up on paperwork. There's a lot of it, including a pile of congratulatory notes expressing the unrestrained excitement of both Santa Fe and the international metals community at the news Joyce won a MacArthur Foundation fellowship "Please," he tells me with a slightly rueful smile, "do everything you can to avoid calling it a 'genius grant. – For although that's exactly what everybody does call the five-year, $500,000 foundation award that comes with no strings attached,Joyce, reached by phone with the news, reportedly was so shocked lie replied with the disclaimer, 'But I'm a blacksmith"
Indeed. The anvil anchors his studio. Rows of hammers and tools along one long wall communicate with the storage of rolling stock on another. Hung from the ceiling, a forged iron spike pierces a fluted-edge home of newspaper. That is a Joyce sculpture, exploring the confluence of the long-lived and the temporal. Two Piranesi prints of Roman ruins appear to have taken on the aura of the studio-ash and patina being by-products both of the particular and the universal realm of ideas Joyce mines at the anvil.
Today the studio seems unusually quiet compared to past episodes of frenzied boraxing I've witnessed here. Joyce, who said he considers the timing of the MacArthur "really uncanny," is working solo now to finish up architectural commissions before March. That will mark the start of one of two ongoing priorities the MacArthur grant will allow him: Joyce will travel to about 15 countries in Africa to deepen his research into those cultures "where smiths are still deemed indispensable," He also will work on large sculptural projects that the grant will help to fund.
Joyce has set cubic forms on a table, next to walnut sized chunks of iron-rich material called septarium nodules (fossilized algae) he picked up on hikes in the Galisteo basin. Just a glance expresses that something very new is here. The cubes are yellow, resined sand casts. Casts? Yes.
In 2002 the artist spent four months in residence in Wisconsin , casting iron at Kohler arts/Industry Program's factory. The unspoken line "But I'm a blacksmith!" fairly echoes in the room "Casting is, in large measure, a blacksmith's nemesis," says Joyce A blacksmith makes singular objects; a casting nets multiples intended to be uniform-like bathtubs. But look at Joyce's cubes and you see immediately elements-call them essences that link the new work to Joyce's old expositions of proportional geometries in iron. At the anvil he has worked with concepts of fold and allowed that formal notion literally to expand under the conditions of heat and pressure.
Now Joyce's hands trace the sectioned prismatic lines he scored along the resined sand cube. He explains his casting established positive and negative casts-diagonal pairings of two sections each of cube which, respectively, represented the "positive of absence" and 'negative of presence' in iron. "My interest in these pieces was the formal dissected geometry of the cube being reassembled and breached by migrating iron that formed a webbed interior," he says. Back to the septarium nodule. Customary for Joyce, the casting process married artistic and empirical experiment. As the iron leached, miming in 2002 the mineral formation in the antique nodule, the process spoke to chemistry as well as aesthetics. The leached iron Strands look fragile, almost tentative, like veins connecting the outside to the invisible interior of the metal.
On the next table a set of very red shapes speak to iron oxide's indubitable relationship to blood. Joyce was In New York on September 11, 2001. His daughters, Kate and Irene, had arrived by separate planes that morning, for an opening of his work scheduled for September 12 at the American Craft Museum. Kate got off the plane that crashed in the field in Pennsylvania later Julie Joyce, Tom's wife, was at home in New Mexico.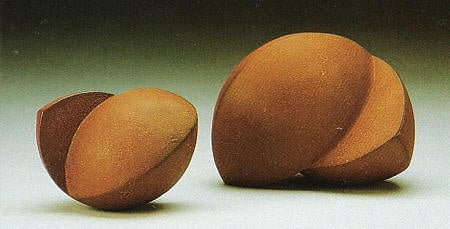 Skewed Visica: Ash to Ash, 2002
Cast iron, ash, sand, soil
Largest: 8 x 9 1/2 x 8″
Photo: courtesy John Michael Kohler Arts
Center Arts/Industry Program
Joyce designed this piece in New York on September 12, and cast it as a one-year remembrance gift for his family and several friends bereaved in the catastrophe. He asks me to sit down. He places one of the red shapes in my hands, and I am overcome. I am also awash, as seems inevitable in Joyce's presence, with associative combinations: the baptismal font, Brancusi's newborn heads, the fontanel of the skull, the crescent of two football arcs off set and striving for Cubist expression.
Joyce takes a piece of chalk and like a modern Leonardo da Vinci marks the vesica form on the floor. He begins with a point: one seed of poised unity that centers a circle, and generates another, aleph expanding into two. Squaring the circle derives the golden section. From the twin rings of the infinity symbol, the crescent-like vesica sections another unity: a meeting point joining representations of holiness in Christian iconography to the patterned godhead in Muslim religion. The form representing vulva for Christians, was for the Islamists a central motif in a culture that proscribed actual depiction of the sacred.
Joyce also created the alloy he used to cast the object. It consists of Iron, ash from the World Trade Center Site, sand from a mandala Tibetan monks created in Santa Fe , and dirt from the Santuario de Chimayo, a church in New Mexico renowned for its healing powers. Joyce was interested in the monks' admonition that mandala witnesses take the sand back to water, for iron preserves water in its interior. He ignites his torch and flames the sculpture so that it visibly reveals wet spots. "It's time release for the next millennium," Joyce says, smiling.