Author
Ellen Berkovitch
Website: http://www.snagmetalsmith.org
---
Articles and Videos by Ellen Berkovitch: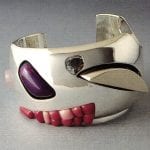 In a poem of the T'ang dynasty, the cultivated man who eats his meal from a polished bowl gazes into the delights that his wealth has bought, and knows his temporality in the majestic universe. In my gold cup clear…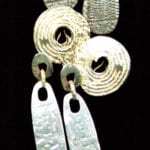 Santa Fe jewelry designer Kathleen O'Rourke is describing a move whose opening shot shows a Celtic queen riding horseback, her fur robes flying, metal jewelry clanking. "I'm attracted to women like that," O'Rourke says, laughing. "Like Wonder Woman or Virginia…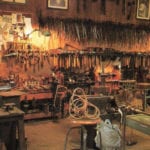 The anvil anchors his studio. Rows of hammers and tools along one long wall communicate with the storage of rolling stock on another. Hung from the ceiling, a forged iron spike pierces a fluted-edge home of newspaper. That is a Joyce sculpture, exploring the confluence of the long-lived and the temporal. Two Piranesi prints of Roman ruins appear to have taken on the aura of the studio-ash and patina being by-products both of the particular and the universal realm of ideas Joyce mines at the anvil.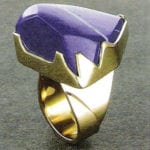 Master jeweler Charles Loloma was a Hopi spiritual leader — a member of the Badger Clan and a Hopi snake priest. His powers of charm extended through his ritual life and into his compelling jewelry. In daily life, Loloma never talked about Hopi religion. But his jewelry limns the Hopi landscape and expresses a world of spirit. Shaped by gems and woods cut into miniature topographies, the jewelry contours geology and time. It proposes intervals in which what is just now visible might shift with a slant of light or a flick of the wrist into the ineffable. Lustrous, flat surfaces abut plugs of jagged stone. Iconography rooted in Hopi imagery intersects with motifs from ancient Egypt. Color and decoration revel on the body like brilliant plumage.