Most jewelers and sculptors are quite satisfied to have one studio of their own. Between them, Jack and Marilyn da Silva have four – each have one for their day jobs, Jack's Metals Design Studio in El Sobrante, California is a third, and then there is their favorite place of all, affectionately known as The Shed."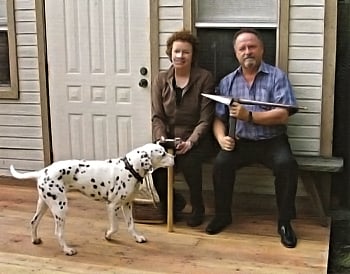 Marilyn and Jack da Silva pose, American Gothic style, in front of their Pinole, California studio, "The Shed"
"Shed" suggests images of weathered or rotting timbers, garden tools, firewood, or if you live in the country, maybe chickens. However, the da Silvas live in Pinole, an East Bay suburb of San Francisco, and their shed is nothing like this. It's a neat, 110-squarefoot Victorian dollhouse in their backyard, not unlike the cottages built for some of the refugees from the 1906 San Francisco earthquake. For both, The Shed is a haven where, as Marilyn says, "everything melts away." It's a special delight in summer, when the door opens to a lawn, flowers and flowery bushes, and they can sit outside on the deck. It's a welcome escape from their hectic day jobs—hers as head of metals at California College of the Arts, Oakland, and Jack's as a 3-D arts instructor at Evergreen Valley College, San Jose, where in addition to teaching, he is helping design the metals and sculpture studio for the new arts building, due to open in 2009.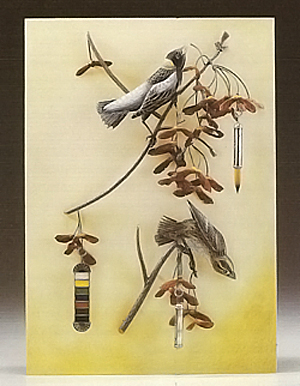 Marilyn da Silva
Chatelaine for Audubon, 2006
bronze, copper, sterling, gesso, Prismacolor, found objects 15 x 10 1/2 x3″
Photo: M. Lee Fatheree
The Shed is a hard-won shelter. The couple was comfortably settled in their home and studio in Oakland, only to have it destroyed by fire in 1993. After a protracted, but ultimately satisfactory insurance settlement, they moved to Pinole and tried working in the garage of a rented house. When claustrophobia set in, they moved and bought their own place, which came with the basic structure of The Shed. It took a year of hard work to convert the former tool shed, which was solidly constructed and built to code, but was cold, dark and without either charm or amenities. The da Silvas put in electricity, insulation, heating, ventilation and eventually furnishings, including custom-designed tool racks. Adding windows not only improved the lighting but created The Shed's cottage-like appeal. The only amenity still lacking is running water, presently supplied by buckets and the garden hose.
There was no room for large equipment, however, each of them had access to the casting facilities, rolling mills, sandblasters and hydraulic presses in their respective schools. Jack's oversize and blacksmithing tools remained in his design studio in El Sobrante, currently a staging area for his annual summer metals camp, called MAKER. Inside the tight little spa e they have fitted their essential hand tools, a generous collectior of hammers, stakes and pliers, storage, a soldering station and a central stump, where Jack can do some of his raising. Each has thei own work space: Jack's bench (formerly belonging to the enamelist Colette) is against one wall, and Marilyn's new bench (a splurge) by the wall opposite.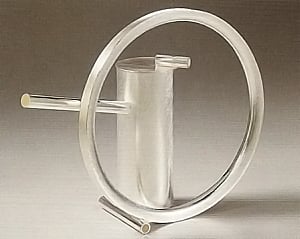 Jack da Silva
Roundabout (teapot), 2006 sterling.
8x 10x 4″
Photo: M. Lee Fatheree
The sounds of raising and planishing soon intrigued the neighbors, who wanted to know what was going on. "What do you have there?" asked one curious man, who was promptly invited to visit. Conveniently the neighbor on the other side was elderly and deaf, and so far, the homeowner on the other side has not complained.
In the commute between studi s, it's easy for important items to be left behind. Marilyn, a neat and thoughtful packer, carries her current project plus essential suppies in a small wicker basket, Jack has specific bags for his stakes and hand tools, and is becoming more organized, though has been known to turn back on the road to San Jose because he forgot something.
How does this couple, with very different artistic styles, work harmoniously in such an intimate space? Jack, a champion raiser, hammers a lot. His work, which often begins as a maquette, is steadily becoming more abstract. Marilyn's is becoming more elaborate and she draws a lot. Her signature birds are carved, or die-formed, chased, then colored with gesso and Prismacolor.
They rarely work together on the same project. One exception was a spice box From Hand to Hand for the 2005 show at the Contemporary Jewish Museum in an Francisco.
Their different schedules are a Iifesaver. Marilyn has only a short commute to CCA in Oakland. For many years, Jack worked several part-time jobs, finally settling at Evergreen Valley College in August 2005. To avoid the brutal 140-mile round trip he now spends most weekdays away from home, leaving Marilyn to reign over The Shed. Weekends and school vacations are more likely to find them working side by side, when they are not doing housework, shopping or walking their two Dalmatians. The arrangement also works because they enjoy a special partnership, based on marital closeness and professional respect. They regularly bounce design ideas off each other, critique one another's work, and talk to fend off the occasional bad mood or artist's block. They plan around each other's work, alternating chores, cooking and dog walking. "It's a real natural dance," said Marilyn, "We both understand each other's needs as artists."
In time, it's possible that even this harmonious couple will outgrow their studio. One option they are considering would be to move to a larger place, closer to Jack's work. Or they could stay and take advantage of their spacious backyard to construct a second studio a few yards away from The Shed. and the building fun would begin all over again.
Jennifer Cross Gans is a writer and studio jeweler in San Francisco.