Studio Visit – Daniel Brush
Life and art have always been closely entwined in the work of Daniel Brush. After years of working exclusively as a painter, Brush entered the metals field when he ventured to make a gold wedding band for his wife and creative partner, Olivia. Born from an initial act of love, Brush's involvement with metals has lasted more than thirty years and has generated a stunning array of objects, all invested with intense personal commitment.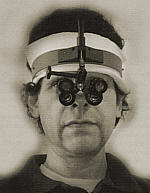 The artist wearing his forty-power surgical binoculars.
Photo by Robert Sauber
The intimate bond between Brush's creative and personal life is evident upon entering his Manhattan loft. The kitchen and dining area abut a well-equipped machine shop, while bedrooms peak out from behind a white gallery wall. The loft's dominant feature is the vast expanse of red maple floor, which serves a surprisingly key role in Brush's artistic process. Brush structures his day around repeated activities, a "ritual of ordinariness" including eating the same breakfast (Cheerios) and lunch (pea soup) and meticulously sweeping the floor for as much as two hours.
This routine provides a reliable order, allowing for the free play of the artist's thoughts and obsessions. As Brush relates, "It's a simple formula: getting up, eating breakfast, sweeping the floor, and then somehow within that [structure] trying to express your lyricism, or your confusion, or your uneasiness." With a mind unhindered by practical concerns and cleansed through meditative sweeping, Brush is prepared to enter into a more receptive relationship with his materials.
Ganoksin is sponsored by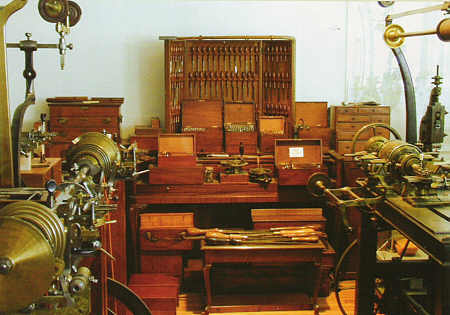 A selection of the artist's collection of ornamental turning equipment.
Photo by Robert Sauber
Brush works without assistants, performing all of the labor himself, often with tools he has crafted by hand. He also proceeds without drawings or plans. His is not goal-oriented work, but rather the release of stored mental energy developed through reading and meditation. "There is so much going on in my mind that I just can't stand it anymore," explains Brush. "From that moment, the energy moves into the materials, and something begins to mature and I don't know where it's going to go." Such an open-ended method has its share of uncertainty. Brush has been known to work for years on a sculpture or painting or, conversely, to go months without making a single piece. This approach also comes with a degree of risk, or what Brush calls 'jeopardy" After hundreds of hours of concentrated labor, objects have literally dissolved due to a few seconds of miscalculated effort.
The finished works–which encompass historically inspired jewelry, granulated domed boxes, jewel-encrusted Bakelite follies, miniature mountain ranges, and flocks of magnetized insects–bear out the artist's intense, almost manic devotion to his craft. Many of the objects are staggering in their intricacy, challenging our eyes to believe what they see.
The facts and statistics make the work even more astounding: sheets of gold rolled three times thinner than cigarette paper; gold granules .008 of an inch in diameter applied with a one-haired brush; and 78,000 gold beads encrusting the surface of a single object. Such precise, almost microscopic work requires not only concentration but also the aid of forty-power surgical binoculars that Brush regularly wears. He is also aided by his former experience as a machinist, where he became "fascinated with mechanical accuracy" and mastered the skill of drilling metal to a hundredth-of-an-inch precision. His regard for mechanical prowess is further borne out by his own collection of antique machines, including his prized eighteenth-century Tell lathes.
Ganoksin is sponsored by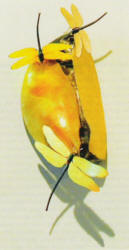 Three Dragonflies (installation) 2000-2001
Steel, pure gold, magnets
Dimensions variable, approx. 8 x 5 x 4"
Photo by Robert Sauber
Brush's personal involvement with his works extends beyond the studio, as he occasionally reclaims sculptures from owners to alter and rework them. The artist's extended hands-on approach to his objects requires a special type of collector, or "caretaker," as Brush calls the owners of his works. Rather than a detached, anonymous relationship between creator and patron, "it is warm hand to warm hand," says Brush. "And everyone is not well suited to that relationship." In spite of the challenge, Brush has found many willing custodians for his finely wrought objects, many of whom derive a sense of companionship from the pieces, even though they are not kept on display. It is as if "a small part of me remains in their environment," muses Brush, "and my pieces become part of someone's family."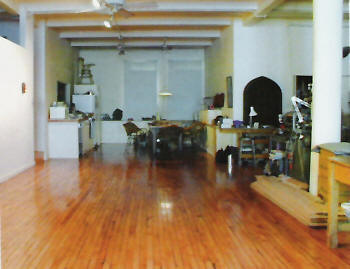 A view of Brush's studio and living space.
Photo by Robert Sauber
This is one of the ironies in Brush's artistic career: although he is essentially a recluse, rarely leaving the refuge of his studio-home, he has forged familial relationships with people around the world through the agency of his art. And while he has eschewed the market place-no commissions, no multiples, no gallery representation-he has achieved great recognition and success through his singular path, including a 1998 retrospective at the Smithsonian's Renwick Gallery. His life, like his art, is imbued with a winning mix of humbleness and grandeur, prosaic fortitude and evanescent poetry
By Suzanne Ramljak [Metalsmith Magazine - Winter 2002]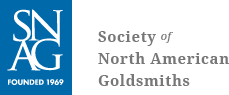 These intimate visits with established or groundbreaking metalsmiths offer a behind-the-scenes look at their working environments and methods.

Metalsmith magazine, founded in 1980, is an award winning publication and the only magazine in America devoted to the metal arts.