Jeffrey Herman is an accomplished silversmith, master of holloware repair, and the founding director of the Society of American Silversmiths. His live/work space includes areas devoted to each of these specialties.
The front door opens into a 25 by 40 foot open area that comprises living room, kitchen, drafting, and office spaces. The ceilings soar 13 feet above. Large windows frame a sunset view. The floors in this former brewery are marvelous old hardwood that has been polished and varnished, adding warmth, character, and a smooth surface for scooting around on a wheeled desk chair.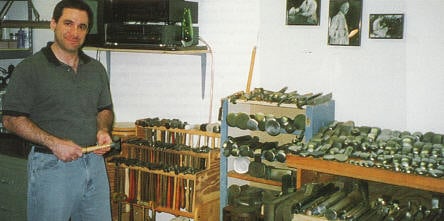 Jeffrey Herman in the studio with his vast collection of hammers and stakes, 2002
Photo: Cynthia Eid
After an appreciative glance around the living area, I was anxious to see the studio. We headed down the hall past the bedroom, and entered the silver/shipping room, which is 9 by 19 feet, with a window at the other end, tables along the right wall, and shelves along the left. The shelves are a museum display-a collection of holloware waiting to be repaired, sent by collectors and the best antique stores in the country.
We examined a damaged container and brooch by Jack Prip, a Georg Jensen tray that needs a pin in the handle, a Gorham tray that has been polished so many times that the design has worn and needs to be re-chased, a gilt bronze chandelier in pieces, a teapot that has been polished and repaired so often that it has an elusive pinhole leak, and a table piled with silverware sent to Jeff to have the monograms polished off. We discussed the tragedy of removing the exquisitely hand-engraved initials, and agreed that we'd gladly change our names if meant that we could keep this set. I groaned at the sight of a baby cup with the bottom smashed in and handle broken off, but Jeff's face lit up. "I love that stuff!" he exclaimed, and I thought to myself,
That is why I refer all repairs to Jeff-he does them well, and cheerfully, too." The variety of the repairs keeps his day interesting and constantly challenging. Making his living through these repairs gives Jeff total freedom when doing his own creative work. We found ourselves doing some silversmith sleuthing, trying to figure out how the huge crack occurred in the Jensen pitcher that arrived in the day's mail. I was pleased when the enclosed letter confirmed my guess: it was forgotten in the freezer where it had been put to chill refreshments.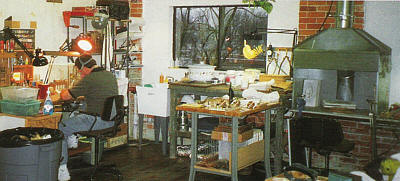 View of the artist at his bench polishing off monograms, with soldering booth to the side, 2002
Photo: Cynthia Eid
After our tour through sliver history and forensics, we went further down the hall to the main studio. Seventy-five hammers and 150 stakes, in perfect condition, are lined up in racks. It is an array that any university would be thrilled to own I laughed to see socks on the horse (the steel bar that holds steel mushroom style heads in a vise) and learned a new tip: the sock keeps the silver from being scratched by the steel.
On the other side of the door is a favorite tool: a spring hammer. This huge hammer is mounted on a pivot over an anvil, so that it always lands exactly flat-perfect for planishing a tray. In the center of the room is a stump with vises mounted on it to hold the stakes when Jeff raises a new piece, or presses out dents in a large soup tureen. A large silver bowl sat on a shelf nearby, waiting for Jeff to find time to finish raising and planishing it. Near a window is a sink with a wire brush, and the soldering area, enclosed by a large hood. A table nearby held a collection of silver from which Jeff had nearly finished removing the monograms. A teapot needed its ivory insulator repaired. A hand mirror waited to have the dents smoothed out and the mirror re-silvered.
I am impressed by the attention to safety in this well-equipped studio. For instance, Jeffs workbench has a duct hose connected to his exhaust system. It can be aimed wherever needed, as he files, grinds, or polishes. Last, we toured the machine tool room. Jeff showed me how his elaborate exhaust system has an outlet at each tool: the drill press, the sander, a polishing motor, the band saw, the lathe, disc sander, and his largest enclosed polishing lathe. This polishing set-up is closest to the dust collector for maximum suction. Baffles allow each outlet to be opened or closed off, to maximize the power at the station in use. It is a remarkably clean and efficient workspace.
Across the hall lives a Reggae band, and their music wafts through the door. Downstairs, we visit a ceramist's live/work space, where there is a bedroom loft over an elaborate custom kitchen and living area adjoining a large production studio with a gallery and small private studio. This building is a village, with students from Rhode Island School of Design sharing space with musicians and professional visual artists. Jeff Herman is a unique gem in this society, as in our metalsmithing community.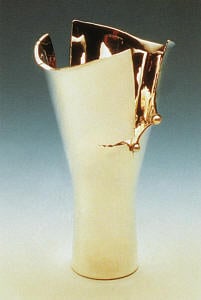 Jeffrey Herman Vase, 1995
Sterling silver, pearls, 5 x 3″
Photo: Ailing Studio