Author
Cynthia Eid
Website: http://www.snagmetalsmith.org
---
Articles and Videos by Cynthia Eid: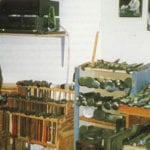 Jeffrey Herman is an accomplished silversmith, master of holloware repair, and the founding director of the Society of American Silversmiths. His live/work space includes areas devoted to each of these specialties. The front door opens into a 25 by 40 foot open area that comprises living room, kitchen, drafting, and office spaces. The ceilings soar 13 feet above. Large windows frame a sunset view. The floors in this former brewery are marvelous old hardwood that has been polished and varnished, adding warmth, character, and a smooth surface for scooting around on a wheeled desk chair.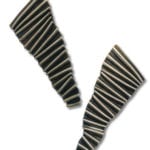 With a simple corrugation tool and basic metalsmithing skills, you can make these great earrings. The newest toy in my studio is a Microfold Brake. I have been having a wonderful time learning what can be done with this tool, experimenting and making metalwork that combines microfolding with my other favorite techniques. I have used the Microfold Brake for bracelets, earrings, pins, boxes, a teapot, and a Hanukkah menorah, yet I feel like I am just getting started with my explorations! I find the immediacy of the tool very alluring. I also like the way the rippling corrugation can be either organic – or geometric looking, depending on how it is manipulated and
finished.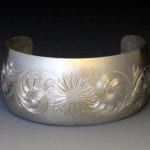 Invented in 1996 by Peter Johns, a professor of silversmithing at Englands Middlesex University, Argentium[R] Sterling Silver, like traditional sterling silver, is at least 92.5 percent pure silver. But unlike traditional sterling, which is 7.5 percent copper, Argentium sterling has a small amount of germanium instead of some of the copper. So how does that change things?.