October in Maine is beautiful. The trees are ablaze with color. The chlorophyll stops production in the leaves of deciduous trees, exposing trace elements of iron present there. It is a good time to visit a blacksmith. Doug Wilson lives on remote Little Deer Isle between Eggemoggin Reach and the East Penobscot Bay .
The morning I visited Wilson , I passed a pond on my left where two deer drank from the Water's edge. Further down the road, a stack of traps and buoys signaled the end of another season of lobster fishing for this community. Sarah's Way is the name of the short dirt road leading up to Wilson 's studio and home. He, his wife mixed-media artist Jennifer Morrow Wilson, their eight-year-old daughter Sarah, and "Dog" the dog live here. It is a two-story wooden frame home that Doug and Jennifer designed and built themselves. "We started building in 1991, the year we got married, moved into it in '92, and finished it just recently," says Doug. The house sits back on a thickly wooded lot, with open spaces between the house and studio.
In 1981, Wilson assisted blacksmiths Frank Turley and Demetrius Cerakaris With workshops at Haystack Mountain School of Crafts. He also met Ron Pearson, who offered him the use of a 24-by-24-foot forge behind his studio. Wilson accepted the offer and stayed in Maine . The space served him well for many years, but it was soon stuffed with materials, tools, and machines. All design work and drawing had to be done at home in Jennifer's studio several miles away.
The new studio was completed in 2000. His friend Ralph Sproul, an industrial builder and fellow smith, hired 25 helpers via the Internet for the move. They showed up with a logging truck with a 40-foot boom, as well as other moving gear. Amazingly, thousands of pounds of equipment and stock were moved with ease.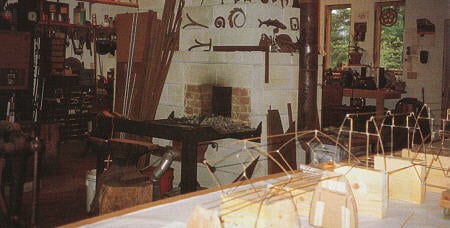 Interior view of Doug Wilson's studio.
Photo: Ellen Wieske
The studio building sits on the front of the property. It looks across at the old Deer Isle Information Booth that Doug and Jennifer rescued when the new one was built; they are restoring it to use as a showroom. The new studio is thirty by forty-two feet and has a long covered porch. The front wall has large sliding doors to enable easy access to the porch area. Twelve-foot ceilings provide a clear, open space; it feels roomy but not cavernous. Just inside the sliding doors is where the larger equipment sits. Two thirds of the way into the studio, the chimney serves as a visual room divider, while benches run along the back and left walls. Large windows above the benches let in a great view as well as natural light.
The studio provides ample space to have several projects going on at once. There are two large steel-top tables where drawings and models can be laid out and worked on. Two side draft forges and a wood-burning stove for heat feed into the grand brick chimney. The side draft collects all the dust and soot from the coal forges and leaves the workspace and the air clean. Upstairs there is an office, a place to draw, and a storage area.
The day I visited, work on a model for a chandelier was well underway. It is a commission for a very specific location in a new home, with a roof that has curves suggesting sails filled with wind. Wilson created a scale model of a section of the ceiling in his studio so the chandelier model could be matched and fit perfectly. It will hang from his studio ceiling enabling the clients to see the model from the installed perspective. The challenge of the project is what Wilson loves. He says he is happiest when a proper fit can be achieved between an object he makes and the life in which it is to be used. His inspirations come from environments natural and manmade, organic or personal. His studio reflects this sentiment, with its closely linked interior and exterior spaces.
Doug Wilson's studio is designed to house and work on commissions as well as his own personal designs. He also plans to use the space for teaching, as he continues to teach at many craft centers and schools and wants to extend his knowledge through his own studio. Here there is room for all that and more.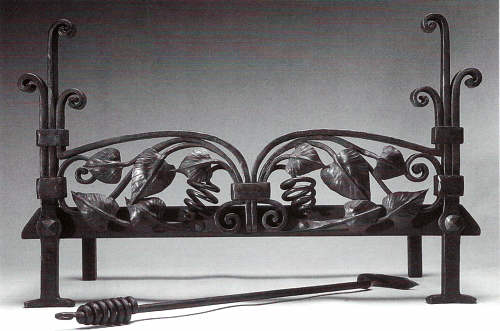 Doug Wilson, Fire Grate and Poker, 1998
Iron, 26 x32 x19″