Genevieve Yang – Lunar Cycle Necklace
They say inspiration strikes when you least expect it. For designer Genevieve Yang of Santa Rosa, California, the inspiration for a new phase of her career all started in the cold, dark wilderness of Wyoming. An outdoor enthusiast, Yang participated in a month-long winter wilderness expedition with the National Outdoor Leadership School. She admits that it was the most challenging outdoor adventure she's ever experienced, noting that it involved snow camping, cross-country skiing, and building her own shelter.
And that was just during the daytime. At night, the temperatures fell to as low as 30 degrees below zero. But when it's that cold and there's no cloud cover, the clear skies provide amazing views of the moon and stars. Yang found herself quite taken with the moon as she watched it progress through the lunar cycle, inspiring her to create Large Lunar Cycle Necklace, which won the 2011 NICHE Award in the Fine Jewelry, Silver category.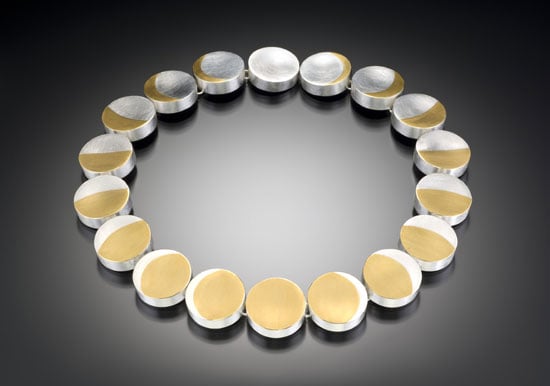 Necklace by Genevieve Yang
Winner, Fine Jewelry/Silver, 2011 NICHE Awards
The second in a series of necklaces based on the 29 phases of the moon, this necklace features 18 hollow forms that measure 1 inch in diameter. To construct the forms, Yang used 20-gauge fine silver sheet for the tops, 18-gauge fine silver sheet for the sides, and 22-gauge fine silver sheet for the backs. She hammered the sides of the forms on a mandrel and used a shallow wooden dapping block to make the tops slightly concave. "This allows [the forms] to catch the light without being glaringly shiny," says Yang, who didn't want the piece to reflect a lot of light.
Desiring a great contrast between the silver hollow forms and the moons that would be applied to them, Yang chose to make the moons in 30-gauge 24k gold sheet, which she soldered to the silver forms. Since the forms were hollow and soldered closed, she was careful to heat each piece on a hotplate before heating it again to solder the gold sheet or later to attach the links. She wanted to ensure that no tiny amount of pickle got inside the hollow form and exploded when she heated it with a torch.
Ganoksin is sponsored by
To finish the forms, Yang opted to use brass brushes to apply a matte finish to them. "I don't care for shiny finishes, and I felt that a matte finish would last longer," she says.
Linking the hollow forms together posed a challenge to Yang, who says she encountered many kinks in what was really just a trial-and-error process. She didn't want the sterling silver links to be big and noticeable. Because the hollow forms are large, it was difficult to find a subtle way of linking them that didn't result in the assembled necklace tilting forward or backward when it was worn. Yang jokes that she must have made a million links in different sizes before she got them just right. "In hindsight, it doesn't seem so complicated, but you never know how exactly it's going to lie until you have it on the human form," she says. "Only then will you know if it needs to be reworked."
Another challenge arose in creating a clasp that wouldn't distract from the look of the necklace. "I wanted an invisible clasp that would allow the wearer to wear the piece with any one of the moon phases facing forward," says Yang. To create a clasp that wouldn't interrupt the phases of the moon, Yang fabricated a T-shaped wire and soldered it to the end of a hollow form. She then created an opening in the next form that would accept the T wire, but only when the wire is turned 90 degrees. Once the wire is inserted into this custom receiver, the wearer can turn the form back 90 degrees to lie flat, locking the necklace in place. Totally concealed, the clasp can be seen only from the underside of the necklace, or when the necklace is apart.
Ganoksin is sponsored by
Creating this necklace led to a shift in the entire direction of Yang's line. While she still does the geometric abstract work she was doing before (her "bread-and-butter"), this new work makes up all of her one-of-a-kind commissions. "I would love to do all moon and stars pieces, but I'm not at the point to make it 100 percent of my line right now," says Yang, who estimates that while this work originally made up about 20 percent of her line, it now makes up about 60 percent. And so another phase in her career begins, only to transform itself again like the phases of the moon.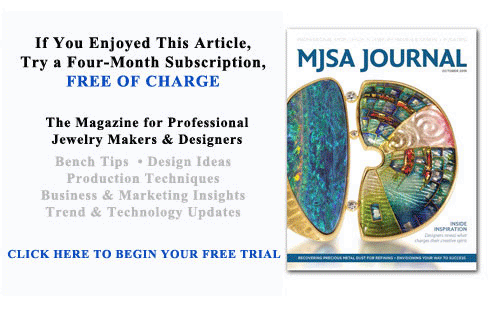 In association with

The award-winning
Journal
is published monthly by MJSA, the trade association for professional jewelry makers, designers, and related suppliers. It offers design ideas, fabrication and production techniques, bench tips, business and marketing insights, and trend and technology updates—the information crucial for business success.
"More than other publications, MJSA Journal is oriented toward people like me: those trying to earn a living by designing and making jewelry,"
says Jim Binnion of James Binnion Metal Arts.