It's easy to name your favorite gemstone or metal to work in, but what if you had to name your favorite design? How could you choose? In this occasional column, we ask designers to identify their favorite piece and explain why it holds a special place in their heart.
While this contemporary ring— titled Alexander's Tribute—illustrates a classical style, it is not a replication of ancient jewelry. It is a bridge piece that shows our transition into a more ornamental style. We chose this ring because it's a great representation of both of our lines—Vetus and 1888. Our original line, Vetus, which means "aged" in Latin, is archeologically inspired. In fact, it's so authentic looking that one of our customers described it by saying, "It looks like it's just been dug up." The texture of our pieces is what makes them what they are. Our newer style is more Victorian— cleaner, with a smoother surface. We called it 1888 because that year is symbolic of many pivotal changes that evoke today's time of upheaval—scientifically, politically, and industrially.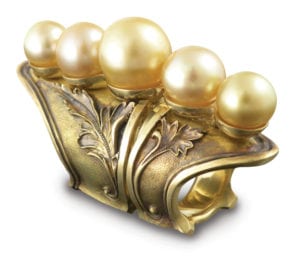 "This ring draws upon our love of history."
 This ring draws upon our love of history. It was inspired by a headless and armless statue. We saw this statue (which was probably wrangled by the Pope from a wealthy merchant) in an alcove inside the Vatican Museum, and it immediately caught our attention. Its Roman legwear reminded us of the greaves—the armor protecting the shins—that we noticed in Japanese museums when we lived there. Wanting to spend more time examining it, we were pushed ahead by the crowds, unable to dig our heels in any further. But the little time that we did have to see the sculpture moved us to create the ring. Its design reflects our fascination with Grecian art, especially with the warriors' leg armor, ornamented with acanthus leaves that were used as decoration throughout history.
Ganoksin is sponsored by
"The ring demonstrates our propensity to design pieces that can be appreciated when not being worn."
We designed the ring in 18k and 22k yellow gold because those golds' protective warmth supports the image of the greave shielding the leg. Similarly, the full-finger ring echoes the idea by offering finger defense. Its two hand-carved metal parts are held together by a sliding hinge, which allows the ring to bend without causing a break in the pearls. The pearls' medium golden color complements that of the antiqued metal. We were lucky to find same-color natural pearls whose sizes, which range from 10 to 14 mm, work well together. Their shade is based on the temperature of the South China Sea where they were grown.
The ring demonstrates our propensity to design pieces that can be appreciated when not being worn. Its bottom has a wave shape, which allows it to stand by itself—either for display or admiration. The two of us like being able to see this ring, which currently resides in our workshop, and be moved by it. Because we build on each other's ideas, we feel like we are of one mind. Every piece we have made works for both of us.