Jewelry artist Steff Korsage followed her own determined path to find her own distinct voice, making hollow forms from metal – as individual beads and elements in eye-catching jewelry.
One night in 1992, Steff Korsage had an auspicious dream. She dreamed of metal, geometric pieces of metal, filling the sky with their fascinating shapes. Instead of rolling over and going back to sleep, Korsage did what any sensible metalsmith would do.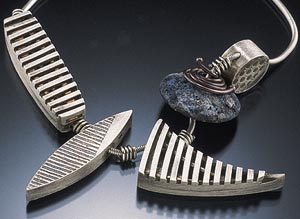 Sterling silver necklace,
Hand Fabricated, Acid Etched, and Oxidized
1″ x 1″ x 3/8″
Photo by Larry Sanders
"I woke up and drew these spinning Sputniks and ovular boxes," she says. "Next morning, I called in sick and spent that day, and every evening after that, at my dining-room table recreating these hollow form elements in copper and sterling, until they became the cornerstones of my designs."
Despite the apparent power and influence of her metal-related dreams, Korsage didn't simply go to bed a systems analyst one night and wake up a jeweler the next morning. The metamorphosis had begun the previous year with a jewelry disappointment. Frustrated that she couldn't find a pair of "shoulder duster" earrings, she bought the beads and made her own. Making earrings turned out to be the perfect antidote to stress-filled days and she quickly created a boxful of the things, which she sold at her weekly Jazzercise class. The instant gratification of a quick sale spurred Korsage to jump into jewelry making. Each evening she taught herself to saw, drill, and solder metal, imprinting the jewelry she produced with her distinctive personality.
Thus far, her jewelry whispered with a small voice, but then her dream's spinning metals gave shape, dimension, and form to her vision. In a way, Korsage followed a long line of self-taught "outsider" artists who created their best pieces after they received celestial guidance and direction. It was clear to Korsage that she must learn how to recreate her dream's three-dimensional forms in copper and silver. The next day, she signed up for a silversmithing class at the Evanston Art Center in Evanston, Illinois, where, she hoped, she would learn to do just that.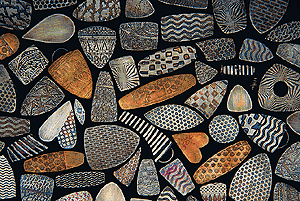 Close up of various beads in sterling silver and copper
Hand Fabricated, Acid Etched, and Oxidized
One to two inches in length and 3/8″ deep
Photo by John Bedesum
"As soon as I started soldering metal, I became possessed. I did not really care about making jewelry the right way. The instructor, who was a very skilled craftsperson, kept repeating: 'Now Steff, you have to sand this and buff that.' I'd say, 'No, I don't want to. I have to make these things.' I began making hollow elements like crazy because they started to come out of me so fast. It was a catharsis. My work was really raw then because I just wanted to saw, pound, drill, and solder. Forget filing or sanding, and buffing was completely out of the question. I dropped the class and became a closet metalsmith. I was a systems analyst by day but after work, I would be at that bench all night long. Sometimes I would wake up in the middle of the night and start working. At the dining room table in my one-bedroom condo, I taught myself a new language and a new way to express my thoughts and my identity."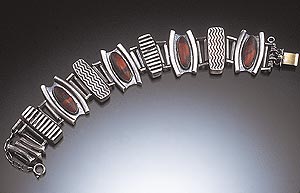 Bracelet of sterling silver and red jasper;
Hand Fabricated, Acid Etched, and Oxidized
7″ x 1-1/4″ x 3/8″
Photo by Larry Sanders
Finding Herself
The question of identity had always been intensely meaningful to Korsage. Born in Idaho, she had been adopted and raised by a couple in Denver, Colorado. In the '70s, Korsage located her birth mother and finally cleared up the origins of a puzzling idiosyncrasy. Korsage's adoptive father, a miner, had died of black lung, and she learned from her birth mother that she had been born into a long line of Idaho silver miners. Her inexplicable affinity for metal now made sense to her: metal was in her blood.
"I was possessed to create these hollow metal pendants, so I taught myself the best way to create them, without instructors or books. That is why my voice is so different, because my work is really my work. I set to work cutting, joining, and seeing what worked and what didn't. It's an unconventional way of doing things, but it works for me."
Driven by an impassioned need to process her inner visions, Korsage did not fear any technique; in fact, technique should fear her. For four years, Korsage constructed three-dimensional metal pendants with a small butane torch and a lot of chutzpah. She recently switched to a manageable minitorch with oxypropane.
But joining metal is the midpoint of a labor-intensive process that begins with texturing metal. Korsage etches her designs on sterling and copper sheet using an etching system developed by Mary Ann Scherr. This process begins with a photocopy of a fabric design or hand drawing that is eventually burned onto a silkscreen. A sheet of 4″ x 4″ sterling silver or copper is taped to a flat surface and the screen is positioned over the metal. Asphaltum is spread evenly across the screen and pulled through until it covers the sheet metal. The sides and top of the sheet are taped, then placed in nitric acid and allowed to burn, and then cleaned.
Heart Necklace of sterling silver and copper;
Hand Fabricated, Acid Etched, and Oxidized.
Pendant is 2″ x 2″; necklace is 18″ long.
Photo by Larry Sanders.
"I must be a frustrated textile artist, because I always think in terms of fabric," Korsage says. "Sheet metal is my yardage. I burn about 16 silk screens, which takes a couple of days. This gives me about 30 sheets of silver to etch. I often use copper, so a piece with copper polka dots might finish up with a sterling stripe pattern on the other side, making it more fashion than jewelry, really. By then, I have tons of 'fabric' with different patterns to work with. I control every part of the process with time and the acid and often vary the strength of the etch."
After Korsage creates her own clasps, she begins building the 75 to 85 forms, a process that can take up to three weeks. She is then ready to oxidize her pieces with her own time-tested formulas. It takes a little alchemy and a lot of experience to impart brilliant gold and blue on sterling using liver of sulfur, hot water, and timing. But after countless dipping experiments, Korsage knows exactly how strong to make the solution, how hot to keep the water, and how long to dip the metal. The patinas on the jewelry are left unprotected, allowing them to age over time, just like the body it will adorn.
Korsage's improvisational and rhythmic jewelry allows the soul of the piece to come through every bead, link, and pendant. Most days, Korsage's jewelry swings with a sophisticated playfulness, but on the days when a piece resists her, she puts it aside.
"Sometimes the most troublesome things, the ones that end up looking like a piece of garbage, are the very things that springboard me into something else. When I begin paring down the pieces that seem unnatural, I often discover a completely new style," she says.
Necklace of sterling silver and 18K gold;
Hand Fabricated, Acid Etched, and Oxidized.
3-1/2″ x 1″ x 3/8″.
Photo by Larry Sanders.
Making Strides
This has been a stellar year for Korsage. She acquired her first solo studio, where she held her first studio show, filling its 500-square-foot area with cookie-eating, jewelry-buying customers. Seventeen shows a year keep her on the road but between "gigs," she hunts for new ways to alter metal. Recently she discovered a flaming new surface texture for metal.
"I took a class on fusing and discovered I have been fusing all along! I thought, though, that I should learn whether I've been doing it correctly. Now I'm fusing sterling and 22-karat gold and, oh my God, I'm having so much fun because you just burn it. You heat it so hot, the surfaces begin to flow. So fusing is where I am headed – and I've only been doing it two weeks!
"I think my work is a conduit, bringing such amazing people into my life. One customer began collecting my work when she was 13 years old and her friends' parents also collect my jewelry. Then there's the attorney who commissioned a piece, asked me to wrap it and rendezvous at a stop on the expressway to hand it over. So many people know each other through my work. It's very bizarre because my jewelry isn't for everyone and seems to attract people who are strong and independent.
"The hollow elements have a lot of volume and textural surprises that are not readily apparent. I construct them so that people continually discover them. One woman owned one of my etched hearts for four years before she noticed it was etched. I always want my work to be surprising and I want the owner to participate in that whole artistic sculptural experience. The beads on the jewelry are movable, the necklaces can be wrapped around twice, and the links can be attached randomly so that a different necklace can be created each time it's worn," says Korsage.
As well as making interactive jewelry, Korsage has created 64 one-of-kind mezuzahs. This vessel holds a bit of Hebrew scripture and is customarily placed on the outside door of a home to protect it.
Brooch and earrings of sterling silver, 18K gold, and copper;
Hand Fabricated, Acid Etched, and Oxidized.
2″ x 1-1/4″ x 1/4″ and 2-1/2″ x 1/2″ x 1/8″.
Photo by Larry Sanders.
"Some clients put their mezuzahs on the outside of their bedrooms. It means so much that my piece of art is there, blessing their entryway. I made a whole series of mezuzahs with little doors on hinges, which is very different from my other work with their little secret compartments that don't generally open. When I first started making jewelry, it was very hard to put my work out for people to see because it came from such a deep spot inside of me. I began putting tiny holes in each piece, as though if I wanted to I could hide in there. Now I'm very secure with them being closed and being what they are.
"I believe I am doing what I'm supposed to be doing in this lifetime. So many phenomenal people have come into my life because of my work – I don't think I would have met them any other way. I am so fortunate to be able to make a living creating jewelry and it is a validation: I am my work, my work is me. I love my life."
Korsage has recently added small etched rings to her repertoire but her future plans are to go bigger by exploring sculpture, which requires a larger torch. But by now, it is second nature for Korsage to skip steps, break rules, and jump right in to pursue each new dream.
Steff Korsage can be contacted through her website