My affair with precious metals began while working with my father a talented jeweler who worked with spring movement. He once made a life-sized rose in gold that would bloom. It weighed a pound and a half, and a pull of a green gold leaf on the stem would activate a series of springs and the rose would bloom, an amazing feat.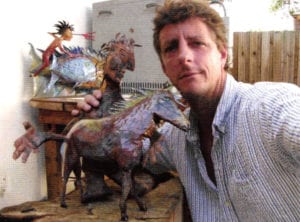 After fifteen years as a jeweler, I was ready to move in a new direction in my work with precious metals. In 1995, a class with Tom Ellis hooked me on enameling. My experiments with enamel began with applying acrylic enamel onto pre-enameled steel tiles. Then, a class in plique-a-jour inspired me to make some goblets. Later works toyed around with cloisonné. However, enameling didn't become a serious endeavor until I started teaching students.
Forced to think of something challenging for them, I built a class around free-standing sculpture so the students could have more leeway in the creative process. Instead of working with a bowl or a flat piece of copper, they hammered out a shape of their own.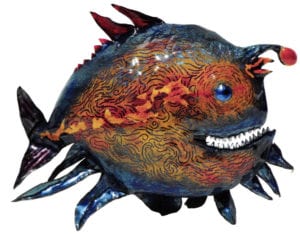 As a result of those classes, my work has evolved into free-standing sculpture using copper, which is an amazing metal to work with. Add enamel and you are in an artistic place with no limits.
I have to explain that I am no rocket scientist. A lot of what I do makes sense for me; I have adopted it, and it works. I take a sheet of copper and cut out a piece that fits the inner dimensions of my kiln: 23 x 23 inches. I put the copper in the hot kiln and bring its temperature to around I400'F, then pull it out and quench it in water in a process called "annealing."
After annealing, the copper is nice and soft and has a little texture to it, so a pencil will work on it. I draw a character on the copper) usually a spontaneous drawing. Many of my characters are fish. Fish are great because they stand easily using the pectoral fins and the tail for a three point stance that won't wobble, and there is a large area of copper to explore with enameling.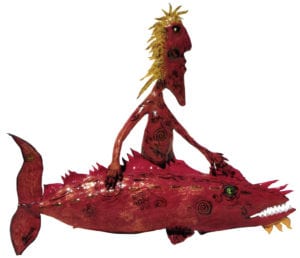 Scissors are used to cut out the character; it's like paper, but just a little harder. Your hands adjust and after a while you find some muscles you didn't know you had. I hammer out the character on a wood stump of oak or pine using railroad spikes and many other types of tools.
The copper has to be completely finished and standing on its own before it is ready for enamel.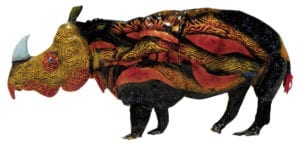 I use LCE-3, a paintable liquid enamel that Thompson sells as well as a light sifting of powder enamel. I like to fire a transparent, then apply Klyrfire and sift, for example, an oriental red, spray lightly again and sift a goldenrod yellow. Let that dry and use sgraffito to expose the fired glass beneath. The stacked opaques work with each other to create an interesting interaction. The exposed lines of the transparent enamel look beautiful in proper lighting.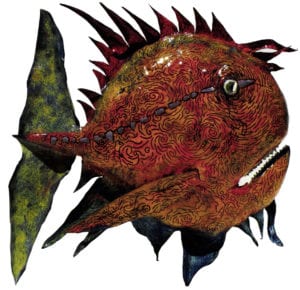 My new kiln (to be completed in July) is based on a raku kiln, with inside dimensions of 4x4x2 feet and will fire 9 square foot pieces. I've learned that part of the pure enjoyment of this work is size- the larger the better.
To reach Sean by email – sean@seanalton.com or visit his website – wwwseanalton.com.