Home » Archives for Nina Graci
Author
Nina Graci
Website: http://www.lapidaryjournal.com/
---
Articles and Videos by Nina Graci: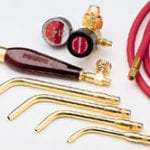 With so many torches on the market, a first-time buyer can be quickly overwhelmed by the sheer number of decisions that have to be made. Choosing a fuel, fitting the right tips, and determining the type of flame you need are just the beginning. To make decision-making tougher, all torches look pretty much alike. They have two open-ended tubes for the attachment of two color-coded rubber hoses, conducting air to one and fuel to the other. They are either single-fuel or a combination of oxygen and fuel, which tend to be hotter. Some torches accommodate different fuels simply by changing the tip. Each gas produces a different flame. Which brings us to the burning question: which torch will produce the flame power needed to get the job done?.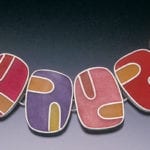 Jewelers are a restless and inquisitive group. Not content with producing sumptuous jewelry, they spray it with chemicals, dip it in acids or torch it. Just to see what happens. On a good day, what happens is colored metal. However, the unpredictability, potential toxicity, and the subdued color range of these patinas has driven a group of outsider jewelers to experiment with new ways to put color in its place: on sterling, copper, aluminum, and steel. Instead of reaching for chemicals, acid, or heat, these colorists improvise with low-tech materials and experiment with new techniques that welcome spontaneity back into jewelry making.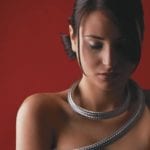 Working on the most meticulous and precise scale, three contemporary wire artists, Barbara SilverStein, Nikki Feldbaum and Biba Schutz create jewelry that is broad in appeal and expansive in effect.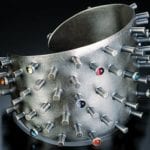 Fascinated by the way things work, Connie Verrusio creates radical new jewelry forms from leftover functions. Connie Verrusio has double vision: when she looks at screws, she sees earrings, and when she looks at a ruler, she sees a bracelet. For a dozen years Verrusio has found the jewels for her work in flea market junk boxes and hardware bins. Radio tubes, fishing weights and tail lights are the appropriated materials Verrusio transforms into ornaments that challenge preconceptions about what makes interesting jewelry.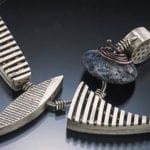 Jewelry artist Steff Korsage followed her own determined path to find her own distinct voice, making hollow forms from metal – as individual beads and elements in eye-catching jewelry. One night in 1992, Steff Korsage had an auspicious dream. She dreamed of metal, geometric pieces of metal, filling the sky with their fascinating shapes. Instead of rolling over and going back to sleep, Korsage did what any sensible metalsmith would do..

For those of us who get our sustenance from books about jewelry, Ethnic Jewellery is an excellent feed. Its 170 photos of delectable jewelry, commentaries, and maps quickly wafted this reader into daydreams about the bejeweled tribes that left us this priceless legacy. Editor John Mack, Senior Keeper at the British Museum, tackled the daunting task of documenting the traditional jewelry of non-European countries. He did this by inviting eight professors, curators, and trailblazer Oppi Untracht to explain the materials, techniques, and themes characteristic of the region in which the jewelry was made. Mack chose well.
It takes an interesting person to make interesting jewelry and Holly Lee fits the bill. Originally from a family that moved every three years, Lee blossomed in the two years she studied at Tai Pei American high school in Taiwan. "This school's open-minded and innovative way of teaching formed much of the person I am today. Imagine classrooms without desks, where students lay on pillows and listened to music," reminisces the fortysomething brunette.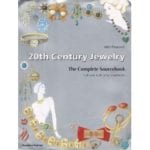 John Peacock is a fashion designer's best friend. Over the years, this former BBC costume designer has published a dozen easy-to-use sourcebooks covering 40 centuries of fashion, making them the most comprehensive record of fashion and accessories ever published. Peacock has finally compiled a sourcebook for jewelers as well as designers, and filled its oversized pages with color drawings of representative pieces of jewelry from 1900 to 2000. The presentation is unique and somewhat startling because, instead of glossy photographs of luscious jewelry, each page contains 20 different color drawings, grouped by item and dated. It took years of research using photographs, paintings, and the jewelry itself to produce these 1,500 highly detailed drawings..
Jewelry maker and studio boss Barbara Heinrich keeps business strategies and artistic expression in harmony while creating jewelry designs that strike a chord. When technical mastery meets metal and brilliant stones in her studio, the result is a high-carat opera whose chorus is gold, diamonds hit the high notes, and colored stones are the featured players. When jewelry feels like music, it is unmistakably a Heinrich design.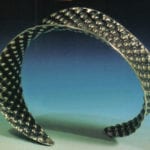 Standing in her forming studio, surrounded by hammers, stakes, and photo equipment, metalsmith Cynthia Eid is experiencing a moment of excitement. Even though she has finessed metal into altered states for 30 years, this decisive moment is always riveting. A sheet of sterling silver gleams on the workbench while Eid ponders its destiny. Her next move will, through muscle and mastery, transform it into jewelry, hollowware, or Judaica – almost at the drop of a hammer. But long before this sterling silver adorns a body, a table, or a synagogue, Eid must listen to the metal.