This article by Steve Satow shows how to customize fine tip melee tweezers for channel setting using melee tweezers # 115-005.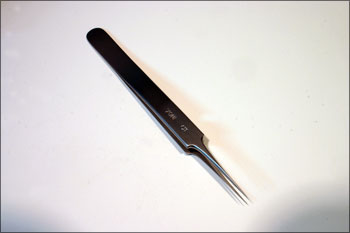 These tweezers are great for gripping melee when you slide then into position in continuous channel setting jobs. Here you see the very fine tips on these tweezers.
Customize Fine Tip Melee Tweezers

Measure down the tips until they are 0.5 mm wide and make a mark.
Please wear your safety glasses for all the grinding on this project. use a separating disc to cut the tips off evenly where they are marked.
Use your separating disc to grind a 45 degree angle on both tips.
Use a diamond wheel to dress the edge of your separating discs until it comes to a sharp edge. Make sure the sharp edge is even on both sides.
With your sharpened disc score a groove about 0.25 to 0.5 mm from each end.
Try to hold a melee and if necessary make your grooves on the tips deeper until you can hold melee securely.
Close up of the tips with the grooves cut in them. These tweezers make it a lot easier to handle melee with out them flying.