2017 MJSA Vision Awards Winners – Indepth
In the 1971 Film Willy Wonka & The Chocolate Factory, the title character invites Charlie (and us viewers) to "come with me, and you'll be, in a world of pure imagination." While you won't find any golden tickets or chocolate bars on the following pages, you will find plenty of examples of jewelers living in their own worlds of pure imagination.
I'd like to introduce you to the winners of the 2017 MJSA Vision Awards competition. Click on each links to view full article of each winning pieces and the artists behind them.
For more than 25 years, the MJSA Vision Awards have recognized outstanding achievement in jewelry and design, by professionals and students alike. And on the following pages, you'll discover how this year's winners were able to bring the pieces dreamed up in their imagination into life. With designs inspired by everything from a simple green garden to explosions occurring at the far reaches of the universe, there is no limit to the creativity of these designers. (The competition also features a Custom
Ganoksin is sponsored by
Design Distinction category. To read about this year's winning design, please go to MJSA Custom Jeweler on page 51.)
Before we get started, we'd like to thank the MJ SA Vision Award sponsors, without whose support these awards would not be possible. Our sponsors are featured on pages 36-37, where you can learn more about their products and services.
We'd also like to thank the judges of this year's competition: Michael Bondanza of Michael Bondanza Inc. in New York City; Ann Cahoon of North Bennet  Street School in Boston; Michael Coan of the Fashion Institute of Technology in New York City; Victoria Gomelsky of JCK magazine in New York City; Barbara Heinrich of Barbara Heinrich Studio in Pittsford, New York; and Marlene Richey, a consultant in Melrose, Massachusetts.
And now, allow me to invite you to enter into these award-winning jewelers' imaginations. And perhaps, as Willy Wonka advises, through them "you'll see, into your imagination."
Ganoksin is sponsored by
Additional Winners
---
MJSA Journal would also like to recognize the following second-place winners in this year's Vision Awards competition.
Patrick Nelson and Mary Kay Mohs
Patrick Mohs Jewelry, Wayzata, Minnesota
Night Sky Necklace
Second Place, Professional Excellence (4+Years)
Zoe Zong
ZoeZong LLC, McKinney, Texas
Contrast Brooch; Second Place, Professional (4+ Years)
Maneli Sarmadi
Savannah College of Art & Design, Savannah, Georgia
Sweet Spell Necklace; Second Place, Future of the Industry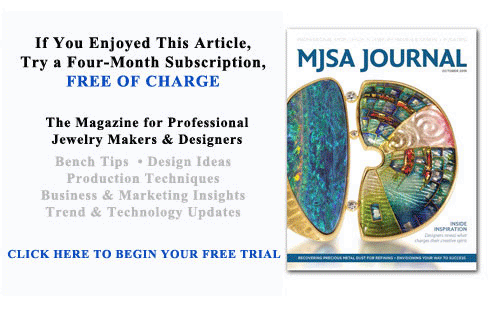 In association with

The award-winning
Journal
is published monthly by MJSA, the trade association for professional jewelry makers, designers, and related suppliers. It offers design ideas, fabrication and production techniques, bench tips, business and marketing insights, and trend and technology updates—the information crucial for business success.
"More than other publications, MJSA Journal is oriented toward people like me: those trying to earn a living by designing and making jewelry,"
says Jim Binnion of James Binnion Metal Arts.