Adam Neeley
Adam Neeley Fine Art Jewelry
Laguna Beach, California
First Place, Laser Distinction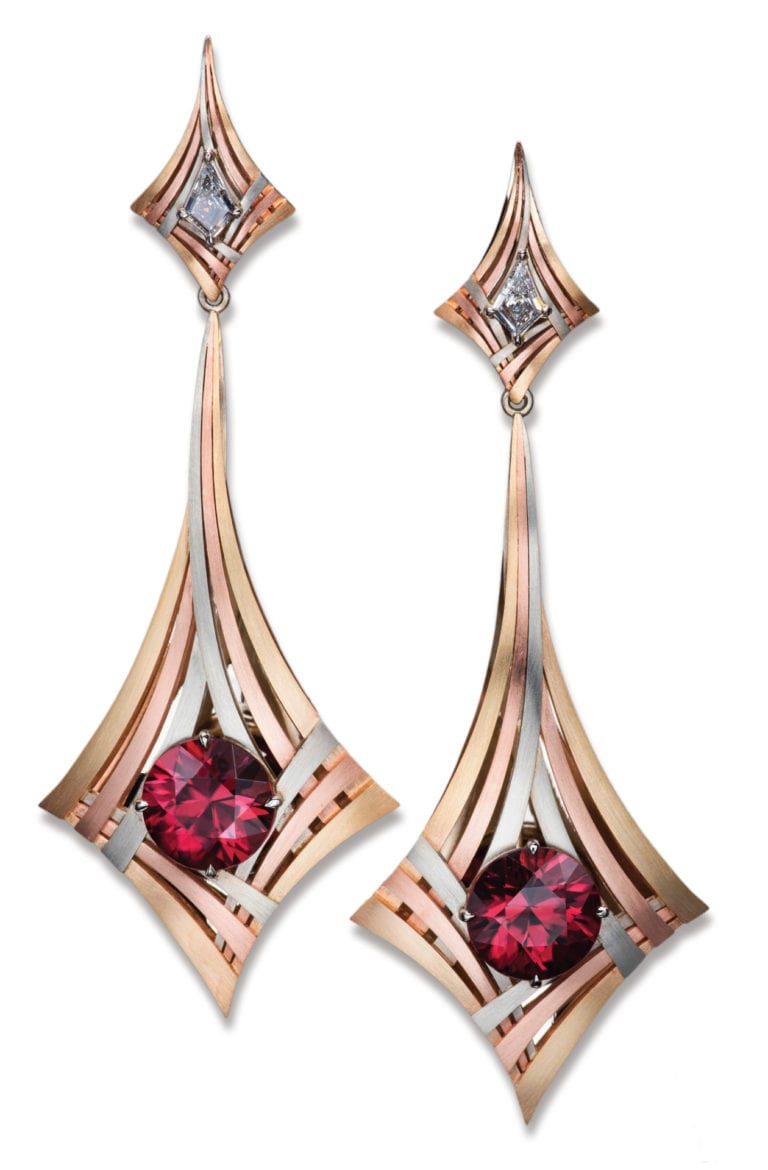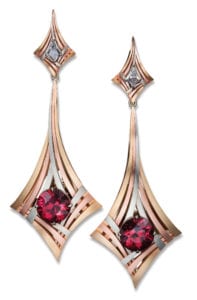 Look back over the list of past Vision Award Laser Distinction winners and you'll see that Adam Neeley's name appears quite often. The Laguna Beach, California–based designer is always looking to challenge his aesthetic by envisioning complex pieces that can only be realized through laser welding.  Case in point: his stunning Rouge Moderne earrings, a lattice of satin-finished 14k white, rose, and yellow gold bars and fiery red zircons floating over a high-polished backing, all topped with kite-shaped diamonds.
"I've taken an old-world earring silhouette and combined it with a very contemporary look, with spiralling arches," Neeley says. "I wanted to mix something that was vintage in one aspect and modern in the other. The zircon's fire and scintillation looks really great with the three colors of gold." Although a photograph fails to catch it, the custom cut of the zircon lets it show not just reds, but brilliant flashes of other tones as well.
From preserving the satin finishes to working with elements as small as 0.4 mm, these stunning pieces gave Neeley more than enough reasons to consider laser welding. It provided him with total control over the piece's symmetry and the visual effect of its clean lines. That need for precision in each element is also why Neeley designed it in CAD. "These are long sweeping curves," he says. "They have to be finished perfectly and fit together exactly because they have a symmetry as well. CAD helps that line up. But the laser is vital to precisely fitting the pieces together. In such a clean design, if there's any variation, your eye will find it. The eye wants to look for an imperfection, and I didn't want to give it that opportunity."
The way in which the piece is put together also necessitates the laser. First, there's the matter of the high-polished back plate. It serves a dual purpose: it's not only the place where the curves build up from, but it plays a vital visual role as well. "It is high polished on the inside," Neeley says. "We wanted to reflect light through the piece for a read-through effect where it pops the light, and also provides light to the zircon. It comes out in a sort of pillowed form, a shallow bowl, to handle the depth of the stone."
Being one of the first pieces in place and needing to retain its mirror-like finish, it could not be subjected to standard torch work because there would be no way to clean it up. "The sections are welded into place beginning at the interior and then working outward," Neeley says. It gets trickier as the parts get smaller—like at the top of the earring, which consists of about 30 very small pieces—including those 0.4 mm elements. "It was a challenge just getting those pieces to line up and overlap perfectly. The pieces are very small and intricate. The laser welder was huge in being able to tack them in, make sure the alignment was absolutely perfect, and then completing the weld. That's one of the things I enjoy most about the laser. You can tack things in fairly easily, see how everything lines up, and you can make little adjustments before you go through and fully weld it."
At each step of the assembly, Neeley would do exactly that: make his impermanent welds, check and recheck his alignment, and only when he was satisfied with it would he fire up the laser for the permanent weld. "There was a lot of back and forth, making sure everything was fitting together perfectly and playing with the parts ahead of time to make sure that they're done in the correct order," he says.
The satin finished bars were placed in sets of three, each triplet forming an arm of the overall arc and sweep. Here again the laser was integral in maintaining the look of the finish, a task made more important by one of Neeley's design features. "The satin finish is done in a single direction that goes with the curves and lines, so you get a beautiful sheen," he says. "Because each arc is angled a little differently, that sheen has an overall optical effect that makes it look like a spiral. If I had done torch work, the clean up would be almost impossible to do where the layers overlap. Once you apply that single-direction finish, that's it. You can't go back and get that perfect sweeping line of one direction in satin again."
Perfectly placed precision laser welds brought this puzzling piece together, kept its soft, satiny look intact, and left Neeley with very little to clean up after. "There was a little bit, but you don't see any of it. All the welds are cleaned up nicely with hand tools on the Foredom."
Put succinctly, the laser let Neeley give the piece a certain mystique, to wit: "It all gracefully dances, but you don't see how it's done." "I've taken an old-world silhouette and combined it with a very contemporary look, with spiralling arches."