Cheuk Ying Kwan
Hong Kong Design Institute
Hong Kong
First Place, Future of the Industry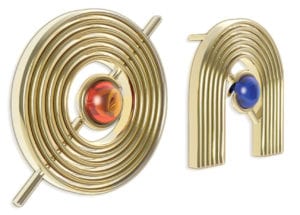 Cheuk Ying Kwan, a student at the Hong Kong Design Institute, is on a roll. The year's not over yet, and she's already won two awards—a second runner-up prize in the 19th Hong Kong Jewellery Design Competition and the top prize in the Future of the Industry division of MJSA's Vision Awards.
For Kwan, a jewelry piece is more than an accessory. She sees jewelry as "wearable artwork," a personal statement of the artist who designs it. Often, her pieces are motivated by emotional experiences, but Kwan says she gets inspired by mostly everything in her environment. The trick is to allow herself to slow down long enough to observe and appreciate what she sees. After some pondering, she's able to transfer the articles that made an impression on her to designs that she hopes will leave a mark on others.
She believes she can do that through designs that reflect life the closest. To her, that means jewelry that's not perfect. Kwan thinks that the inclusion of "flaws" allows for a deeper connection with the wearers, who find it hard to relate to something unrealistic and impeccable. After all, "Life is imperfect and full of regrets," she points out.
Ganoksin is sponsored by
"Wearable artwork."
Inspired by the Chinese characters for the sun and moon, Kwan's Sun and Moon earrings showcase her desire to incorporate the imperfections of life. Her inclusion of the moon in the design underscores the idea that life isn't always sunny. In addition, the moon and the sun's ability to cast shadows reiterates the darkness' inevitable presence. However, despite the gloominess, the moon's figurative role turns out to be surprisingly optimistic. She shares that the sun and moon are significant in Chinese philosophy, as they symbolize brilliance. "When the two words are combined, they represent another concept— brightness," she explains.
To illustrate this, she used 14k yellow gold to create the concentric circles of the earrings. Also, for symbolic meaning, Kwan decided to add two diagonal lines, which signify brightness and run across the characters that represent the sun and the moon.
To enhance the overall look of the earrings, Kwan decided to include moonstones (0.5 ctw) into the center of the earrings. The subtlety of the stones complements the shine of the high polished gold.
And, to support Kwan's wish to stray from perfection, the moonstones tone down the glam aspect of the earrings, bringing the look closer to earth.
Ganoksin is sponsored by