In 2004, New York City-based designer Lisa Jenks began a partnership with Origins, the well-known skin care products store. As the venture has progressed, she's created everything from compacts to pomanders for potpourri to votive candle holders, all in her signature style — and expanded the reach of her business at the same time.
The Origins with Lisa Jenks
The collaboration came about through people within the Origins organization who were already Jenks collectors. "The director of retail operations met with my business partner at a conference and they started talking," Jenks says. "One thing led to another."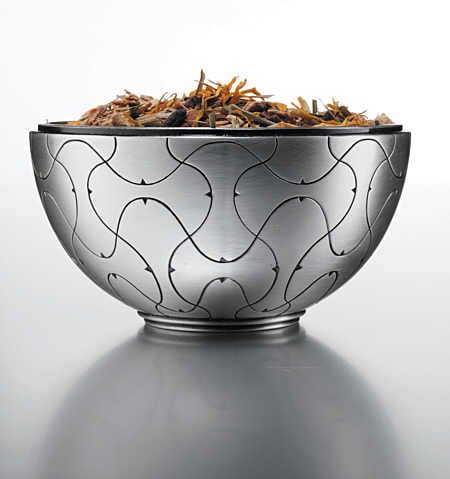 Photo courtesy of Lisa Jenks for Origins
The benefits, both tangible and intangible, were immediately apparent. "It was a fun opportunity to work with such a large, well-run, and well-financed business operation," she says. "Coming from the world of small business, it was a treat. Origins is a really singular brand (within Estée Lauder). Plus, there's a lot of synergy between what I do and what they do. My take on design is a modern approach to ancient cultures. Origins does a similar thing in a sensual way, where I do it in a visual way. The more I learned about them and they learned about us, the more we saw what a great fit it was."
The Designs
The arrangement allowed Jenks to play outside the borders of jewelry, something she has found refreshing and artistically invigorating. "There were a couple different categories that we got into," she says. "One was the look for their Christmas wrapping. I got involved in giving them a different look visually for their wraps and their gift boxes.
"I've always been influenced by patterns," she continues. "This was a wonderful way to take that influence and stretch it, working with paper and other materials rather than just metal. From a designer's perspective, to have had the kind of experience where I was given the opportunity to consider things in a very different way, although still along my same aesthetic principles, was incredible. It was a real treat to be able to stretch a different way."
The Partnership
Of course, there has to be a beneficial business side to such a venture. The simple fact is that Origins is a large, national company with a broad customer base, many of whom got to experience Lisa Jenks' work for the first time. "I've gotten my name out there in a different way," she says. "It's broadened my appeal. The exposure I've gotten has been great."
Following a series of ads Origins ran in New York Magazine promoting the partnership, as well as an e-mail campaign, Jenks noticed a substantial spike in her Web site traffic. But much of the benefit has been cumulative. "I've been getting consistent feedback," she says. "Many people have seen the ads."
When asked what advice she would give other designers who might consider a similar venture with a large company, Jenks stresses the importance of proceeding with caution. "Get a good lawyer and make sure you communicate clearly your goals and expectations," she says. "If you protect yourself and your intentions, the partnership can be very successful."