Experimentelles Schmuck design (Experimental Jewelry Design) is the name of a project implemented by the Berlin-based painter and goldsmith Werner Reister in collaboration with the Goethe Institut in Dakar (West Africa). No one dreamed of the eventual developments stemming from the German/Senegalese project, the results of which reached the stronghold of current arts and crafts, the Arts & Crafts Pavilion at the Ambiente fair held in Frankfurt. The workshop turns out works that are impressive for their innovation and creativity. The workshop was provided by C.F.A. Delafosse, in Dakar.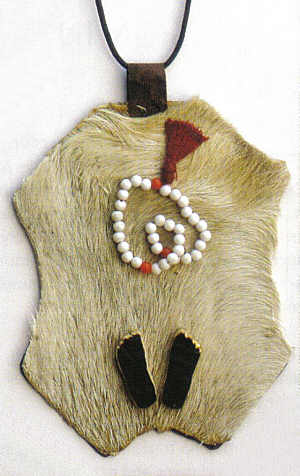 Necklace by Ibn Ousmane Badj,
Leather, pelt, wood, and lost articles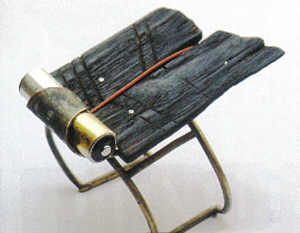 Bracelet by Ibrahima Gueye.
Bronze, wood, and battery
The dialogue between Reister and his Senegalese partners spurred in lbrahima Gueye, Ibn Ousmane Badjire, Moudo Sy and guest Simeon Tohubozo, from Benin, the courage to abandon traditional methods in the search for new, aesthetic artistic forms. The result is a fascinating use of color and symbolism with roots in traditional ideas that here are interwoven with the raw materials: the flotsam and jetsam of another world. Bronze, wood, and a battery, electronic plates and other found objects were brought together with horn, leather or fur to make imaginative, colorful items of jewelry that are symbolic of the Africa of today, with its juxtaposition of, and frequent confrontations between, yesterday and today. And they are made by artists to whom the words of Aminata Sow Fall, Senegal's major authoress, apply as if she had been writing about them directly:
"Material things alone are insufficient to form the identity and worth of a person."
Discarded, worthless items are granted an entirely new, different value and identity here. Werner Reister says of his experiences with his African partners: "I could sense with my soul and almost hold in my hand the way the creative potential of each and every individual comes together to make an overall creativity and originality in art and design. Sometimes I had to remind them of their roots in order to get them involved again.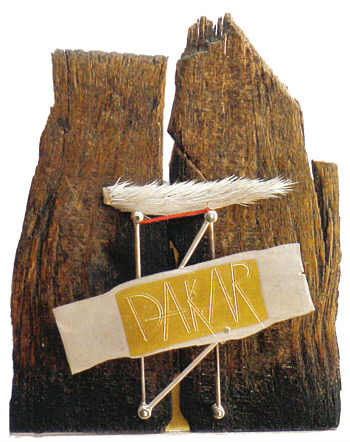 Brooch by Werner Reister.
Silver, 18 carat yellow gold, wood, and pelt
"Their raw creativity occasionally far outstripped their technical capabilities. One more reason to turn to kinds of objects where technique is less 'important. into the free world, toward quick, spontaneous expressions that do not demand that one get lost in the finer points of the craft. Just right for a country where art and crafts are much more closely related than here in Germany." The exhibition of pieces from the workshop at the Dakar Biennale (Biennial) 2002 on current African art, and at Tenclence, the fair held in Frankfurt, demonstrate a growing interest in modern forms of expressing current African culture.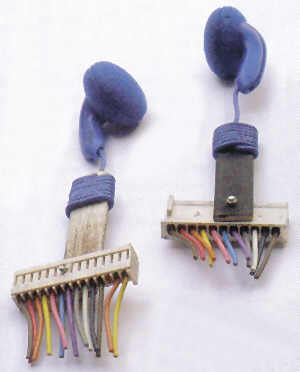 Earrings by Moudo Sy. Lost articles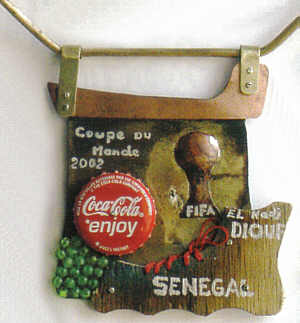 Necklace by Simoen Tohubozo.
Bronze, copper, wood, and lost articles