Firtz Falk, the curator of the Schmuckmuseum Pforzheim, was the first to call it the Padua School, back in 1983. He was preparing the Dieci Orafi Padovani (Ten goldsmiths from Padua) exhibition and he realized that not only had these ten studied at the 'Pietro Selvatico' art school, under Mario Pinton, but they also shared other things.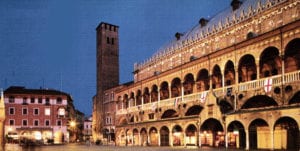 Padua, Palazzo della Ragione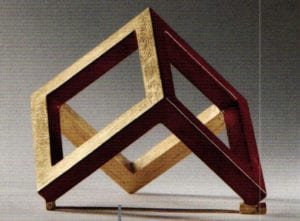 Francesco Pavan, brooch "Cubo", 2006. Metal alloys, enamel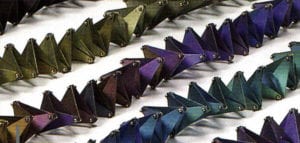 Paolo Maurizio, necklace "Modulo '69 arcobaleno", 1989. Anodized titanium, gold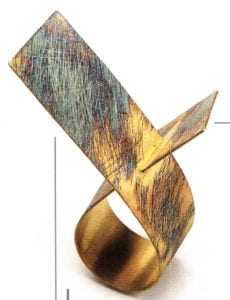 Giorgio Cecchetto, ring "Gamma 2", 2002. Gold
First of all, there was a language founded on the purity of form and sense of geometrical proportion, then there was their vast technical skill and familiarity with precious metals which led Falk to think of them collectively as the Goldschmiedeschule von Padua, (the Padua goldsmith school). This label accompanied the Padua movement into the history of jewelry. Nonetheless, it is equally true that the ten artists had distinct personalities and so their careers evolved differently. Thus, the anthological exhibit Gioielli d'autore – Padova e la scuola dell'oro (Great Master Jewelry – Padua and the gold school), dedicated by the Padua authorities to the city's most archetypal goldsmith- artists, appears as a reunion of shared roots. Moreover, the high-profile location of Palazzo della Ragione gives the show (open until August 3) all the traits of a celebration in the grand style.
There are almost 500 items on display, starting with the creations of the pioneer, Mario Pinton, who began teaching in 1945 and immediately realized that goldsmithing could hold its own against all the so-called great arts, availing itself of a modern idiom. Significant support came from the patron and gallery owner Alberto Carrain, who was the first person to show works by the snubbed Padua masters. He validated them, together with Pinton, who had already participated in the Milan Triennale and the Munich Fair in the 1950s. In 1961, Pinton (the only Italian apart from Martinazzi and the Pomodoros) was asked to showcase at the Victoria & Albert Museum's Exhibition of Contemporary Jewellery in London, and the year after at Herbert Hofmann's Form und Qualität. This was just the start Pinton's school was the habitat that nurtured Francesco Pavan and Giampaolo Babetto, who brought to jewels the optical and kinetic art that was the quintessence of the 1960s avant-garde. By 1961 Pavan was already running the Selvatico's goldsmithing workshop; in 1964 he exhibited at the Venice Biennale, going on to Pforzheim the following year, and then to Munich. He took essential geometrical shapes and axonometries as his template, as they suggested multiple viewpoints, and this was a stylistic feature that characterized the Padua school in no small measure. Babetto also began teaching when he was young, in 1969. Early in his career he experimented with kinetism and serial production, establishing himself in the Rationalist art framework of the 1900s, making himself known for his deep-rooted aspiration to order and geometries.
Ganoksin is sponsored by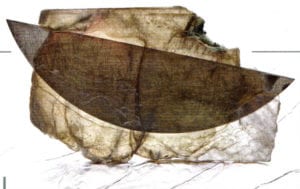 Alberta Vita, necklace "Tracce", 1999. Silver, gold, mica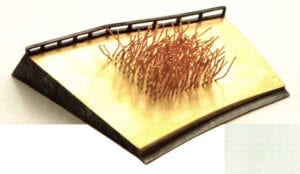 Piergiuliano Reveane, brooch "Tos 208", 2007. Gold, oxidized silver, niello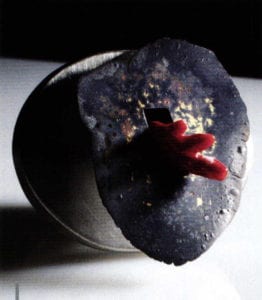 Maria Roza Franzin, brooch "Blumen", 2005. Gold, silver, coral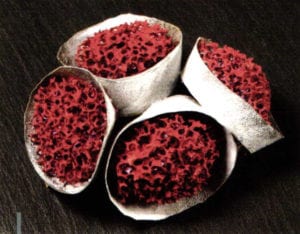 Annamaria Zanella, brooch "Fiore del mare", 2006. Silver, acrylic sponge, enamel, gold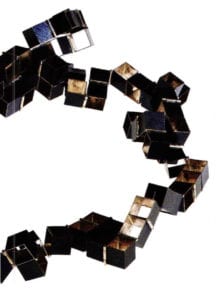 Giampaolo Babetto, brooch, 1995-2007. White gold, niello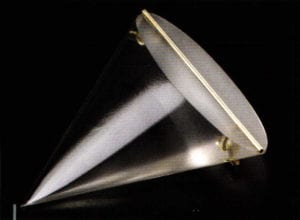 Renzo Pasquale, brooch "Cono e segment", 1983. Diorite with gold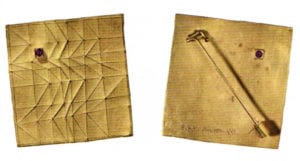 Mario Pinton, brooch, 1995. Gold, ruby
One after the other, the movement leaders left the 'Selvatico'. The link between past and present was forged by figures like Graziano Visintin, a former pupil of Pavan and Babetto, who taught from 1976, whose work is shown at the Padova e la scuola dell'oro exhibition, together with Giorgio Cecchetto, Lucia Davanzo, Maria Rosa Franzin, Stefano Marchetti, Paolo Marcolongo, Paolo Mautizio, Barbara Paganin, Renzo Pasquale, Diego Piazza, Piergiuliano Reveane, Marco Rigovacca, Alberta Vita, Annamaria Zanella, and Alberto Zorzi. If we were in any doubt about the validity of the Padua group, it might be worth remembering that it includes about a dozen Hofmann awards. Recent work stands out for its more emotional approach, as Mirella Cisotto Nalon, the curator of this show, says "there is a more open call to being, to becoming, to the world of nature, in a counterpoinr of disquiet and hope". Times change, but Padua is still the cradle of contemporary jewelry.