The renowned jewelry and watch manufacturer Bunz will celebrate its 30th anniversary in June 2005. Since the company was launched in 1975, the world famous jewelry designer, Georg Bunz, has enthralled the specialist audience and numerous consumers with his exceptional and significant creations.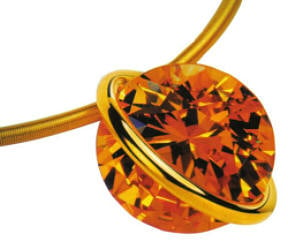 Necklace from the Bunz collection
Design as a marketing concept

This was Bunz's motto in 1975 when he set off to conquer the market. The basis was an unusual, but significant and independent creation. Many of his colleagues at the time had predicted a fast end to the idea and the collection. But it came differently. The idea and the implementation were crowned with almost incomparable success. Creative fantasy, the courage to be imaginative and taking a creative approach to processing topics in an innovative form were the most important criteria in the development of contemporary design.

Prices and patents

Just like his design, Georg Bunz found recognition on a national and international level for his technical innovation in the form of prizes and patents. His developments in the watch sector in particular, like the model Moontime, should be mentioned at this point. We could also mention that in 1987, Georg Bunz succeeded in anchoring a diamond invisibly in a watch glass. Apparently defying gravity, the stone hovers above the dial; this became a feature of many wristwatches by Bunz. The technology also influenced the current Bunz jewelry collection, as it also drew on the idea of the hovering diamond. All watches are manufactured in Switzerland by the subsidiary of the Bunz Collection, Bunz Montres SA.

Striking accents in the language of forms


Jewelry from the collection "Symbols"
Georg Bunz's language of forms has always used striking accents: for example, it contributed decisively to the rejuvenation of platinum in the jewelry market. By ensuring that his products remained independent, by using the best materials, high crafts skill and by finding demanding technical solutions, Georg Bunz has made a name for himself in the international jewelry world. Among other things, the company is launching a limited, special edition – once more a highlight in international jewelry design – to mark the 30th anniversary of the company, which will be celebrated in June 2005 in Dobel / Northern Black Forest.
Drop necklace from the special collection "30 Years Bunz"
Georg Bunz has succeeded in combining creativeness, innovation and form in such a way that numerous classics of the modern world were produced. This represents an important and sustained contribution to the culture of form.