Karl Lagerfeld is the person to thank for elevating tie pins to haute couture. "I love neckties, but I only wear black ties. I never leave the house without a tie pin," says the fashion designer, who has brought a 300-year-old tradition up to date. Like many decorative accessories, tie tacks exist because they have a practical function. The fabric, structure, and cut of the cravats of earlier eras meant that the arrangement had to be pinned in place.
Back in the 18th century, when fashion followed the style set by Beau Brummel, the folds of a cravat were very important. The pin imparted an additional elegance and color to the appearance and was often lavishly designed.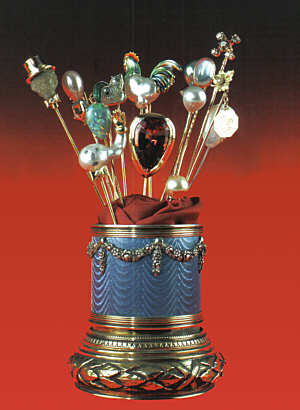 Original office-desk-container out of the workshop of Carl Faberge in silver gilt and blue enamel with 15 tie-pins out of precious stones, diamonds and pearls from different periods
The typical white shirt around 1900, complete with stand-up collar and silver-gray tie, also included a pin. Such pins became symbols for various groups, indicating a man's interests, hobby, or profession. As a sign of royal favor, magnificent tie pins were given as gifts by emperors and kings.
| | |
| --- | --- |
| | |
| Carved heads in boulder opal (Australia), gold | Two tie-pins with exceptional precious stones, created in 2001 at Idar-Oberstein with state-of-the-art craftmanship and expertise |
Black and white were popular – Lagerfeld would have loved it – up to the First World War. Tie pins were made of pearl, agate, moonstone, or onyx. Pearls were considered to indicate seriousness and correctness. But pearls aren't just strong and smooth; they can also display decorative, original designs based on baroque pearl shapes.
| | | |
| --- | --- | --- |
| | | |
| Natural scarab set in gold | Fresh-water pearl and mandarin-granat 18 carat gold. Greyblack tahiti pearl and diamondcarrée, platinum | Butterfly, garnet (facetted) and oriental pearls, gold. Aquamarine (facetted), gold |
A temporary stop was put to tie pins and tacks by technical developments in the fashion industry, according to Dr. Christine Hoidis-Fehler. New printing processes eliminated impediments to color in ties. Tie tacks also became a problem because men didn't want to damage the fine satin or silk fabric by punching a hole in it.
But there's no trend without a countertrend, and now gentlemen who are in no way old fashioned are discovering witty, modern variations on the tie pin. They are also positioning them correctly: 5 cm from the knot or two to three fingers directly beneath it.