This sketch features a stock pair of earrings that are customized for cultured pearls. The request was to design earrings that would be unique, modern and functional – within a tight budget.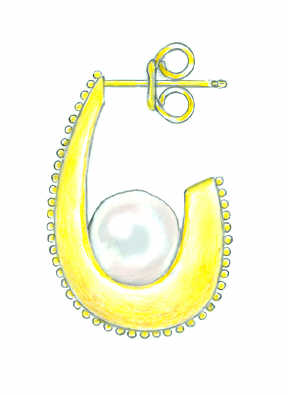 Customizing Stock Earrings
Using Fusion Welding Technology

The earrings started as a cast 14-karat yellow gold stock item (as featured in this photo) from Stuller, Lafayette , LA.
To prepare them for the addition of 22-karat yellow gold granulation and the cultured pearls, a groove was created using a diamond wheel. A separating disc would have also worked. This groove will allow the beads to be positioned a bit lower on the earrings. Pearl posts were made and soldered.
After pre-finishing, a matte finish was created on the earrings using a small bench top bead blaster with a dry medium grade glass bead media.
After blasting, cleaning and inspecting, small 22-karat yellow gold beads were fusion-welded in the groove – one at a time using the ABI Tack II welder. For fusion-welding, the earrings were securely held in the ring clamp lead that was attached to the negative terminal. The vacuum lead was attached to the positive terminal and the vacuum pump. The vacuum pressure holds the bead at the end of the tip.
For this procedure, the Tack II was set on the high energy setting at 40 volts. The tip of the vacuum lead is slightly concave. A small setting bur was used to make the concave shape. As the bead is positioned, the footpedal is depressed and a surge of electrical energy flows through the circuit welding the bead to the earring.
A bench microscope is used to insure the beads do not touch one another. For the best results, the bead should not touch the adjacent bead or any other portion of the part except where it is to be welded.
Required to complete the fusion-welding are:

ABI Tack II
Vacuum pump (located on top of the Tack II)
Vacuum lead (red and attached to the positive lead and the vacuum pump)
Ring clamp lead (black and attached to the negative lead)
A small setting bur and a quantity of granulation beads.
Once the fusion-welding is completed, the earrings are finished and the cultured pearls set.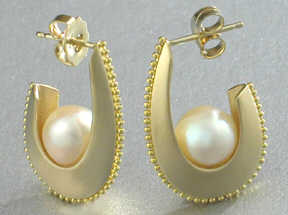 This modification of a stock item provided a good customized alternative to starting a design from scratch while providing the customer with a unique item of jewelry on a budget. The granulation took 15 minutes to complete.
Important
Tack-, fusion- and pulse-arc equipment settings will differ and are based upon the volume, amount of contact and alloy of the material you are working with. Practicing using like materials will give you a parameter for the settings required for your application. Keep a record of settings and tasks for future reference.