Artist's with shared sensibilities and needs often come together to form co-operative studios in order to reduce overhead, share equipment, and develop a greater sense of community.
In 1989, with these goals in mind, Paulette Werger, Lynn Whitford, and Agnes Chwae, three friends who had been in graduate school together at the University of Wisconsin-Madison metals program, formed Metalpeople in Madison. Jeweler Jim Charneski, whose background and training was in the jewelry trade, soon joined the group.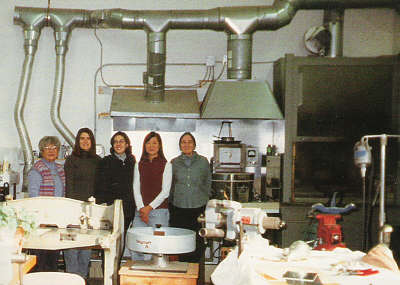 Metalpeople in their studio, 2003
Left to right: Mary Harkness, Linda Seebauer, Lisa Ferin, Agnes Chwae, Lynn Whitford
Photo: Donald Friedlich
The four metalsmiths spent a year looking for a suitable studio, then developed a business plan and applied for a space in a newly evolving business incubator building. The purpose of an incubator is to subsidize and nurture the growth and development of small businesses; the goal is for the business to become self-sufficient and leave the nest after a period of three years. This period was extended in the case of Metalpeople, and they were allowed to stay for seven years. In 1996, they moved to their current location, a former bus depot in a light industrial section of Madison.
Today, two members of the original group, Whitford and Chwae, remain, they've been jellied by Linda Seebauer, Lisa Ferin, and Mary Harkness. In early 2003, Yuyen Chang became the newest addition to the studio.
The studio is a roughly 1,200-square-foot space that has high ceilings and good light, in a well-kept multiuse building. A fifth of the space is occupied by hat maker Renee Roeder. Each person spends about $150 a month for the studio rent, maintenance, and utilities. The building's other tenants include Guild.com, the online craft marketing and publishing company, an architectural model maker, a noodle company, and a diaper service.
The fad that Metalpeople has survived for fourteen years is notable arid seems at least in part due to some intelligent foresight on the part of the original group. Instead of structuring a more formal legal entity, like a corporation, they kept things simple and, more importantly, flexible. While they split the initial startup costs (such as plumbing and electrical and ventilation :systems) and continue to share the ongoing costs, the .. equipment is generally owned by an individual artist.
They each have their own hand tools and share the use of the larger and more costly equipment, such as the casting machine, jump shear, and stakes. Thus each artist has access to facilities superior to those any one individual could afford alone. The advantage of the informal structure of Metalpeople is that when a member leaves, it isn't like a divorce; no lawyers need be involved. The departing member simply takes his or her own possessions, and the remaining group looks for a suitable replacement. Those initial startup costs are then amortized to any new member.
The background and technical areas of focus of the current group members vary widely. Whitford is well known for her highly skilled raised and fabricated hollowware installations of groups of patinated bottles. Her forms are often metal reproductions of old glass bottles or scientific apparatus. Choose makes distinctive patinated vessels as well. She often adds decorative elements integrated into the rims and bases of her pots and sometimes utilizes chased surfaces. She also does commissioned jewelry and teaches part-time at Madison Area Technical College. Seebauer, who received her MFA from UW-Madison in 1997 and a fellowship from the Wisconsin Arts Board in 1998, also teaches part-time. Her sculpture and jewelry is inspired by natural themes of growth. Harkness is a pediatrician retired from active practice. She has taken metals courses at UW Madison and is an avowed workshop participant. Ferin has a master's degree in archeology and came to jewelry making through her mother, as well as through her archeological studies with a craft specialization.
The great unknown factor in forming a group studio is the interpersonal dynamic. While the members of Metalpeople acknowledge they have had good luck in this regard, they also emphasize the importance of sensitivity, consideration, and trust. Their ultimate goal is for each member to have a comfortable and satisfying place to work. The camaraderie of a group studio provides relief from what can be an isolating studio practice. Also, because it is next to impossible to be an expert at every metalsmithing technique, the members' diverse expertise provides the added benefit of on-site technical and artistic input.
Agnes Chwae
Alpine Lake, 2001
Pewter, 4 1/2 x 11 1/2 x 11 1/2″


Linda Seebauer
Implements to Nurture Series#4, 1997
Bronze, sterling, patina
1 x 7 ½ x 1″
Photo: Jim Wildeman
Lynn Whifford
Six Characters in Search of an Anchor, 1999
Copper, brass, patina, wood shelf, oil paint
36 x 15 1/2 x 9 1/2″
Photo: Angela Webster
When they leave school, students often face many difficulties in finding a way to continue making the work they love. They are suddenly without a well-equipped studio, the support and feedback of their peers and faculty, and the financial means to build these resources on their own. Because of a jeweler's relatively modest space needs, a shared studio can provide a viable answer to many of these challenges. Metalpeople is an excellent template for the establishment of a successful group studio.