After work, she walks along a tree lined street to her snug home, lavishly decorated with paintings bought, given, or traded from students, friends, and colleagues. Her studio is at the rear of the small yard, shaded by large lemon and orange trees. She's greeted by the family dog, Patsy Montana (named for the first woman country singer to sell one million records), who pursues her and plays with the fallen lemons. it is here that her private, interior world begins.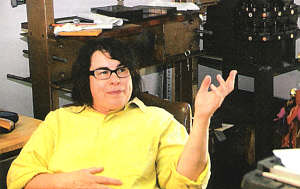 Christina Smith, 2004
Photo: Ellis Gans
Her studio, a former garage, is neatly but tightly packed, and well ventilated with a writhing mass of pleated silvery ducts overhead. There is a large guillotine, which she uses to cut and construct heavy paper models of big projects, such as teapots. These are then deconstructed, digitally photographed, and manipulated at the computer station across the room.
Like most metalworkers, she is a tool lover. In addition to the usual fabrication equipment, she has two rolling mills. a slip roller for cylinders and bracelets, and a Crystal Master lapping machine for flat lapping hollow forms such as bracelets and teapot bottoms. She also has three lathes one of which is new. "I do everything on it!" says Smith including making her own nuts and bolts for cold connections, particularly on her teapots. Self taught in machining, she makes all the parts for her charm bracelets and the findings for her breeches, including a newly designed and ingenious locking pin stem of which she's currently proud.
Smith likes to work big. She opens a wide drawer cabinet and lets me try an a few pieces Her bracelets, rings, and breeches are hefty, but wearable, provided you don't do the housework in them. Her teapots and tea services are not for the weak of wrist. They are fabricated from 14 and 16 gauge sterling, with solid stands cut from I gauge metal. Shearing this thick metal still causes her and her supplier some headaches; it's not easy to do without causing slight distortion.
Smith's holloware and jewelry are superb performance art. Each piece or set has a theme Frequently with a silhouetted figure in a square frame surrounded by everyday objects, just sufficiently out of scale to require detailed examination and evoke a feeling of slight unease, recognition, or deja vu.
Why so many teapots which are difficult and time-consuming to make? For Smith, they conjure memories of coziness, of growing up in a family where tea was important, and where she was taught to make and pour it by her mother and grandmother. Today, she makes sure her teapots are functional some even have their own tea infuser inside.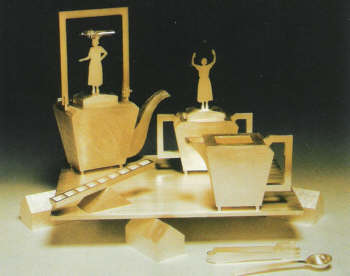 Too Many Tools (tease race), 2002
Sterling silver
18 x 14 x 14″
Photo: Anthony Cunha
A consistent theme of her designs is a flat, heavily textured figure, almost cut from a photograph. As a fourth generation Californian, her brain is hard wired to strong cinematographic and comic book outlines. When you look carefully at the foreshortening, however, her figures impart a strong sense of movement and additional dimension. By contrast, their tools, accessories, and other objects are in carefully modeled 3 D. "if I sculpted the bodies I would lose the action I get in a photograph," Smith explains, adding "I want people to bring past experiences to the pieces. They are also my reactions to situations I have been in." Many of these reflect the ordinary joys and sorrows of family life, our struggle for our own sense of place, and the private angst we all experience from time to time. Many of the little people are stuck in a box like frame, coming, going, or just hanging. With their arms raised in despair, confusion, or exuberance, they look as though life is giving them a hard time.
Smith's art reflects the uneasy temper of our generation. It resonates with her collectors, galleries, and several museums, including the Los Angeles County Museum, which recently purchased and displayed her tea service Too Many Tools. In the last four years alone Smith has been in 17 group shows, ranging from SOFA to the Cheongju Exhibition Hall In Seoul, Korea. Her work has also appeared in several magazines and has been featured on the covers of Metalsmith and Ornament.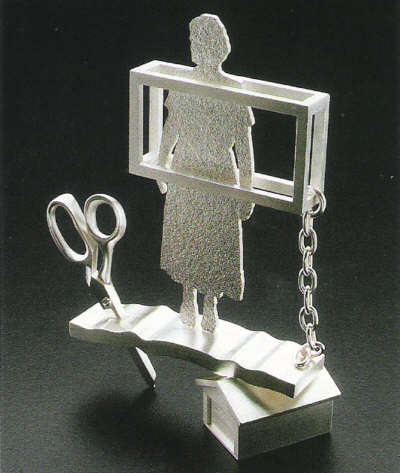 He Always Planned to Leave (brooch), 2004
Sterling silver, 4 x 3 x 1″
Photo: Anthony Cunha
To date, her work has mostly avoided strong political statements. In the future this may change, depending on the outcome of the presidential election, and on how she acts out her role as the family liberal. It's also possible she will tackle more women's issues, such as her resentment of "fat old men debating abortion." Meanwhile, she continues to work long days at school, and long evenings and weekends in her studio, squeezing in a little time to have fun playing with Patsy Montana, or with her two nieces and nephews, and fly fishing, Is she a workaholic? Undoubtedly! But as she says "I so much enjoy what I do. It's my life."