When Glenn Manning of Manning Jewelry in Foley, Alabama, bought his first laser welder almost a decade ago, he thought it was "a magnificent piece of equipment." But He soon realized that while the laser welder had many advantages over traditional soldering, it was troublesome to handle the wire used in the process.
"It's difficult to advance wire into the weld without losing focus or position because the thin — gauge wire used in laser welding moves easily and vibrates," says Manning, who in the 1980s joined the retail business that his father began in 1949. "And then there's the problem of burning your fingers while you're trying to position the wire."
Manning's solution, a laser welding wire dispenser that he calls Speedwire, solves those problems and more-and it's getting rave reviews from the handful of people in the jewelry industry who have had the chance to try it.
In Control
There's something to be said for the simplicity of Manning's product-a pen — shaped plastic tool that holds either five or 10 feet of welding wire, which is available in a variety of metals and sizes ranging from 28 gauge to 36 gauge. The wire is fed through a stainless steel guide tube on the front of the device by a fingertip — controlled roller.
The tool may be simple in its construction, but each design detail serves a purpose, says Manning. Take, for example, the triangular shape of the pen. "The shape and length of the body are designed with the limited area of the laser chamber in mind," says Manning. "It's very easy to flip the tool around without moving the work piece, saving the jeweler time during the welding process."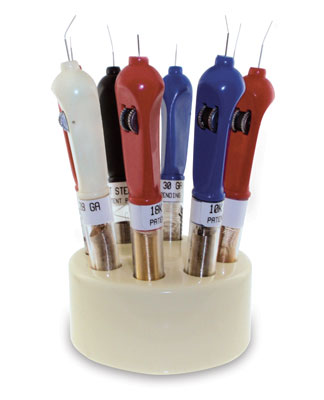 Another design decision Manning made with the intent to speed production is color — coding the pens by metal type. "It makes it easier for the jeweler to quickly pick up the metal type he needs without wasting time searching through various spools of wire," says Manning.
Laser welder users who have tried Manning's Speedwire agree that it saves time and improves the quality of the weld. MJSA Thinking Ahead Awards judge Linus Drogs of Au Enterprises in Berkley, Michigan, sees multiple benefits of the tool. "One major frustration that large shops with numerous welders experience often is the loss of wire from the end of the spool or coil," says Drogs. "Somebody lays it down, and the next person has no idea what metal it is, so we have to scrap it. Before this tool, we didn't know if the leftover wire was 10k white, 14k white, or 18k white. The color coding takes the guesswork out, and it enables us to use every last bit of wire without waste."
Drogs also applauds the control over wire placement that Speedwire affords. "At 28 or 30 gauge, wire is very flexible," he says. "You can't get it to go where you want it to. With this tool, you have a good grip and just 2 to 3 mm of wire exposed so you can place it exactly where you want it, without burning your fingertips in the process."
Eddie Knox of Knox Jewelers in Atlanta, who has been using Speedwire for about a year, echoes Drogs's observations about its precision. "When welding without the tool, even if you brace fine wire as best you can, it tends to jump," he says. "This is like behavior training for wire. In tight areas, it's great. You can weld down a line very fast-right down the groove."
In Production
Manning currently has a patent pending on Speedwire, ack — nowledging that the method in which the wire is dispensed, transforming it from a coil into a linear shape when it's pushed through the mechanism, is a major component of the patent. "The device is designed to dispense wire with the least resistance," says Manning. "A stainless steel tube holds the metal steady, and you can hold the wire 2 mm from the laser beam." Should a laser beam hit the tube accidentally, the tube can be snipped or ground to behind the weld, or completely removed and replaced.
After building in such practical aspects to the tool and carefully considering its design from a jeweler's perspective, Manning has decided that he wants total control over the tools' production. He's manufacturing the products himself in his company's 5,000 square foot facility.
"I designed the entire manufacturing process, which was, quite honestly, more difficult than inventing the device," he says. "Everything is done in — house, including the plastic casting." When possible, he incorporates commonly available parts, such as springs, into the unit, not designing each exclusively. "You can design a product where every component is designed exclusively, but then have to pay to tool every one," he says. "This enables me to keep the cost of Speedwire down."
Although the current Speedwire is a disposable product, Manning is working on two other models: one that can be reloaded with a cartridge, and another that would enable customers to make their own wire coils to fit into the device. For Manning, the most time — consuming and exacting part of the manufacturing process is producing the wire in the correct configuration for trouble — free operation. The wire is wound around a specific size mandrel and then annealed for an hour to hold its shape. When it comes time to market the cartridge model, he hopes to find a vendor to manufacture the wire — filled insert.
According to MJSA Thinking Ahead Awards judge Teresa Fry? of Techform Advanced Casting Technology in Port — land, Oregon, Manning should have no problem finding a vendor willing to work with him on this product, as she believes it's a tool that will fast become an industry standard.
"We had the opportunity to test this product in our casting facility, and our entire foundry staff was thrilled," she says. "It's apparent that Speedwire will fill a longstanding need for more efficient laser wire use. We expect a rapid adaptation and recommendation of Speedwire by both laser welding manufacturers and suppliers worldwide."
For those who have tried it, this seemingly simple tool is making a big difference in laser welding speed and quality-and it's reducing the number of burned fingers in the shop.