This simple pendant design will be made with 950 palladium wire. Tack-welding technology will be used to temporarily hold the prong wires prior to soldering to the lower bezel gallery wire. The trillion shaped Danburite weighs 6.4 carats and measures 13.35mm. No commercial settings were available to accommodate this gemstone.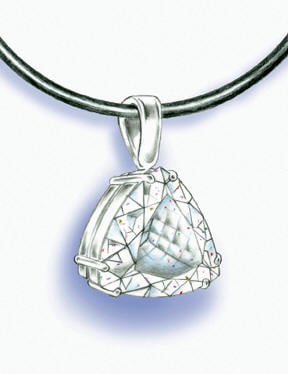 The Danburite for this project was provided by Jeffrey Fast, JBF Minerals, East Hamden, CT.
The 950 palladium wire used for this project was TruPd from Hoover & Strong. Hoover & Strong supplies sheet, wire, solder, casting grain and settings in this alloy.
The bezel gallery wires were fabricated from 2 x 1mm rectangular 950 palladium wire.

The prong wires were fabricated from 0.90mm round wire. Small notches were ground into the lower bezel gallery wire.

The ABI Tack II welder with parallel and flat nosed pliers's leads will be used to tack the prong wires to the lower bezel gallery wire.
For tacking the prongs, the ABI Tack II was set on 40 volts at the high energy setting. The parallel pliers lead was attached to the positive terminal and firmly held the lower bezel gallery wire.

This image shows the parallel pliers holding the gallery wire with one of the prongs tacked.

A notch was filed on each side of the top portion of the flat nose pliers. The notch allows for better electrical contact and holds the prong wire during the tacking procedure.

Note: To avoid destructive tack welds, the notches and joints must be clean with no flashes of metal or debris. The parts must be firmly held together.

All prong wires were tacked. Tacking provides a temporary hold and is the ideal preparation for soldering or welding. If any of the prong wires were not in proper alignment, they are easily be removed and re-tacked.

The palladium assembly is placed on a platinum soldering block and soldered using hard palladium solder. The soldering procedure is made easy by tacking the wires because they hold in position and do not move during the process.

With the lower assembly completed, the upper bezel gallery wire is fitted, notched, inserted and then soldered.

After finishing and polishing, the Danburite is set.
Important
Tack-, fusion- and pulse-arc equipment settings will differ and are based upon the volume, amount of contact and alloy of the material you are working with. Practicing using like materials will give you a parameter for the settings required for your application. Keep a record of settings and tasks for future reference.