This article covers routine repair and assembly projects accomplished using ABI's Mini Pulse Arc III.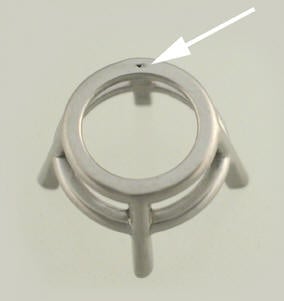 This cast platinum setting has a significant and noticeable pit located on the under gallery wire as indicated by the arrow.
Jewelry Repairs with ABI Mini Pulse Arc III

A small ball bur is used to open and round the pit and then a small platinum bead is inserted into the rounded depression.
After some experimenting with voltage and power level settings, 50 volts at power level 4 with the number 2 tip was used to melt the bead into the rounded depression.

The contact pad was attached to the negative terminal and the weld pencil to the positive terminal.

The electrode was recessed about 1 millimeter into the ceramic collar and the collar was held about 1/2 millimeters away from the bead.

It took about 6 pulses of energy to complete the welding.

These earrings have prongs for back setting gemstones. In the process of setting, two of the 4 prongs cracked.

The cracked area is indicated by the arrows.

The prongs were reattached using the ABI Mini Pulse III set on power level 5 and 45 volts.

The tip was held of the welding pencil about 1/2 millimeters away from the cracked area.

The cracked prongs were repaired with little or no deformation of the prongs shape.
To further test the parameters of the ABI Mini Pulse Arc III, 18 karat yellow gold Omega clips were selected for welding of the rivet wire.
For this procedure, the #1 tip was used and a power level of 5 and 50 volts. The rivet wires formed a smooth nice weld.

The welding process did not anneal or tarnish the findings during the procedure.
Important:
Tack-, fusion- and pulse-arc equipment settings will differ and are based upon the volume, amount of contact and alloy of the material you are working with. Practicing using like materials will give you a parameter for the settings required for your application. Keep a record of settings and tasks for future reference.