One of the most revolutionary advance in recent years, apart from the Laser soldering, is the method of "Setting Gemstones in Wax". It has 'freed' up many impossible designs and allowing the manufacturer to forge ahead and create many difficult setting projects. Otherwise, that company might have had to re-design their ideas and to have the stones hand set. A jewellery company can now replicate with numbers of ten's, or thousands of each design with the same degree of accuracy and professionalism.
This stone in wax setting method was the groundbreaking process for "Invisible-Setting" we all know about today. This is one of the most economical methods in stone setting. It removes the high labour stone setting fees of some setting projects. It is here that the suggested wax setting fee is about 0.15 cents – 0.20 cents per stone, compared with the same setting at about $3.00 – $5.00 for the equivalent in Gold or Platinum.
Tools you should need:
Tapered Wooden Polishing-stick.
Wax Melter, with a fine blade tip.
Fine tipped "metal" pusher, (after gold setting)
Some time ago – Jurgen Maerz, of the Platinum Guild – documented to the jewellery trades at large, how he set a diamond in a Platinum ring. Using this "set-in-wax" approach. This was explained in the "AJM" magazine. It is revolutionary and letting all of us now know nothing is impossible!
After many trials and errors he succeeded with correct temperature ratio melt using a correct Platinum mixture. Using many various combinations his experimentation finally worked! Could this happen 10 years ago? He would have been laughed and ridiculed for even thinking along these lines. But he persevered and he demonstrated that anything is possible by using this simple wax setting method.
I remember in the early 1970's, a jewellery company in Toronto was attempting to master this same idea. All "setting-in-wax" was done behind closed doors and no one was allowed to observe this method. I even saw a wax setter with curtains around his bench. This was so no one could see how he was setting diamonds in his wax forms.
How time has changed our attitudes?
Our jewellery knowledge has expotentially increased with bench jewellers trying new innovative ideas. If proven correct, they can now express their ideas and pass them over to the rest of 'us' around the world, in the form of magazine articles, as well as in trade seminars.
Imagine setting a diamond in 20 minutes and then with this "wax-set" method it can be done in only seconds? What a cost and time saving technique?
Now lets all see how this method of "setting-stones-in-wax" is done and how easy it really is. In fact, I teach my stone setting class this method in just a "one evening" session.
After the metal designer makes his silver-model and prepares all the claws with little undercutting grooves. He will then make the final computations for the final selection of diamonds and make a rubber mold of his pattern. As most rubber molds have with the usual 10% shrinkage. His degree of professionalism must take in affect this scaled down size of claws, channel settings and bezels from the original size. Now the "wax injector" will use a wax that has a 'memory'. This is when the wax is spread out with a stone enclosed, it will use this innate 'memory' to return to its original shape. This is just why "wax setting" is always used and so easy to set..
My dear readers of this article, I will not attempt to delve into the casting techniques. This is in oven temperatures, cool down cycles, investment mixtures and burning out the wax in the appropriate ovens. But I will try to identify one temperature control and that is that Gemstones of any nature will not survive over 800 F for along period of time.
It is a proven fact that rapid cooling with aid of water will fracture any stone immediately. This is very true with diamonds. In one jewellery shop, 25 carats of melee diamonds were ruined by just rapid cooling a very hot "out of the centrifuge" flask into cold water!
Please allow all wax-set stones while still in their hot flask to cool down by air-cooling. You can also let the hot flask cool in a "cooling" oven. Then at that time, open the flask when you are satisfied the flask is cool to your finger touch.
First of all, hand holding your waxes may not be the wisest procedure to do. As the heat of the fingers will distort the wax you are using, it will bend or make the shank go out of shape after a few minutes. I always put my wax on a wooden tapered spindle. Secure this wax and hold it in your left hand (if you are right-handed). Pick up you round bur and with your fingers clean out any left over wax fragments. As this will prevent any stone from sitting in its correct place. Do not use a flex-shaft drill for this procedure. Holding the bur in your fingers rotate at will and see if the holes are clean.
Now do not touch the claws them selves at this point, but get your desired stone and place it into the channel or claw setting. It should just "slide" in. I must interject at this point that there are only a select types of Gemstones that and be set in wax. Do not use Aquamarine, Garnets (at will), Opal, Turquoise, Pearls or any soft stone. Leave these to hand setting!
Think of the colours of the American Flag!
Red, White and Blue! These are the only colours of stones you can set in wax.
Red – Rubies;
Blue – Sapphires;
White – Diamonds or Cubic Zirconias;
No other stone will withstand the heat of metal casting.
There might be breakage if there are any "inclusions" in any of these stones. When placing stones in wax, Do not let any of the girdles touch! As this will lead to a shattering of the stone during the unrush of hot gold. As the gold is entering the flask this sudden rush of gold will disturb the stone in the investment and jar it a bit loose.
Do not let any of the girdles touch!
As this will lead to a shattering of the stone during the unrush of hot gold. As the gold is entering the flask this sudden rush of gold will disturb the stone in the investment and jar it a bit loose.
The slamming against the neighbouring stone and subsequently two stones might get broken. It is now safe to say that there should be slight separation of these two stones.
You will see the claws spread out by them selves and return again to their original position. This will take no effort on your behalf, whatsoever. If for any reason you feel that the claw tip is not strong enough, or not to your liking. You should with great care, apply some wax to any part of the claw tip, this will greatly provide more security to the gold on the stone.
This can be done with your wax melting machine, turned on to a "Low" heat just for this purpose. I, sometimes touch the stone , only at the "Table" of the stone.
This will heat up the stone and enable it to very slowly sink further in to the wax. I prefer to have more wax to gold in holding the stone. I would ask you not to set large Princess or irregular shaped stones in wax setting. The gold will be touching these fragile corners and render them useless. In the aspect of channel setting in wax, please make absolutely sure the stone is held in with two walls with the wax. It is an embarrassment if the stone works itself loose in the final polishing. It may be because not enough gold was made from the wax to hold the stone securely. You must observe if the wax is over the girdle, not against it. If any wax is on the stone, rest assured this wax will then be Gold.
You should also watch out for the proper spacing as you are wax setting these stones. You cannot move the stones after gold casting, almost 99.9% impossible! I know! After casting, remove the investment by hand and remove any particles of cement.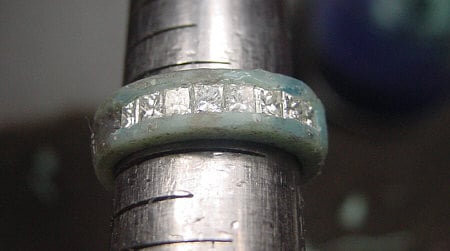 Try not to steam out this investment, you might just blow away any small diamond, not held securely. In a "magnetic tumbler" you will also fine clean the intricate sections of the gold pattern. If you have a setter at your premises, let him check for any loose stones. Now, he may use his metal pusher to tighten any claws that may not be over the Crown Facets of the stone. If there are, he may hammer tight or use his pair of small pliers. Making sure there are no marks remaining on the sides of the metal. Pumice wheel, #180 grit, for cleaning.
You can use your pliers to bring in the claws and cup bur as usual. File and trim to your specifications. When you decide to polish these items please, please use the finest polish wheel as you can. Do not grab the delicate ring and force the ring into the rotating Tripoly or Rouge buff. You will then find yourself looking for diamonds…
After this stage, you may use your split-lap on any side of these settings. Again handle with great care just where the diamonds are. If you handle this style of settings correctly, you and your customer will have a ring of beauty and that will last for many years.
Excerpts from the book:
"Manual of Diamond Setting"
The "Manual of Diamond Setting" presents a compilation of Diamond Setting articles. To purchase the "Manual of Diamond Setting" please visit Gerald L. Lewy's website or call 1-877-850-003