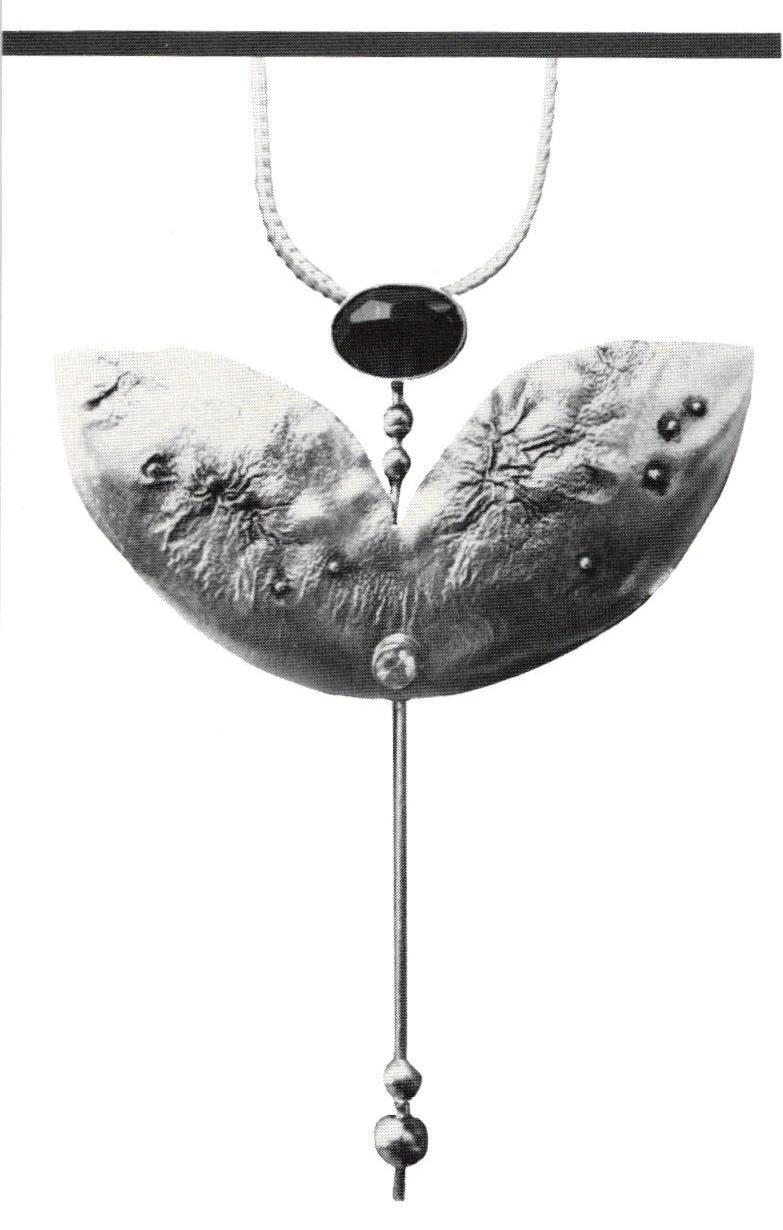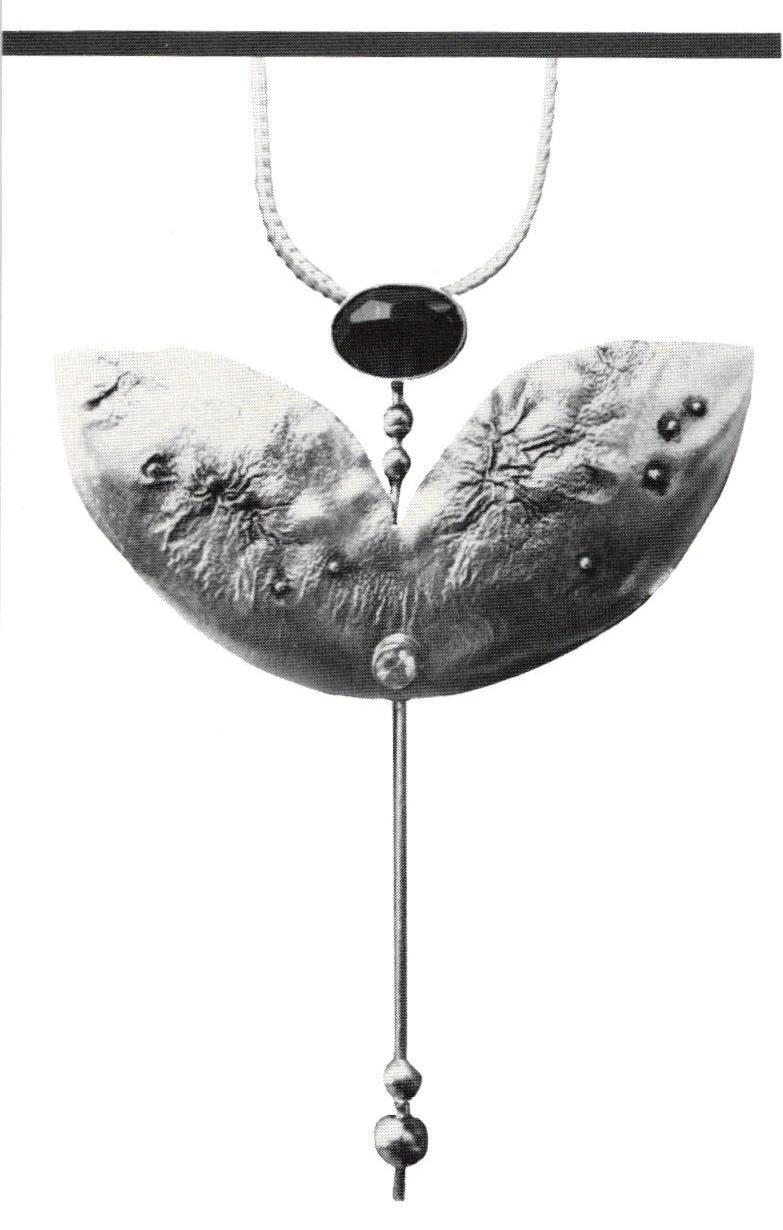 The San Francisco Metal Arts Guild
---
16 Minute Read
When I returned from Europe in 1951, my friend Margaret de Patta called and invited me to join a group of metal artists who were structuring an organization dedicated to the needs of producing craftsmen. This group held monthly meetings which I attended, and at one I helped select the name Metal Arts Guild (now often just MAG). At that time I was struggling to earn a living as a jeweler and enamelist and had had no training in other areas of metalsmithing. I had owned a gallery while I was a student at the Institute of Design in Chicago, so I volunteered my display experience to the MAG exhibition committee.
Nearly every exhibit we have held, including museum exhibits, have required many volunteer hours. Beyond attaching pieces of jewelry to displays, we communicate our special needs to museum staffs that the work be well lit, be displayed against a neutral background, stand no more than six inches from the showcase glass and that no written material be placed inside the case. The time spent with the exhibition committee over the years, working together on group goals, has added a larger dimension to my life, part of which is the comraderie of shared struggles and successes.
At MAG meetings I benefitted from technical discussions. Once I was invited to spend the morning in the shop of member Peter Macchiarini watching his soldering techniques. Margaret de Patta invited me to watch her construct a brooch at her workshop. lrena Brynner gave me the name of a downtown technical jeweler who she and Margaret de Patta used and he prepared my ring for my first diamond.
At the College of Marin, the Guild also sponsored a silversmithing workshop under the directorship of member Aileen Runkle, who had attended a special Handy & Harman seminar. The mature artists, Margaret de Patta, Milton Cavagnaro and others wanted to develop a "group design" that we would produce at the workshop. When that plan did not materialize, they no longer attended. However, most of us, like the members with whom I drove across the Bay, Florence Resnikoff and lrena Brynner, had never before learned raising and forming techniques. For me to experience the magic of hammering a flat sheet into a hollow cup at the Guild workshop was the breakthrough into three-dimensional design.
During those early years of the Guild Margaret de Patta (1903-1964), a nationally known goldsmith with 25 years of experience, became the friend whose wisdom was especially enriching for me because she could analyze and verbalize her personal concepts and ethics. She was elected president in 1951 and served two terms. In 1955 she wrote a history of the then four-year-old guild which I offer here as a concise statement of its organization and purpose: "In the spring of 1951 several metal craftsmen of San Francisco met together to discuss the possibility of forming an organization which would do for them what Artists Equity was established to do for painters and sculptors. After several talks had been held, a large meeting was called to which all of the Bay Area metal art workers were invited. The desirability of an organization was unanimously admitted and steps were taken to establish temporary officers until a formal election could be held, and a committee was appointed to formulate the aims and objectives of the prospective guild.
"At the July 1951 meeting, the group elected to be known as the 'Metal Arts Guild,' the first election of officers and committee heads was held and a special committee set up to draft a constitution and bylaws.
"In 1952, the constitution was adopted with the objectives as follows: "Purposes and Aims
"The primary aims of the guild are to:
Protect the Guild members' work by requiring insurance or written statement of acceptance of responsibility by the shop, gallery or exhibitor,
B. Require guarantee of shipping costs one way by shop, gallery or exhibitor,
To furnish legal advice when necessary to any Guild member,
Mutually exchange information regarding findings, materials, equipment, outlets, shops, galleries, museums, etc.,
Cooperate in large purchases of materials, looking toward reduced costs for same,
Establish specific policies regarding designs for special orders,
Establish a bureau of public relations activities, through:
A, Organization and circulation of educational exhibits,
Furnishing of speakers with slides, etc. for schools, clubs, radio and television programs, or any organization requesting such services, and
The Metal Arts Guild shall be a nonprofit organization.
"The Metal Arts Guild in its fourth year of existence has successfully carried out its program as envisioned in its inception. The proof of its value is attested by the large number of active members.
"The Guild presents, at its monthly meetings, a prominent speaker on some subject of special interest to metalworkers.
"All metalworkers, teachers and students are eligible for membership. Guests are welcomed at all meetings."
Today the continuing strength of the Metal Arts Guild lies in the quality and quantity of its members. The "sponsor's" letter contained 12 names, nine studio professionals and three teachers. At the end of the first year there were 45 members. Now we are 130 strong, with active members residing mainly in the Bay Area counties.
In the original constitution there were two types of membership: "full" members, who had had work accepted by an outside jury or a MAG jury, had all the privileges of membership; and "regular" members, who were practicing metal craftsmen or anyone sufficiently interested in the aims of the Guild, had privileges of membership but could not vote on officers nor enter exhibits. This separation of membership became burdensome and was eliminated a few years later. Our categories are now: active, student and honorary. I regret that there is not enough space to list and describe each member and her accomplishments. As with many societies, we have had a passing parade of members who at first are very active and give much time and energy and then "burn out" and resign or become inactive.
I joined the Metal Arts Guild (MAG) as a "regular" member and did not qualify for the first exhibit in 1951 . The next year my entries in the California State Fair were accepted by the jury and I became a "full" exhibiting member, until last year when, along with the remaining founding members Francis Sperisen, Byron Wilson and Vera Allison, I was voted into the new category of "life" member.
In 1960 there was a slump in attendance and a vote was taken to see if the Guild should continue. The result was, yes, the Guild should continue as it provides valuable services to beginning metal artists and offers the possibility for exhibition in museums.
It was decided to hire a member, Bob Randolph, as executive secretary. He is also our official photographer and caretaker of exhibit cases and equipment, and he is responsible for the bimonthly newsletter which announces meetings and pertinent information sent by members about exhibits and other matters of interest. His devotion has been a factor in the continued success of the group.
In the 1940s, the San Francisco Arts Commission (SFAC) began sponsoring an outdoor art fair. The first annual Metal Arts Guild juried exhibition was held at the seventh annual San Francisco Arts Fair (SFAF) in 1951 . For the fair members designed a canopied booth, which required many hot, sweaty hours to assemble, disassemble and store each year. Originally we were loaned cases by the SFAC, but later a member built a number of secured, lighted wooden showcases which exhibited our work to advantage. Members set up individual exhibit and sales areas on community tables, shared the weather and helped each other through the five days with humor and appreciation for new outlets, special orders and sales. For a few years all the SFAF jewelry awards of merit were given to Guild members' work. The SFAC owns a fine collection of MAG members' work collected over the years through purchase awards. This work is available for loan to award-winning artists. The Guild continued to exhibit in the SFAF each year until 1982 when the Commission changed its format.
From the first year the Guild established jurying procedures for group shows: each member of the jury should vote independently by secret ballot and no discussion would be allowed by jurors, beyond consultation on special techniques. MAG members have participated in group exhibits in many private and public galleries in the Bay Area: including the Laubaudt Gallery in 1952, the Grete Williams Gallery and the Richmond Art Center in 1956, the Gem and Mineral Society Exhibit in both 1955 and 1960, De Anza College in 1968, Berkeley Art Center in 1974, Holy Names College in 1974, Chalot College Gallery in 1976, Sun Gallery in 1977 , S.F. University High School in 1981 and the Gem and Mineral Society of Castro Valley in 1984.
Other group exhibits were held at the San Francisco Museum of Art in 1951 , at the De Young Memorial Museum in 1953 and 1961 , at the Palace of the Legion of Honor in 1959. Unfortunately, Bay Area museums no longer mount group shows unless the exhibit is part of a larger event, such as "The Metal Experience" in 1971 , which was sponsored jointly by the Oakland Museum of Art and the Guild and was open to all California metal artists. For this show, besides the production of a catalog, the Margaret de Patta Memorial Committee donated a design award, and the Oakland Museum gave a purchase award and chose four artists for a later group show.
Group exhibits also traveled, the first, from 1956 to 1958, was sponsored by the American Federation of Arts. Others, from 1959 to 1960 and 1964 to 1966, were sponsored by the Western Association of Museum Directors.
When Margaret de Patta died in 1964, I proposed that the Guild make a memorial in the form of a book. I chaired the Margaret de Patta Memorial Committee, which included nonmembers and her widower, Gene Bielawski. A memorial exhibit was held at the San Francisco Museum of Art and the Museum of Contemporary Crafts in New York, and a Margaret de Patta Memorial Fund was begun. A collection of pieces was given to The Oakland Museum (a museum dedicated to California artists) with the condition that the collection be shown at least five times during the next 25 years. In June 1976 a retrospective exhibition was made possible through the collaboration of the Margaret de Patta Memorial Committee and the curator Hazel Bray of The Oakland Museum with a grant from the National Endowment for the Arts. The monograph on the collection, The Jewelry of Margaret de Patta—A Retrospective Exhibition, with an essay by Yoshiko Uchida and an analysis by Eugene Bielawski, was published by and is still available from The Oakland Museum. The Metal Arts Guild owns a brooch by Margaret de Patta donated by her widower.
Our meetings have always had a program where an invited guest or a member will share technical, esthetic and personal experiences. There are records and notes from many of these programs on pricing, business procedures, plagiarism, taxes and a file of retail outlets with members' comments. Other notes describe experiments on making purple gold, photography of small objects, lost-wax casting, rubber mold-making, plating and electroforming, faceting, etching, enameling, metal weaving, tool-making and blacksmithing, among other topics. We also have had presentations of or by goldsmiths from Europe and from the collection of the British Worshipful Company of Goldsmiths.
Guild meetings also provide valuable connections among members. For example, in 1951 I kept hearing about contemporary furniture shops that bought jewelry, specifically Nanny's in the Filmore district of San Francisco and a new store called Fraser's in Berkeley. Some members encouraged me to take my collection of enamels on silver to these shops. Nanny Benderson of Nanny's became so successful with jewelry by Guild members that she opened a contemporary jewelry store in downtown San Francisco, She sold the work of 70 jewelers, and the store became the main support of four Guild members, including myself.
The Metals Arts Guild has spoken out on a number of business issues, including entry fees and the rights of members to structure their own business policies. In the early years group publicity was easier to achieve. In 1952 Universal International Newsreel made a movie called "Mobile Earrings" using some work by Guild members for which they gave blanket credit to the Guild. There have been photos and articles in the San Francisco Chronicle and Examiner.
The Guild has submitted names for jurors in the San Francisco Art Fair and California State Fair juries. It has sent a representative to the Affiliated Art Groups of the Bay Area (AAGBA) which advised the San Francisco Art Commission on the annual SFAF. Representatives were also sent to the early American Crafts Educational Council meetings which formed the Bay Area Designer Craftsman.
The Guild has a library of books and magazines which was lent to Museum West until it closed in 1968. The books are now available to members by request. There is a scrapbook of members publicity, tapes of some programs and presentations and a slide file which members should keep up to date.
Of the founding members, six continue to be active in the field: lrena Brynner, working in Geneva, Switzerland; Peter and Virginia Macchiarini, in their shop on Grant Avenue in san Francisco; Florence Resnikoff, as the head of the Metal Arts Department of California College of Arts and crafts; Byron Wilson, retired last year from the
California college of Arts and Crafts and now designing individual pieces; and I continue to design in my balcony studio.
I exhibit with the Guild whenever I have pieces available and still volunteer with jewelry display. I still attend meetings that intrigue me. In the spring of 1981 the tables were turned and the meetings came to me. The Guild held its monthly meeting at the California Crafts Museum in Palo Alto where "Merry Renk Jewelry—A Visual Biography and Retrospective" was on exhibit and where I gave a slide lecture. So our exchange continues. —Merry Renk
Carrie Adell, a goldsmith who is presently more active in MAG continues this history.
When I moved to the Bay Area in 1978, I left behind a crafts network that I had "grown" into during 15 years as a producing jeweler. Through craft-fair cronies I had heard about some Bay Area jewelers with reputations for handling contemporary and handcrafted work of quality. Two of them readily welcomed me and my work. They both suggested the MAG as a means to plug into their long-established metalworking network. At the Christmas potluck party that year I met Merry Renk. She personifies for me what the MAG is all about: personal and professional support, acknowledgment and celebration.
In the five years since I joined MAG, members have come and gone and come back again. The Guild reflects the needs and ambitions of its members. It still sponsors group participation in various craft exhibits and art events, while a number of members also show individually. More than a dozen of us show at various juried national marketing events and exhibitions.
We still meet (except in July and August) on a Sunday near the end of the month at a studio, school, factory, gallery or other artspace to share a program, questions and answers, show and tell and general socializing. Programs are designed to answer the needs of the membership and respond to developments in the field of metalworking. They are often how-to, hands-on events. Programs, workshops and our library afford members an opportunity to sample a technique or procedure before tooling up, before registering for that course or purchasing that huge textbook. Networking members work with and for each other and draw from the membership rolls for their mailing lists.
Membership in the Guild in the last five years has included metalsmithing students, teachers, professors and department heads. One member has a private school of metalsmithing with a professional point of view. Another's shop has employed, trained and nurtured several generations of Bay Area jewelers who are now in business for themselves. There are benchworkers and hot metalworkers. Members' work has been published in books, in articles and reviews, in trade journals and art periodicals. One member leads travel-study tours abroad. A number of members enjoy national and international recognition. Out of MAG ranks also came: a member of the San Francisco Arts Commission, a rock musician, ceramic artists, painters and sculptors of repute, several museum trustees or directors and, of course, studio, workshop and gallery owners. Some members are regular contributors to Metalsmith. There is a core group who became friends in the earliest days and remain so. They still maintain their memberships, attend meetings and serve and support the members at large. Some still practice their craft; others have retired, yet still support the Guild. New comers take what they need, or create it, and participate actively, as their needs require.
In the 33 years of the Guild's existence, other craft support groups have arisen. The enamelists of California share members with MAG. So does the Society of North American Goldsmiths. The arts festival and crafts fair movement, long active in the West, is everywhere giving emerging craft artists an opportunity to get their work to the public, and an arena for meeting their colleagues and peers from around the country. Schools, classes and workshops on metalsmithing proliferate, increasing our opportunity to learn traditional and transitional skills. Many of MAG's activities are duplicated and even replaced. What keeps it going despite all these alternatives?
Today, the Guild operates (from what I see) primarily as a support network. It encompasses a local area and answers a local need. When someone needs to know how, where, when, what and "Now that I've made it, what do I do with it?," that person comes to a Metal Arts Guild meeting to find the answers.
I joined the Guild to learn about local outlets and local resources in a new place, to meet people with whom I could share professional and personal everyday interaction, for shopping, museum trips, gallery openings. Networking is a valued "ol' girl" practice, one I grew to appreciate through East Coast crafts activities. How fortuitous to have found a well-established organization in this location to embrace and nurture me.
The point is that we share a common experience. Metalsmithing itself is only a vehicle of communication. The bottom line is: I want to be with other people and share what I am with them. I want them to share of themselves with me. Our discipline offers a common interest. The organization offers a way to share common interests. Through membership people can find company and mutual acknowledgment. It worked 33 years ago. It is still working today. —Carrie Adell
Anyone can obtain a copy of the Metal Arts Guild newsletter by sending a self-addressed, stamped envelope to P. O. Box 4507, San Francisco, CA 94101.
MAG and the California Craft Museum are cosponsoring a juried jewelry exhibit, which opens September 13, 1984 and runs for six weeks at the museum's Ghiradelli Square location in San Francisco.
By Merry Renk & Carrie Adell
You assume all responsibility and risk for the use of the safety resources available on or through this web page. The International Gem Society LLC does not assume any liability for the materials, information and opinions provided on, or available through, this web page. No advice or information provided by this website shall create any warranty. Reliance on such advice, information or the content of this web page is solely at your own risk, including without limitation any safety guidelines, resources or precautions, or any other information related to safety that may be available on or through this web page. The International Gem Society LLC disclaims any liability for injury, death or damages resulting from the use thereof.
---
The All-In-One Jewelry Making Solution At Your Fingertips
When you join the Ganoksin community, you get the tools you need to take your work to the next level.
Become a Member
Trusted Jewelry Making Information & Techniques
Sign up to receive the latest articles, techniques, and inspirations with our free newsletter.