A few years ago, Randy Polk of Randy Polk Designs in Fountain Hills, Arizona, knew he needed to make some changes in his business. "When gold is going up and the economy is going down, you have to find some footing," he says.
For Polk, that meant exploring alternatives to precious metals. Today, Polk has increased his sales volume and profit margin by often working in stainless steel, crafting avant-garde designs that showcase high-end gemstones. His Cover Girl ring in stainless steel, shown here with diamonds, rubies, opal inlay, and a pearl, is a bestseller.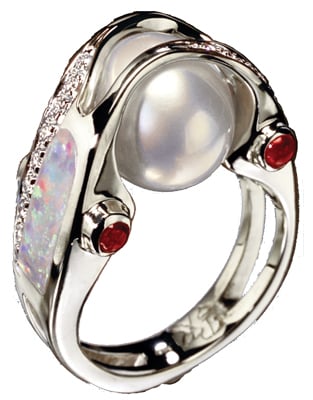 The ring appeared to Polk's wife Kitsana in a dream, and she later carved it in wax. She modified the wax to suit the gemstones chosen for the design, then sent it out to be cast in 316L stainless steel.
Polk began cleaning up the casting with a 3M deburring wheel, then switched to a Scotch Brite coarse wheel, later moving to a medium. In six years of refining his techniques for stainless, he's found that many of the same tools used with gold also work for the harder metal, but it takes more time to achieve the results. After polishing with a green chromium oxide wax impregnated with a compound for stainless steel, he gave the ring to his stone setter, Raul Olivas.
Using the same techniques he would use for gold or platinum but with high speed burs to cut through the harder metal, Olivas carved out the seats for the rubies — two 2.5 mm cabochons on each side — stopping every 20 or 30 seconds to dip the bur in a tiny cup of WD40. "If you don't use oil, you can burn up the bur," he says. "At $20 to $50 each, that can get expensive."
He placed the ruby inside the bezel, then used a flexible hammer on a flex-shaft to push the metal toward the stone, taking care not to hit it. Using a silicon wheel, he cleaned up the metal around the edge, sometimes switching to a 3M Scotch Brite wheel if necessary during the process, which takes three to four times longer than with gold.
Next, he pav? set the 20 0.015 carat diamonds by pre-drilling a starter hole before cutting a seat. "With stainless, cutting the seat can go wrong very fast without this," he says. Using a round bur the same size as the diamond, he cut the seat and then used a wheel bur to cut metal around it in a square. He then used a knife edge bur to slip under each corner and cut prongs from the metal so he had four at each hole.
After cleaning up the extra metal with small round burs, he bent the metal over with a beading tool. "The secret is to make sure you don't cut the prongs too thick," says Olivas. "Leave them the perfect thickness to hold a diamond and still bend. If they're too thick, the stainless will be hard to bend."
Once clean up and polishing were complete, Polk attached the pearl. He drilled a hole through it and inserted a piece of stainless steel wire that he then riveted to the base of the opal's setting, hiding the workings and making the pearl appear to float. He then created the two inlay pieces of Ethiopian opal by cutting off a slice and hand shaping it on diamond wheels to fit the exact size and shape of the bezel before permanently attaching it with epoxy.
To finish, he started with 180-grit diamond sanding wheels and worked up to 3,000-grit on the entire piece. He then moved to a buffing machine and used a cerium oxide pad with water running on it to shine the stones. After applying a final polish with a buffing compound, he riveted the 10 mm pearl to the shank. And Cover Girl — so named because the style has graced the cover of many of Polk's marketing materials — was complete.
"It's always captured my imagination to marry the world of inexpensive metals with diamonds and rubies," says Polk. When he first began selling stainless steel, Polk wasn't sure the metal would be accepted, but he discovered that adding high-end gemstones made the difference. It is, quite literally, a dream come true.