Locating Dead Center on Ring Blanks
This article provides a helpful tip on locating dead center on ring blanks and finding balance on an object.
Free-form wax carving offers jewelers an unlimited number of design possibilities. However, one noticeable disadvantage of this type of wax carving is the difficulty of producing an object that seems balanced.
Personally, I love to create free-form sculptural rings, and within that category, I don't often seek symmetry. But even when symmetry is not the goal, having some balance to your object is good. Not only does it provide aesthetic appeal, but it can also improve wearability, as an unbalanced ring can ride awkwardly on a finger.
After many years of balancing my waxes by eye, I have developed a very quick technique for finding the top dead center on a ring blank. This helps me to realize that elusive balance the piece needs.
Ganoksin is sponsored by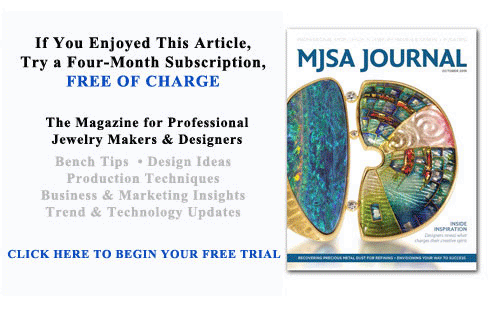 In association with

The award-winning
Journal
is published monthly by MJSA, the trade association for professional jewelry makers, designers, and related suppliers. It offers design ideas, fabrication and production techniques, bench tips, business and marketing insights, and trend and technology updates—the information crucial for business success.
"More than other publications, MJSA Journal is oriented toward people like me: those trying to earn a living by designing and making jewelry,"
says Jim Binnion of James Binnion Metal Arts.