This article is a step by step procedure in Laser Welding Solid Back on Opal Ring.
The customer wanted a solid back on a ring in which the center stone wouldn't take heat or where you would have to butcher the mounting to remove the stone.
So this was a job for the Light Saber (What we affectionately call our Laser Welder).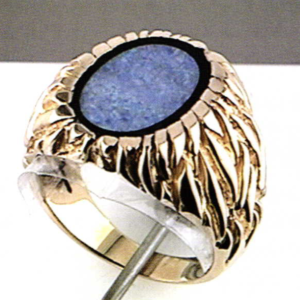 Laser Welding Solid Back on a Man's Opal Ring

I wanted a really accurate copy of the bottom so I used a piece of clear packing tape. Laying it across the inside you can see through it and trace very accurately. I traced the inside with a Twin Tip Sharpie so the line would last through being used as a stencil.
Once the tape is removed from the inside of the ring, it easily sticks to the gold sheet and is ready to be cut out. Once it's cut out, bend the metal gently with the tape still in place to minimize clean up. Match the inside curve of the ring, then remove the tape from the gold.
Check the plate for fit and make any adjustments until you're sure it fits well. Then weld one end in place.
Push the other end tightly into the hollow back and tack it into place.
Check again to make sure the plate fits properly, then weld this end solid.
       
Weld the center section solid making sure that you smooth the welds as much as possible.
File the inside smooth now and burnish any porosity

The finished inside shank.