Since her first year of studies at the Edinburgh College of Art, Katharina Bianca Vones has been deluged with awards and prizes. She received seven in 2006, including honors for the innovative use of gemstones, distinguished final year work and best degree show.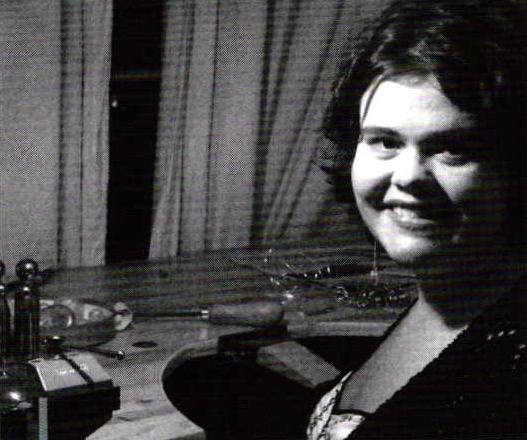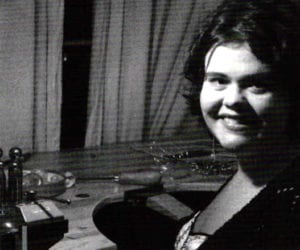 Designer Katharina Bianca Vones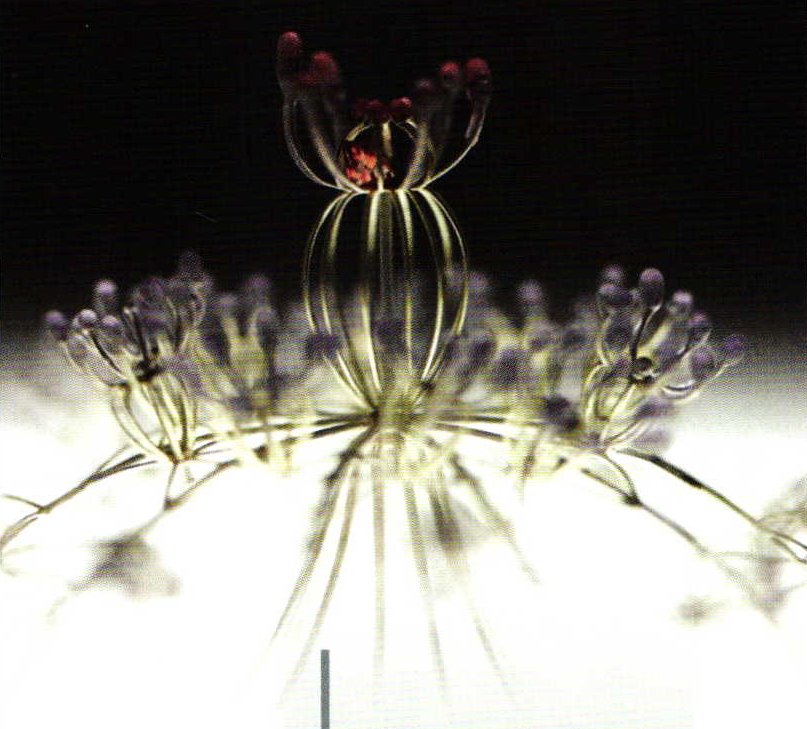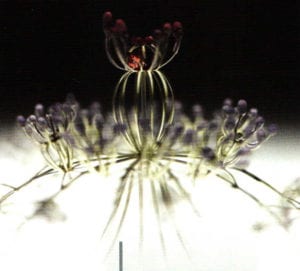 Delicate awakening: "Burgeoning Brooch"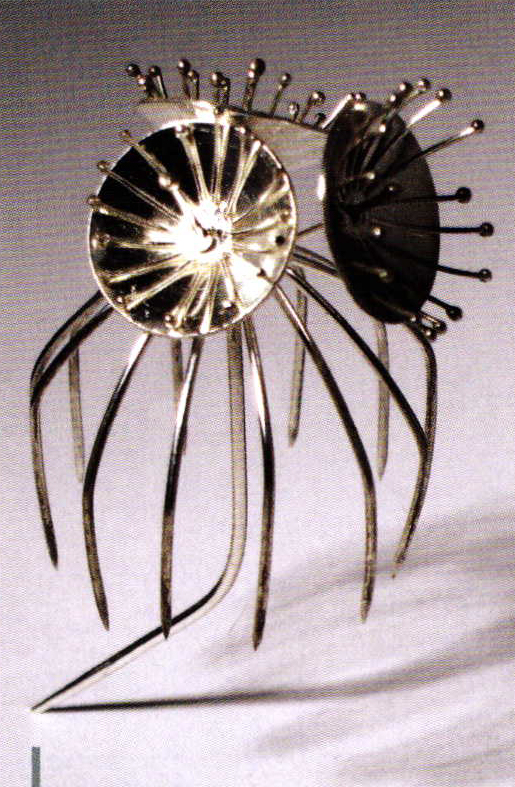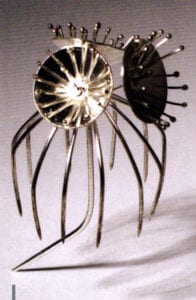 "Golden Anemone Creature Pin"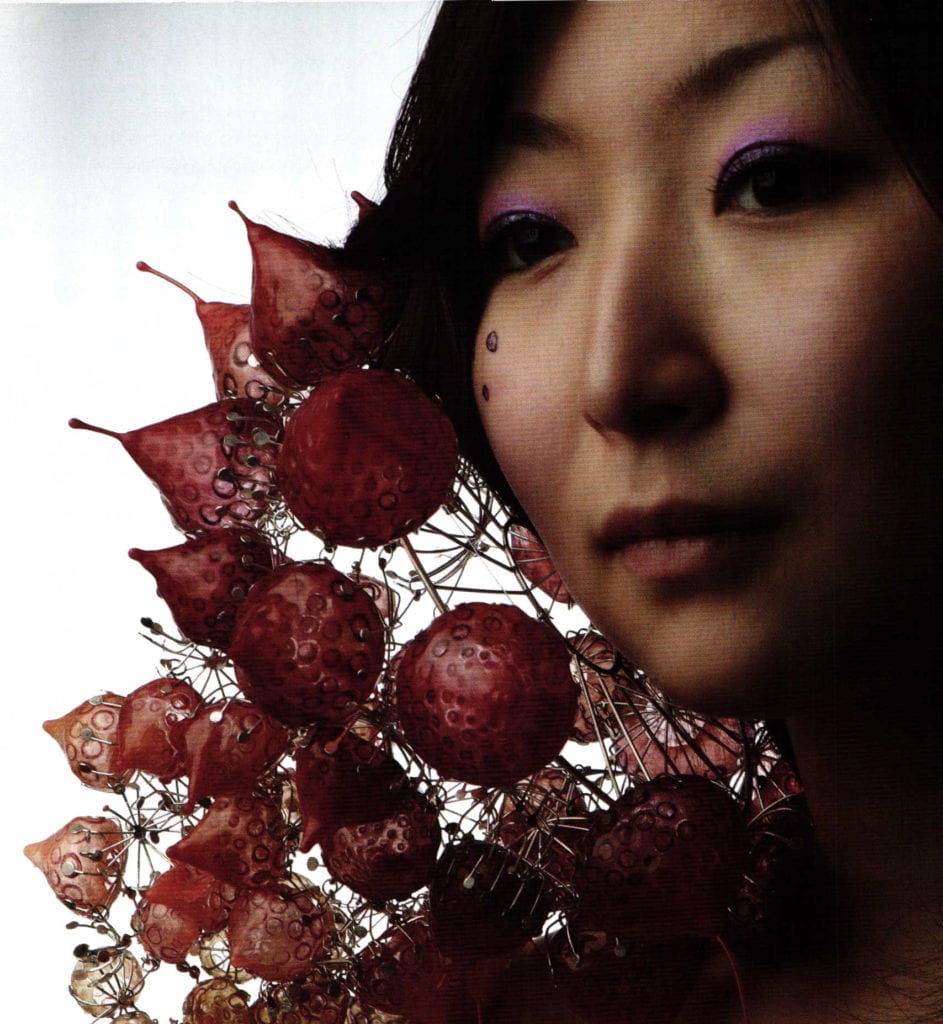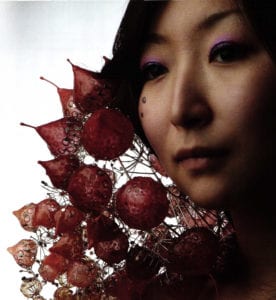 The movements of the woman wearing it breathe life into the fragile jewelry "Earconch"
The array of distinctions is not surprising, as the jewelry by Katharina Vones unites crafts quality, innovative design and fascinating combinations of forms and colors. And this although neither precious metals nor gemstones initially were any part of her studies: the German-born woman first studied English literature and management, graduating in Scotland, before she pursued the wish she had held for many years to engage in art: "l always had a strong urge to be an artist, I always loved drawing," she says. She first encountered jewelry design at the Edinburgh College of Art. "I really loved it. It made me realize that I needed to work 3- dimensionally. I always thought I would be something like a textile designer, but I work much better with 3 dimensions. Also, my teacher Dorothy Hagg encouraged us to continue with the drawing, so that was the perfect combination for me," is how Katharina Vones explains how she found her way into jewelry design.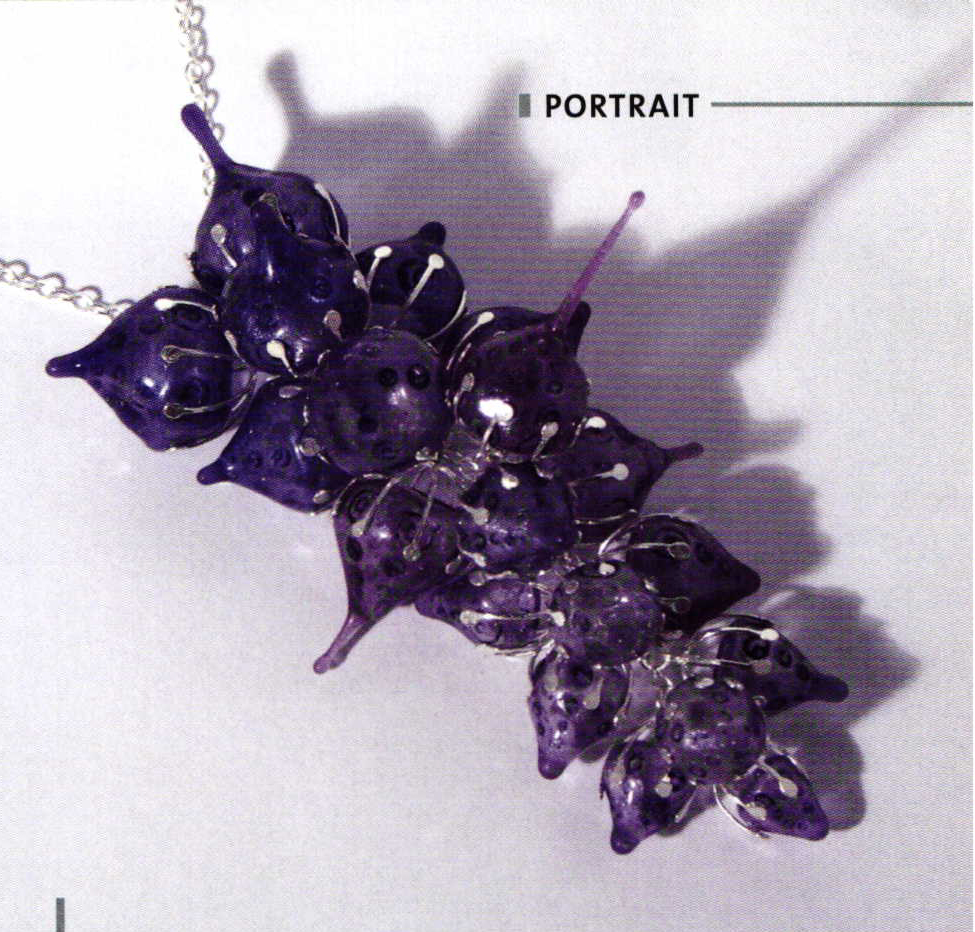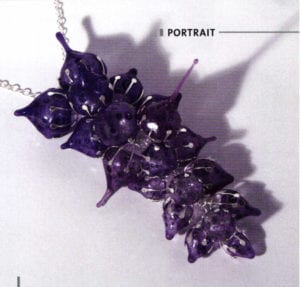 Pendant "Sea Urchin Cluster"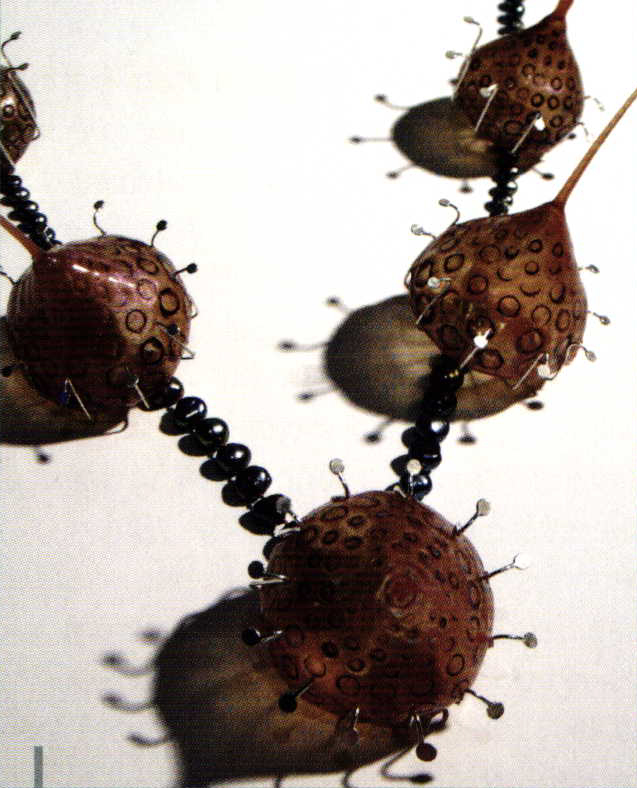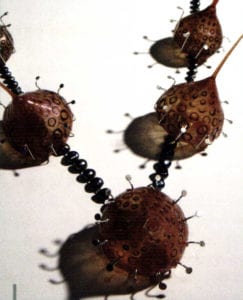 "Sea Urchin Necklace": structured silicon in combination with black pearls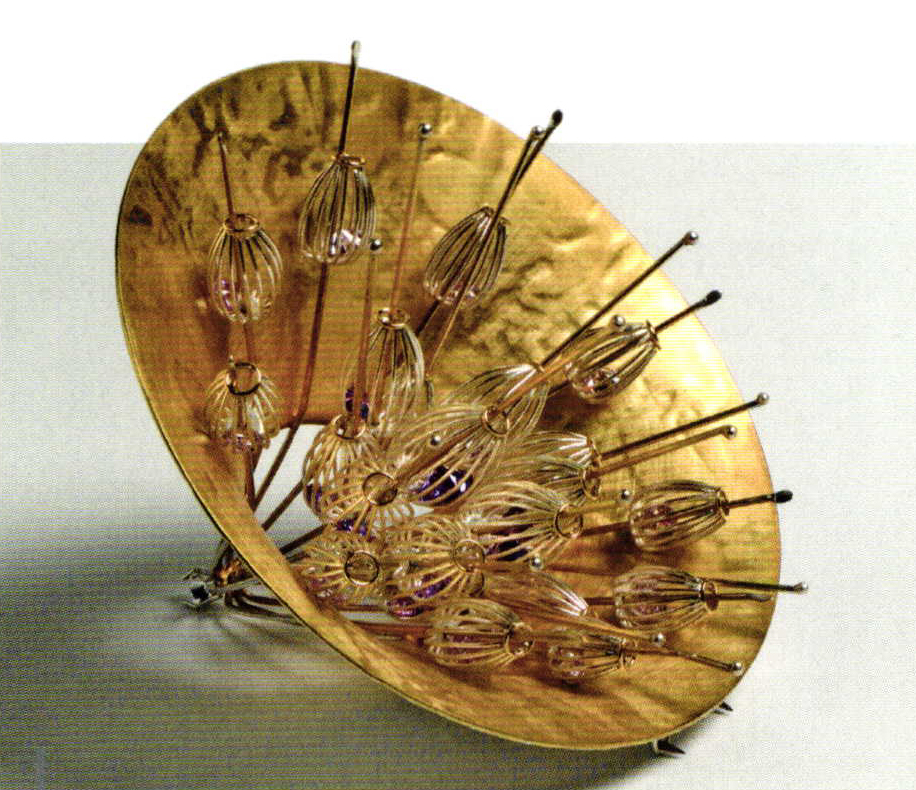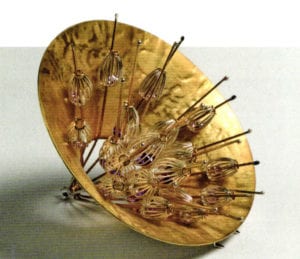 The exotic beauty, the sea anemone, provided the inspiration for this
Exotic beauties of the seas
Her sometimes large-format jewelry leads observers and wearers into another dimension: into the fascinating depths of the underwater worlds. The occasionally bizarre forms and lush colors of the ocean inhabitants have been a special love of the 28 year-old designer for a long time; when she traveled extensively in Japan in 2005, she finally felt inspired to create the pieces that form her current collection. A visit to the huge Tsukiji fish market in Tokyo and the Kaiyukan Aquarium in Osaka gave her the opportunity to take a close look at the plants and animals: the exquisite beauty of sea urchins, octopi, sea anemones and jellyfish served as the inspiration for her since prize-winning work: "l came back with many, many drawings, photos and ideas for my work. However, traditional techniques of jewelry design only offer limited possibilities of expressing this variety of color. So I had to look around for a more innovative solution," explains Katharina Vones. She found almost boundless ways of expressing the forms and colorings in the material silicon, which she has since many times used in combination with precious metals (mostly silver), black and green freshwater pearls und gemstones: "Silver, pearls and silicon are such different materials, but they still communicate here in harmony". Seemingly fragile wire constructions and silicon shells like in the "Earconch" sway gently to the movements of the woman wearing it and lend life to the jewelry. The "Sea Urchin" collection conveys delicacy and joie de vivre, while the translucent silicon mirrors the diffuse incidence of the sun beneath the surface of the water. Tentacles and tendrils of exotic sea anemones become graceful rings, earrings and necklaces. The fact that the pieces are independent art objects even unworn gave birth to the idea for light objects that find their place between art and interior design. And the maritime topic still seems to boast endless opportunities for artistic expression, although, as Katharina Vones emphasizes, she is also constantly developing. "My main interest is the structure of things, i.e. architecture. I try to recreate it in my work but also make it my own at the same time."
Importance of self-confidence
The awards she has received so far are not the only things important for her professional development, but also for example membership in the "Designer Jewellers Group" that gives young people creating jewelry the opportunity to exhibit in a professional environment, to network with established designers and to gain first experience. Last year, with "The Worshipful Company of Goldsmiths", she won a free stand and a precious metal bursary of ₤ 1,500 for the Goldsmiths' Fair 2007, which led to numerous enquiries from galleries. Against the backdrop of this experience, she advises other young designers: "l just applied for different things. It is important to apply to these kinds of institutions or competitions. Many young designers I know lack the confidence because they think they will not be accepted anyway because they are too inexperienced. But it is better to apply than not to try. Even if you are not successful at once, you have to be persistent. You have to have confidence in yourself and your work!"