People who think exclusively of geometric forms when they hear the name Alberto Zorzi only know half the story. His jewelry combines avant garde design with traditional goldsmith techniques.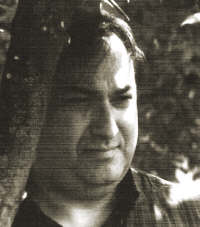 Born in Santa Giustina in Colle in the Province of Padua in 1958, Alberto Zorzi now lives in Loreggia, close to Padua. When his interest in goldsmith art first kindled at the age of 15, it appeared only logical that he should be educated at the world famous "Istituto d'Arte Pietro Selvatico". In addition to textile design, painting, architecture, furniture and industrial design, the institute has initiated its students in the secret of jewelry design since 1966.
This "College of Metal and Goldsmith Art" can thank the Padua-based goldsmith Mario Pinton (*1919) for its international reputation. As a teacher and headmaster at the school, Pinton defined Its artistic thrust for many years and inducted a whole generation of goldsmiths in the "fine art" of jewelry design. The school found its artistic approach in geometry during the nineteen sixties, and also in the Bauhaus-inspired, classical form repertoire, which was based on the simplest basic forms such as rectangles, circles, spheres or cylinders.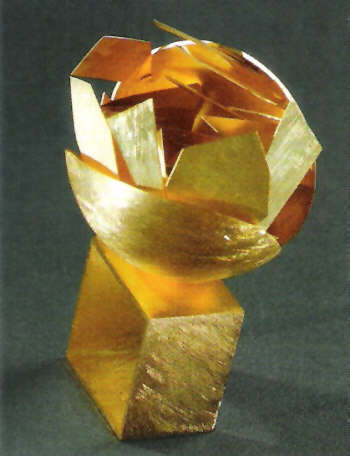 Ring "La Citta", 2003, 18 karat yellow gold
Geometry – Nature – Geometry
Alberto Zorzi was also initially fascinated by this classical geometry. His early work includes long necklaces made of yellow gold with links consisting of extremely thin discs, fastened using tiny rivets. In his colliers, bracelets and earrings, the artist played with triangles, circles and semicircles at the time. Over the course of the years, he abandoned this strict language of forms and created a series of work that focused on the muted colors in blue, rust red and leaf green. After this brief detour into the freer, more naturalist-inspired design, however, the artist soon returned to geometry. It remains his fascination until today, even if he still enjoys experiments in jewelry design from time to time. His jewelry would now be best described as "clever constructions" that represent the artist and his skill: his creativeness as a sculptor, his craft precision and his artistic consciousness.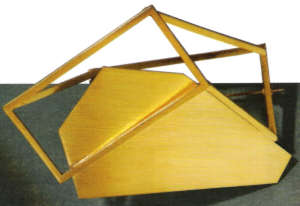 Geometric surfaces and effects are But this 18 karat yellow gold and characteristic for this broach from the "Structura" series from 1998
Zorzi has drawn on new materials time and again over the last ten years: he created finger jewelry made of ivory for an international competition by the Erbach Ivory Museum in 1994; Zorzi also experimented with granulation, an old Etruscan ornamental technique, for the International Granulation Competition in 1996. At the end of the nineteen nineties, he created a series of pins and rings using vividly colored Plexiglas. From 1987 onwards, Alberto Zorzi taught at the "Istituto Pietro Selvatico", and he was soon employed as a lecturer at the European Institute of Design in Milan and the University of Florence. Since 1998, the jewelry artist has held a chair at the Academy of Fine Arts in Ravenna.
But this 18 karat yellow gold and tourmaline ring from 2004 has organic shapes and soft surfaces
Zorzi and his Love of the City
Alberto Zorzi has been fascinated by the topic of "La citta" ("The City") for many years. "Small cities" grow from oval, round and quadratic forms: Triangles, rectangles and squares create urban symbols, while changes in direction and overlapping surfaces form "space". The matt gold or silver of the brooches, pendants and rings are reminiscent of a loud metropolis with skyscrapers, painted vividly in different colors, transforming the jewelry into charming, small cities. Last fall, during the trade fair in Vicenza, Zorzi received the "Premio Argo 2003" for a ring "La citta" made of 18 karat gold.
Pendant from the "La Citta" series. Pointed elements jut upwards from even surfaces in an apparently intentional disorder and remind us of a big city's high-rises
In addition to his work as a freelance artist, the artist also has contacts to companies that use his designs to produce small series' of jewelry and silver appliances. Some years ago, the Italian artist, who loves experimenting, created entirely new jewelry using the electroforming method in cooperation with Pampaloni Grandi Argenti in Florence. The amorphous bracelets, whose soft, almost velvety surfaces fascinate the observer, are manufactured in matt or high gloss-polished silver. The cooperation produced a silver vase object to mark this year's 14th Silver Trienale, it will be on show in the German Goldsmith House in Hanau until August 29, 2004.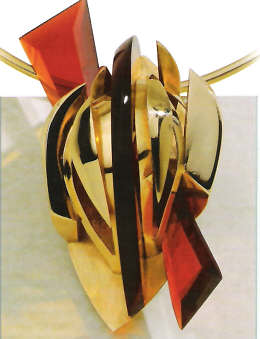 Pendant "Opera Aperta", 2002, 18 karat yellow gold, Madeira quartz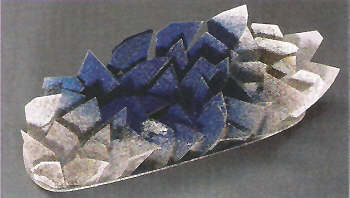 Pendant "La Citta", 2004, sterling silver, enamel