What fun for me to reminisce about our early friendship: Tamara Sergijenko from Tallin, Estonia and I from middle America! We first met in England, at the first meeting of the British Society of Enamellers. (I can't recall the exact date but I do remember it was like the famous love song in that we were attracted "across a crowded room.") Even without much ability to converse, we felt comfortable together.
We went on to workshops in Oxford where Alexandra Raphael showed us the technique of plique-a-jour. Tamara has gone on to make that her specialty. Her delicate works are signed by her symbol of a butterfly.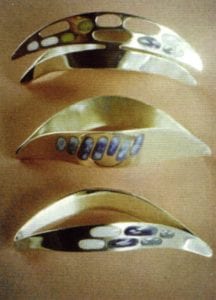 Bracelets "Waves" – silver, plique-a-jour enamel
We were together in the spring of 1991, and then again in 1993, when capitalism replaced communism and artists were then able to travel outside of Estonia. Tamara came to Ohio. When she and I were together in New York City, my sister bought one of her beautiful delicate plique-a-jour enamels. Ever since, that beautiful piece has been happily displayed on my sister's bureau in New York City.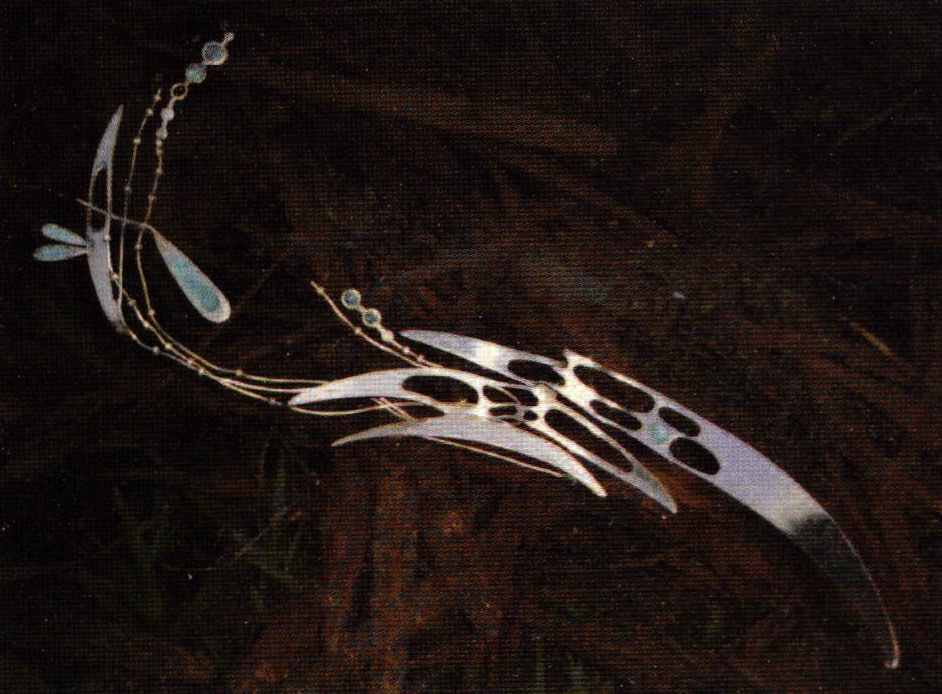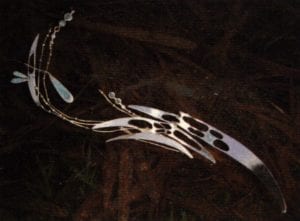 Brooch "Disarray"- silver, plique-a-jour enamel included in Golden Book of Collectors
Edition Arts et Imagen du Monde, 1992-1993, Paris, France
Tamara was educated at the Estonian State Institute of Art from I971 to 1976, after which she worked as a designer for a jewelry society until 1990. During that time she was able to have her work seen in numerous exhibitions in Germany, England, France, Lithuania, Japan, Russia and the United States of America. She has won prizes; taken part in seminars as well as finding time to conduct workshops in drawing and design with children and adults in Russia, Estonia, and the USA. Her work could be seen in fashion magazines and in numerous catalogues as well as in the golden Book of Collectors for 1992 and 1993 in Paris.
In 1980, she became a member of the Artist's Union; in f 985 a member of the Society of Designers and since 1991, a member of Metalwork Artist's Union. Her work has been supported by the Estonian Ministry of Culture allowing her to receive grants from the Estonian Trade Union and "Kultuurkapital."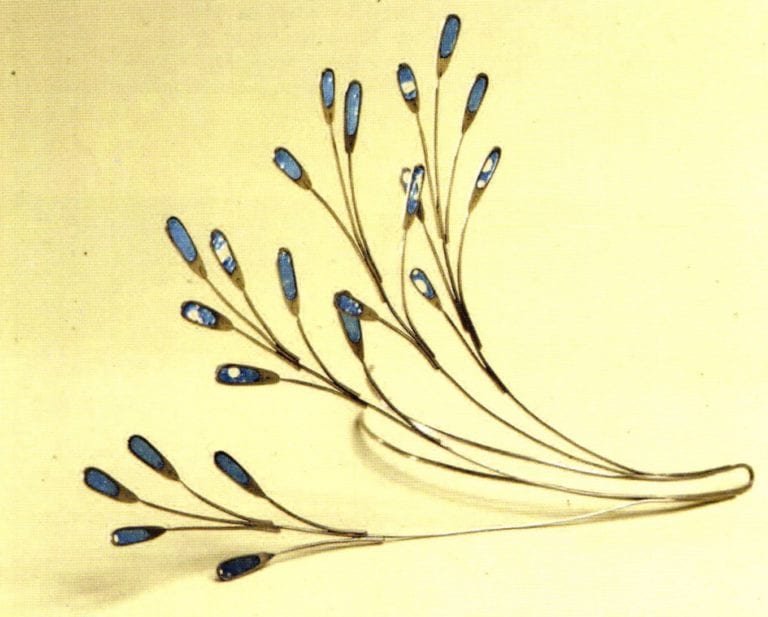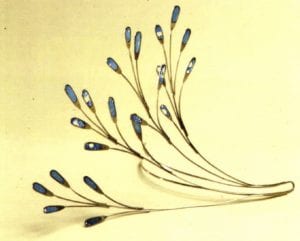 Hair-pin "Singing-ringing sapling"- silver, pique-a-jour enamel
Included in Collection of the State Applied Art Musetaw, Moscow, Russia.
Five of us Americans went to Tallin one year to do enameling in a workshop under a "master." When the other four left a day ahead of me, with some difficulty I was able to locate Tamara and we spent a wonderful twenty-four hours together. She took me to see the work of fine craftsmen in their studios and since it was Easter, I experienced the blessing of our tiny dessert cake by the priest of an Orthodox church. She selected two young men friends eager to meet an American, and my memory of that evening in her small apartment is very vivid.
Her letters are so charming! Written in broken English and filled with delightful drawings of, among other things, her kiln which she named "mufel." Mufel she writes is her husband.
As you look at her beautiful enamels pictured here, think of a dark haired beauty of a woman who became friends with an American long ago.