The JCK Show in Las Vegas from June 1 to 5, 2007 is seen around the world as one of the largest industry events for jewelry and watches. Special attention will be paid to the over 100 designers exhibiting in the Sands Expo Center.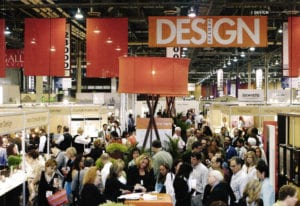 For over a decade now, established jewelry designers and promising young artists from all over the world have convened in the Design Center in order to present their latest creations to specialist retailers. Seven jewelry designers in the group of Rising Stars are exhibiting in Las Vegas for the first time. During the official JCK opening celebrations in the Pallazzo Ballroom at the Venetian Hotel Resort Casino, the exhibitors in the design field will provide guests with a first taste of their latest collections. While sipping cocktails and nibbling hors d'oeuvres, visitors can get an overview of what new trends and ideas are afoot. On June 3, 50 selected buyers will be honored for their special dedication to design jewelry. Furthermore, visitors to the Design Center have the opportunity to win a shopping voucher for this segment worth 2,500 US dollars. Each exhibitor will receive one lot that can be passed on to any customer of choice. On the following pages, will be presented selected designers who look set to enrich the JCK Show 2007.
Kurtulan Jewelry points to 6,000 years of jewelry history
The roots of Turkish goldsmith art stretch back over 6,000 years The Turkish firm Kurtulan 24k jewelry unites Anatolian tradition with modern design. The family firm was not founded by Nac Kurtulan, with headquarters in the Grand Bazaar in Istanbul, until 1991. The designers Meltem and Naci Kurtulan are regarded as leading figures in the jewelry industry, not just in Turkey. Their 24 karat golden jewels with diamonds and selected gemstones are exclusively crafted by hand. The clear and timeless elegance of the pieces has also won over the international scene. Kurtulan won the first prize three times in a row between 2000 and 2003 in competitions held by the World Gold Council. In 2002, the designers won the Gold Medal at the Gold Virtuosi Award during the Vicenza trade fair in Italy. Over 60 stores in Turkey and more than 50 abroad stock the jewelry. www.kurtulan.com
Ganoksin is sponsored by
Kurtulan Jewelry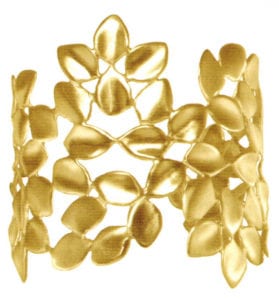 Alex Woo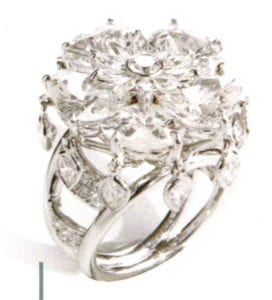 Sandra Berete
Alex Woo combines trends with classic design
Alex Woo Bio from New York discovered her passion for jewelry through her father, a renowned master jeweler. She has successfully produced her own collections for over five years. She won the Grand Prize from the National Women's Jewelry Association in 1988 while still completing her design studies at Cornell University. She was selected as a Rising Star by the JCK 2007, and two years ago, she was already included in the Crain's Business 40 under 40 list as a young talent. Woo has her studio in New York Her jewelry is sold by Henri Bendel, in the Neiman Marcus Catalog and in selected stores within the Fred Segal chain. Small niche boutiques in the United States also stock her collection. The jeweler skillfully preserves balance between trendy must-haves and classic design. All of her pieces are hand crafted and are convincing due to their high quality.
Sandra Berete – jewelry for modern princesses
Sandra Berete from Paris very successfully studied French literature before deciding on a career as Jewelry designer. She had always held a great love for painting and sculpting, and numerous Parisian artists are among her closest friends. For herself, she discovered jewelry as a means of artistic expression. She is particularly fond of mountain crystal. After completing an apprenticeship at the renowned Parisian Studio Bernon-Gomez, which among others works for Tiffany, Place Vendome and Baccarat, she became self-employed in 1998 with her firm Ode Saint-Lys Sandra Berete is presenting two collections Ode Saint-Lys includes unique pieces or pieces commissioned by customers. Delys is made up of silver or gold jewelry with mountain crystal. This line is intended to spirit modern women away into the world of fables, and to transform them into sparkling princesses. www.odesaintlys.com
Carolina Bucci and her persuasively playful ideas
Carolina Bucci, an Italian national, comes from an old dynasty of jewelers from Florence. She designed her first pieces with the assistance of her father at the tender age of 14, initially intended mainly for her own use. She studied art in Florence and Paris, later on jewelry design in New York. Her unique creations combine the jewelry art of her home city with modern design. Her pieces have a playful quality and they exude unadulterated joie de vivre. Her collections are coveted by women of all ages throughout the world and are stocked by selected jewelers in the United States, England, Japan, Dubai and in her home country of Italy. She is soon set to open a flagship store in London. www.carolinabucci.com
Ganoksin is sponsored by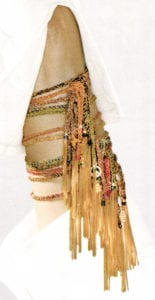 Carolina Bucci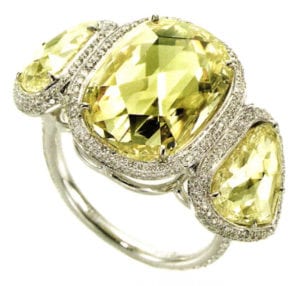 Christian Tse
Christian Tse weaves platinum to form jewelry sculptures
In 1996, when Christian Tse presented his platinum and gold mesh collection in the United States, it was a sensation right from the start. In his creations, he combined an age-old crafts skill with an entirely new language of forms, inspired by architecture. His precious metal meshes nestle gently against the skin of the woman wearing them, as fine as silk. Christian's designs are "lingerie for a woman's neck, wrists and ears". He learned his craft from his father, who was specialized in 24 karat gold jewelry for traditional Chinese weddings. In 2000 and 2002, Christian received the renowned Couture Award for best Design in Platinum. VIPs such as Catherine Zeta Jones, Jennifer Lopez, Beyonce or Sarah Jessica Parker are numbered among his clients. Additionally, his jewelry has already been showcased in the series Sex in the City or The Sopranos. His collections have been presented in all of the leading lifestyle and luxury magazines. Christian Tse distributes his jewelry through Neimkan Marcus and selected, premium jewelers. www.christiantse.com
Cynthia Gale – unique jewelry for museum shops
The New York based designer, Cynthia Gale, released her first collection in 1991 under the title GeoArt. She had become familiar, and grown to love, the art of gold hammering work on her travels through the Far East. Her collections are found in over 15 leading, North American museums, including the Washington National Cathedral, The National Gallery of Art, J. Paul Getty Museum, American Museum of Natural History, The John F. Kennedy Center for the Performing Arts, Rock and Roll Hall of Fame and the DeYoung. Her contemporary jewelry designs have a cultural, historical or spiritual background. www.geoartnyc.com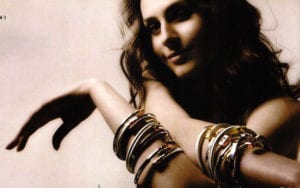 Naphom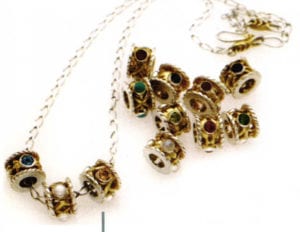 Cynthia Gale
Naphom & Co – the couture jeweler
The jewelry from New York firm Naphom provides a trip around the world of contemporary design. Based on traditional goldsmithing techniques, the forms and colors reflect modern design ideas from many different areas of the world. Oriental patterns and puristical Scandinavian precision are both evident. Each collection has its own story to tell. In addition to the lines, unique items are also available, the result of hundreds of hours of work. Only the finest materials such as platinum, 18 karat gold in all colors and sterling silver are used, as well as exquisite colored gemstones. All of the items are hand made and produced exclusively by experienced goldsmiths in the USA. Filigree, hammering, carving und enamel are just a few of the company specializations. Naphom sees its couture jewelry as the expression of timeless beauty and a compliment for the soul of the wearer. www.naphom.com
Ganoksin is sponsored by
Mauricio Serrano – precious items for city slickers
Mauricio Serrano from Mexico enriches the lives of city slickers with paradisaic forms and colors in his latest collection. "For this collection, I tried to transmit clear and mature feelings, combinations that symbolize an urban paradise," expressed Serrano. In an increasingly industrialized, synthetic world, people are searching for their identities and a connection to original nature. The collections by Serrano create this connection through a language of forms and colors. The precious items are striking in their mixture of natural materials such as pearls, gemstones, leather and wood, along with silver, gold and platinum. He likes to draw on a strong contrasting effect in this context. For generations now, his family has been linked to the silversmith craft that is so typical of Mexico. Even at the tender age of 16, Serrano was busy designing his first jewelry. He finds inspiration in nature. But also famous fashion designers such as Paul Smith, Tom Ford and Alexander McQueen. authors like Gabriel Garcia Marquez and Pablo Neruda and the painter Frida Kahlo have influenced his work. Serrano's designs are available from selected jewelers in Mexico, but also in North America and Europe. He has already exhibited at the Iberjoya in Madrid, the inhorgenta in Munich and at the JCK Show and the New York JA Show. In his home country, Serrano is seen as one of the leading jewelry designers. Numerous publications, among others in Trends and in Modern Jeweller, have made him an internationally renowned name. www.mauricioserrano.com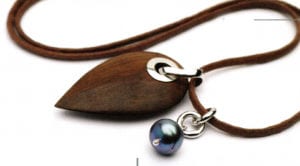 Rosen Block Design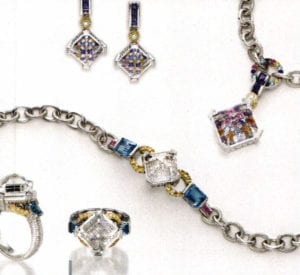 Mauricio Serrano
Sharon Loeff
Rosen Block Design – reincarnation for an impressive jewelry experience
Ronald C. Rosen, founder, president and designer all at once for the firm Rosen Block Design has an exciting new collection in his bag for the JCK. The line Reincarnation, for which a patent has been registered, creates impressive visual effects. Diamonds, sapphires and other gemstones are visually reproduced in an almost magical manner. In this way, Reincarnation not only offers exciting jewelry that will be the talk of the town. Customers quite simply get more for their money. Reincarnation will be sold in a limited edition via 50 specialist retailers.
Sharon Loeff – from industrial to jewelry design
Sharon Loeff from Arizona first pursued a career as industrial designer before turning to the creation of high quality jewelry in 2002. She studied art at Washington University. In Las Vegas, she is among the seven selected Rising Stars. Loeff concentrates on designer jewelry in sterling silver and on gold set with colored gemstones. She is also firmly dedicated to jewelry with a unique character. In her new collection, she has focused on exchangeable jewelry; individual elements of the earrings and pendants can be switched depending on which best suits the outfit. This means that anyone can wear individual jewelry, a little bit different every day. Her pieces are mainly sold through specialist retailers and high class boutiques. Together with her husband Thomas, she has developed a brand concept with which she intends to position her jewelry among specialist retailers in future. www.sharonloeffdesigns.com
Ganoksin is sponsored by
Tracy Matthews – jewelry as colorful as life
"I am fascinated by life in all its essence, and how the blending of culture, art and fashion melt together. I have always designed around a color story and love pairing the uncommon," is how Tracy Matthews explains her jewelry ideas. She has already successfully marketed numerous of her own collections. She has a penchant for mixing various precious metals such as gold, rose gold, sterling silver and gold-plated silver with colored gemstones in all colors of the rainbow. In her Premium Line, she exclusively uses 18 karat yellow or white gold and diamonds. In the language of forms, she likes to derive inspiration from Far Eastern architecture. She also mixes elements of antique role models with modern patchwork. Two years ago, she released a very successful men's line made of rose wood and sterling silver. Matthew's jewelry is sold by jewelers and boutiques in the United States, Asia and Canada. Numerous publications in fashion magazines, specialist journals and appearance on TV shows confirm the significant attention that her exceptional jewelry generates. Her company has been based in New York since 2006. www.tracymatthewsdesigns.com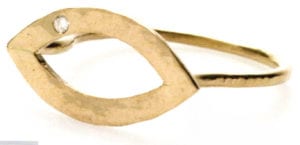 Jack and Elizabeth Gualtieri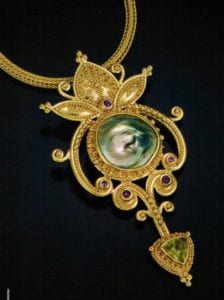 Tracy Matthews
Jack and Elizabeth Gualtieri – the art of granulation in a palette of colors
Jewelry by the married couple Gualtieri, who have been self-employed since 1992, is characterized by elegant timelessness. The unique pieces reveal a high crafts standard and are manufactured exclusively in the finest materials such as 22 karat white, rose or yellow gold and platinum. The jewelry designers from Oregon, who have won numerous awards, are convinced that beautiful jewelry should be of a high artistic standard, timeless and of the highest quality. Whereas Jack studied industrial design, Elisabeth completed an apprenticeship in metalworking. While travelling through Italy, the couple became enthralled with Etruscan goldsmith art they saw in a museum in Florence. They were particularly taken with the effects produced by granulation. Later on, they learned the method in a design studio in Santa Fe. Even today, their creations include influences from the ancient Etruscan culture and also architecture. The design team is now known for its artistically granulated jewelry combined with colorful gemstones. Granulation is a particular challenge for goldsmith art when dealing with 22 karat gold alloys and also platinum. The Gualtieris do not just granulate the same materials, but also platinum with white, yellow or rose gold. For this purpose, the couple have developed a technique and special alloys – a well-kept secret that lends the unique character to the vividly colorful jewels. www.zaffirojewelry.com
E&V's timeless designs
The firm E&V was founded in Hong Kong by the siblings Ester and Vivian in 1993. The 18 karat gold jewelry with diamonds and colored gemstones is striking in its timeless elegance; the design often includes symbols and is produced by hand in extraordinary quality. Each piece tells its own story. The design is kept in such a way that the jewels suit any occasion or outfit. The jewelry, which has already won awards from the Hong Kong Trade Development Council, is generating an increasing international response. The company has been certified according to ISO 9001 since 2006. www.evjewel.com
Ganoksin is sponsored by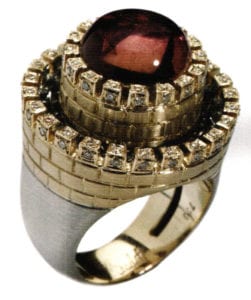 Chintemani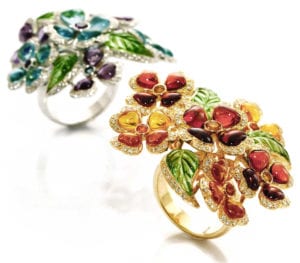 E & V Jewels
Chintemani presents a collection between Orient and Occident
The firm Chintemani from New York unites the traditional Turkish goldsmith craft, which is passed on within the families from generation to generation, with modern jewelry design. Chintemani was founded by the brothers Aret and Onno Gultasyan together with the goldsmith Huseyin Sumer and the designer Aynur Guven. Guven, a designer born in Istanbul in 1971, graduated from her art studies in 1996. She has since dedicated her time to jewelry design. She designed two lines, 'Inheritance of the Empires' and 'Three faces of Istanbul', for Chintemani. Both collections draw influence from structures in her home city of Istanbul. She artistically combines historical elements from the Orient with the modern, western language of forms. www.chintemani.com
Cleo™ Collection – truly embraced bridal line
Designer Irene Cleofas created a real furor last year with her 'Truly embraced collection'. Her rings are an engagement and wedding ring all in one. The engagement ring is seamlessly surrounded by a ring. The engagement ring functions as the core in this patented system. The wedding ring forms a covering which is placed around the engagement ring using a hinged mechanism. In this way, the two rings fit snugly together to become one. This is the basic advantage of the collection – in addition to the symbolic content of the union of these two rings: you only need one ring instead of two. The collection comes in 18 karat gold or platinum. A palladium line is also planned. The rings come in different prize categories with various sizes and numbers of diamonds. Irene Cleofas began her career in the jewelry sector 35 years ago. Initially she managed a Jewelry shop in Los Angeles and created unique items for customers. After training with master goldsmith Orlando Ferriosi de Roma in Carmel, she discovered her passion for jewelry design. www.cleocollection.com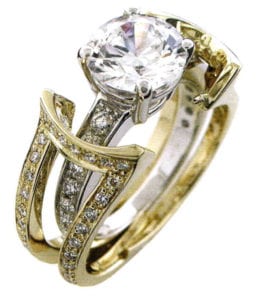 Cleo Collection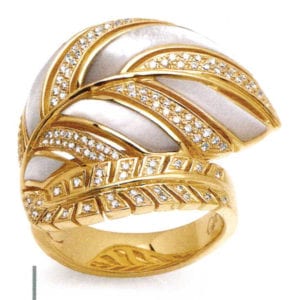 Geri Samuel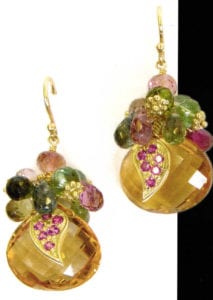 Marya Dabrowski
Geri Samuel – a life of jewelry
Geri Samuel grew up in Paris and came into contact with beautiful jewelry at an early age. Her grandfather ran a jewelry shop where she liked to play with the gemstones as a child. "For as long as I can remember, I've been involved with gemstones and jewelry. I brought out my own very first collection aged nine," remembers Geri. After training as a gemologist and jewelry designer at the GIA, she worked for the renowned Place Vendome jeweler Lorenz Baumer. Some of her designs were selected by Cartier and Chanel and produced. Later, she became a product manager and designer for Breguet. Now, Geri has set up her own jewelry company. Her first collections are called 'Feelings', 'Romance in the parc' and 'Evenings'. Inspired by her two daughters, she designed pieces named 'Kiss me', 'Hug me' and 'Love me' amongst other things. Her collections also stay true to her early love for high quality gemstones. Tiger's eye, onyx, turquoise and pave diamonds sparkle in these romantic designs. Geri's designs can be found in top jewelers all over the world. She lives with her family in Los Angeles. www.gerijewelry.com
Ganoksin is sponsored by
Marya Dabrowski – a feeling for color
Marya Dabrowski comes from a family where art has played an important role for many generations. Her forefathers were sculptors, painters and wood carvers. This self-educated designer created her first silver smithing work at the age of 12. She later went on to study jewelry art in New York. During her training, she concentrated on the techniques of granulating gold, cutting gemstones by hand and enameling. She went on to perfect these skills which are now responsible for the excellent characteristics of her romantic jewelry. Marya is also inspired by the colorful world of gemstones: "I like to pair complimentary colors with opposite colors. I work in the full spectrum of gemstones with all the spectacular colors that nature provides." Rare gemstones such as prehnite and apatite appeal to her in particular. Her designs were awarded the Spectrum Award by the American Gem Trade Association in 2004 and last year she gained first prize with her jewelry at the Sausalito Arts Festival. www.electrumjewelry.com
Kelim – precious items inspired by rug patterns
The married couple Meral and Halil Sartekin have a particularly interesting approach to design. Meral Sartekin grew up in Turkey and studied in Zurich. This is where she met her husband. In 1992, the couple founded a boutique with the name Kelim, which initially specialized in handmade Turkish goods. Inspired by the beautiful patterns of the traditional Turkish rugs, they then went on to design jewelry. The Kelim jewelry collection was an instantaneous and significant success Nowadays, the unique pieces are manufactured in a studio in Istanbul and sold throughout the world. www.kelimjewelry.com

R.A.N. Gov Jewellery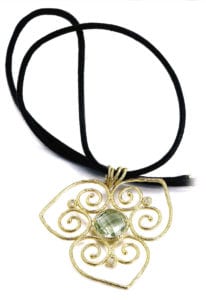 Kelim Jewelry
Ran Gov – 35 years of jewelry design
The company R.A.N Gov Jewellery Ltd was founded 35 years ago by Ran Gov in Israel. Since the very beginning, the company has specialized in high quality jewelry. In particular, gold jewelry set with diamonds, colored gemstones and pearls helped to establish the company's excellent international reputation. The next generation is now in control in this family business with its two sons. The R A.N Gov Jewellery is present at all the large jewelry fairs worldwide.
Ganoksin is sponsored by
Yves Kamioner – sophisticated, unique jewelry
Multi-award winning Belgian jewelry designer Yves Kamioner is exhibiting for the first time at the JCK in the Design Centre. Previously, for more than six years, he presented at the JCK and other luxury trade shows under the brand name of Sequoia. Kamroner learnt his craft initially with Wolfers, the oldest jewelry manufacturer in Belgium. Later he went on to work for legendary French firm Chaumet. After moving to Beverly Hills, he won the De Beers International Award. In California, Kamioner created numerous designs for Tiffany as well as for several Hollywood stars. Kamioner lives in New York and sells his jewelry under the brand name of Sequoia. His current signature collection comprises more than 80 unique pieces. At the JCK Show, he is exhibiting in particular beautiful diamond jewelry creations in 18 karat yellow gold. www.sequoiajewelry.com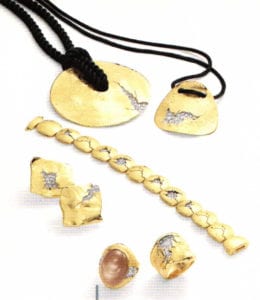 Yves Kamioner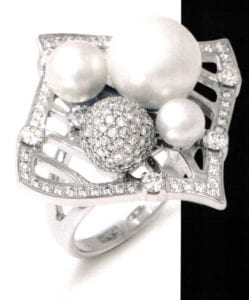 Timothy Meier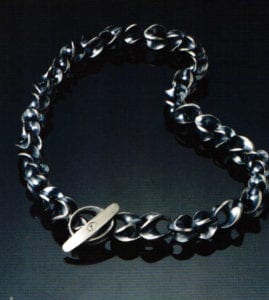 Rifesta
Rifesta – Russia's largest jewelry firm
The firm Rifesta is based in Yekaterinburg and is without a doubt the largest jewelry company in Russia Rifesta produces high quality jewelry in two factories, equipped with the latest technology. They make diamond and gemstone jewelry in the middle prize range for the Russian specialist chain 'Almaz Club'. Under the Rifesta label, the company offers premium jewelry which is sold in its own boutiques in Moscow and Yekaterinburg as well as through wholesalers in more than 200 specialists shops in Russia Rifesta is present at domestic trade shows in Moscow and St. Petersburg as well as at the largest jewelry shows such as Baselworld and the JCK Show.
Timothy Meier – the finest jewelry for real men
Californian designer Timothy Meier was identified as a Rising Star for his excellent men's jewelry collection at this year's JCK Show. The hand made chains, cufflinks, rings, bracelets and belts combine gold, silver and stainless steel with selected gemstones to create extraordinary items of jewelry for men. His pieces are masculine and go lust as well with jeans and a T-shirt as with a suit. These accessories have been developed as everyday jewelry for the generation X and are popular in South California and Australia in particular. According to their designer – a surfer, motor biking fan and artist – these creations represent a piece of the Californian attitude toward life. He employs two trained goldsmiths at his shop in San Diego. All of the items are created exclusively by hand. The men's jewelry sector in the USA is booming and last year grew by a phenomena 221 percent. Timothy Meier Design was founded in 2003. Meier completed studies in art at the University of Michigan and then worked for various jewelry firms in the USA and abroad. He decided early on to devote himself exclusively to the field of men's jewelry. www.timothymeier.com
Annette Pastorini Aiassa – travel memories transformed into jewelry
Californian-born Annette Pastorini Aiassa has Italian-Irish heritage. Her Mediterranean roots are particularly prominent as reflected in her jewelry. Her romantic jewelry is reminiscent of pieces from Antiquity. One of Aiassa's friends once said: "The jewelry looks as if it has been taken straight from an old treasure trove". Artistically cut cameos and corals with motifs from Greek mythology, Murano glass balls, granulated surfaces and gemstones in the form of grapes are reminiscent of the strength of jewelry making in the Mediterranean region. The designer lives on her own vineyard in the eastern foothills of the Santa Clara Valley. This cosmopolitan designer derived most of her inspiration for her jewelry designs from her numerous trips to Southern Europe and North Africa. She concentrates in particular on unique pieces fashioned from 18 karat gold. In 2004, she presented her first jewelry collection. Last year, she was acknowledged as a Rising Star at the JCK Show. Her debut has met with resounding success with her exquisite collection being presented in numerous specialist magazines – she was even featured on the front of the GIA magazine. www.aiassa.com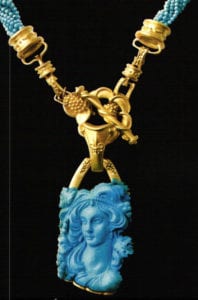 Annette Pastorini Aiassa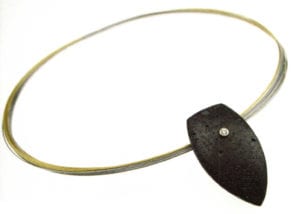 Horizonte
Horizonte – unusual materials for contemporary jewelry
The Swiss artists Andreia Vaz Lino and Roberto Sutter founded Horizonte with the aim of producing unique jewelry which carries real emotional value for the wearer. The team searched worldwide for materials with their own history which have never before been used for jewelry. So fat they have produced six collections which are centered around unique stones in a puristical form. The Albert Einstein Collection consists of items made from cobble stones which once laid outside the Einstein house in the Kramgasse in Bern. The Rhine River Collection uses black granite from the Rhine which contains threads of white quartz. The Swiss Alps Collection comprises granite from the Alps. The Canary Island Collection is made from black porous igneous rock which is frequently found on these islands which lie just off the coast of Africa. The Christopher Columbus Collection focuses on this great explorer with pebbles found in San Sebastian harbor on the Canary Island of La Gomera. Columbus was stationed here during his first trip in 1492, before he discovered the New World. The Philippine Collection is characterized by the use of mussels which are used, amongst other things, for pearl culture. The mussel items are cut into pearls which Horizonte artistically sets in necklaces with gemstones, pearls, silver and gold. www.horizonteswitzerland.com
Sara Blaine – elegance meets color
Seven years ago, Sara Blaine decided to launch an elegant collection of jewelry, together with her husband Mendel. Sara has a comprehensive knowledge of gemstones as well as a unique sense of style. She felt only the most beautiful gemstones would display their true colors, set in 18 karat gold or in sterling silver. Her collections such as 'Rhapsody', 'Gatsby Facets' and 'Royal' quickly became popular. The latter is characterized by a 24 carat blue topaz set in 18 karat granulated gold. Sara's new 'Signature Lace Collection' contrasts significantly from creations by other designers. The magnificent techniques used transform wearing jewelry into a form of art. This season, Sara Blaine is concentrating on color: blue, pink and smoky iolite, salmon topaz, green and purple amethyst, white agate, lime citrine, garnets and sapphire are her stones of choice. She also uses colorful freshwater cultured pearls in her new collection. Elegant design now comes in color with Sara Blaine. An additional feature of the jewelry is its excellent quality: the jewelry is produced by hand on the island of Bali by experienced artists. www.sarablaine.com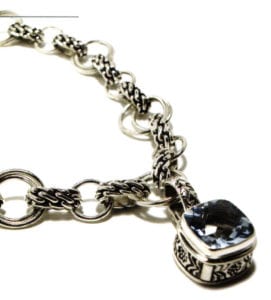 Sara Blaine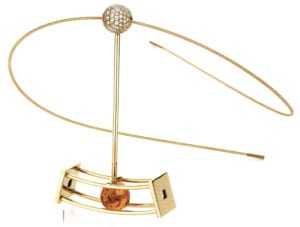 Yael Sonia
Yael Sonia – the fascination of kinetic jewelry
Yael Sonia gained international renown with her initial designs, produced shortly after her graduation from the prestigious Parsons School of Design in 1998. This member of the International Jewelry Design Guild has already exhibited her creations in Brazil, France, Germany, Italy, Spain, Switzerland, England and the USA. Her ingenious kinetic jewelry items have already won several international competitions. In 2002, Yael won the Tahitian Pearl Trophy and the year after she was named regional champion in her homeland of Brazil. Her 'Spinning Wheel' necklace from the 'Perpetual Motion Collection' created a real furor. Inspired by children's toys, the moveable elements bring these high quality items of jewelry to life. Yael's jewelry is sold, amongst other places, in Paris at the Elsa Vanier Gallery, in Buzz Brazil in New York and in Monaco through her representative Adriana Brito. Recently she opened her first flagship store on Madison Avenue in New York. www.goldstein.com
Bernd Wolf – jewelry with its finger on the pulse
Jewelry designer and engineer Bernd Wolf founded his company in 1989 in Stegen near Freiburg in the Black Forest His fascinating, well-crafted collect on with its clear forms has gained international success. Gemstones such as aquamarine, citrine, hematite, carnelian, lapis lazuli, pearls, peridot, topaz and sponge coral play a central role in his works. He buys the colored gemstones himself on-site, from all over the world Bernd Wolf was one of the first to establish the material silver with gold plating on the market more than 10 years ago, knowing that he had found a highly accommodating and durable combination of materials. The exploration of new routes has played a central role ever since he started work as a designer, in terms of his various colored items of jewelry, his multi-row wire necklaces and his collection of unique bracelets, combined with the finest stainless steel wires. In addition to the technical detail, Bernd Wolf also focuses intensively on the symbolism and form of his items of jewelry and their individual meaning. www.berndwolf.de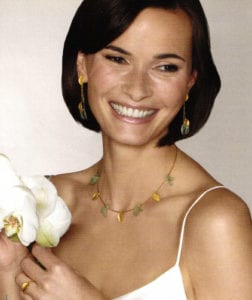 Bernd Wolf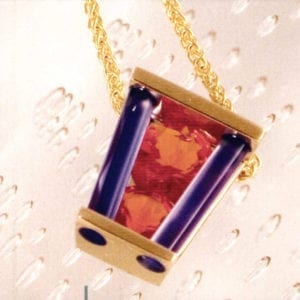 John Kennedy
John Kennedy – cylinders of color
US designer John Kennedy is famous for his gemstones, which are cut into long cylinders. The patented Cyclettes® cut displays gemstones in an unusual light: the stones radiate their magnificent natural colors on all sides. This self-taught designer has also developed special settings which enable the lateral side of the cylindrical stone to remain open to the light. According to Kennedy, it was particularly difficult to find a stone cutter who could create the perfect cylinder forms from the gemstones. After an international search, he found what he was looking for in Idar-Oberstein, Germany's center of gemstone processing and trade. His Cyclettes stones are still cut here today Kennedy's jewelry combines a wide color spectrum of various different gemstones. His favorite stones include onyx, agate and chalcedony He also works with turquoise, tourmaline, fire opal, boulder opal, garnet, citrine and amethyst. In 1985, Kennedy founded his own jewelry design firm in the US state of Massachusetts, in 1991 registered his cylinder cut for patent and two years later was awarded protection for his setting technique for special cuts of stone. Initially, he sold his new line mostly on cruise ships and n the holiday resort of Hawaii. Later, Jewelry galleries also began to discover his unusual designs. A large proportion of his current collection is rings for men. www.jkennedydesign.com
Carolyn Tyler – designing jewelry in Bali
Carolyn Tyler has fulfilled the dream of many artists and established herself in Bali. She first developed an unconscious longing for exotic paradise after reading Aldous Huxley's novel 'The Island' as a teenager. When she visited Bali for the first time in 1989 during an around-the-world trip, she knew right away that she had found her new homeland. In 1993, this then owner of a successful advertising agency in South California decided to completely uproot her life and move to Bali. Initially, she exported jewelry and clothing to the USA. Then, she began to design her own collection of jewelry which quickly gained international success, especially in galleries in Asia and the USA. Her creations almost always focus on striking colored gemstones. "The indigenous people believe that each stone contains a spirit," says Tyler, explaining her weakness for beautiful gemstones. "A gemstone with no faults contains no place for a spirit. Each of my stones has a story, a personality, and I design items of jewelry around this," continues Tyler Her 'Stones on fire' collection is produced on Bali, completely by hand, by native goldsmiths. Some of her designs a so incorporate antique pearls, old coins, unusual fossils, mammoth tusk ivory carvings or rare pearls. She also uses the technique of granulating the gold surfaces to create ethno-look patterns. Some of her designs are inspired by the Balinese culture and the colorful, tropical nature of this paradise island. www.carolyntyler.com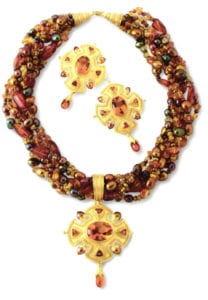 Carolyn Tyler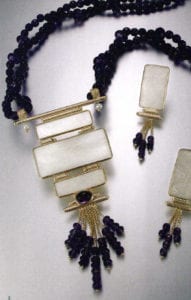 Donna Chambers
Donna Chambers – a design talent
Born and raised in Ossining, New York, Donna Chambers was recognized at an early age by Vera Linens and later by Oleg Cassini for her talents in artistic design. Vera hired Donna as a teenager to create textile designs for her multi-million dollar design operation. Vera established a fund and scholarship in honor of her late husband, and Donna became the first recipient of the George Neuman Scholarship. In the fall of 1968, Donna went to study at Pratt Institute from which she graduated in Fine Arts. In 1976, Donna became part owner of a jewelry repair shop that serviced fifteen neighborhood jewelry concerns in the downtown Brooklyn area, as well as A & S Department Store. Three years later, after having refined her skills, Donna expanded and created the Donna Chambers Collection® of 14 karat gold and pearl earrings and pins. Donna's fine jewelry collection has been carried by major department stores such as Bloomingdale's, Fortunoff's and Saks Fifth Avenue, as well as at jewelry chains from coast to coast. Pieces of Donna's jewelry have been shown at the Smithsonian Institute in Washington, DC and the Boston Museum of Art. Donna has been a winner of The International Pearl Design Contest, a recipient of the 1992 Women's Jewelry Association's Annual Award for Excellence in Manufacturing, and also received the 1995 Blenheim Award for Design Excellence. The Donna Chambers Design Studio has been housed in the same location as her retail store for the last 15 years Jewelers Donna Chambers, Gilberto McFarlane, Virgillio Thomas, and Gail Chambers Redd have all spent the last 20 years together developing the Donna Chambers Collection. www.donnachambersdesigns.com
Toby Pomeroy – nature connected to ancient craft
An accidental jewelry making elective at the University of Oregon was more than a distraction. It derailed the career of fourth-year, pre-med student Toby Pomeroy into the lifelong pursuit as a goldsmith and jewelry designer. Living in the hills and plains of India as a child, Toby was captivated by the way art sans made woodcarvings, furniture, jewelry and brass vessels. They mastered a balance of simple tools, bare hands and imagination to create stunning pieces of design. Observing the craftsmen at work sparked his desire to understand how form is informed by nature. Nature connected to ancient craft left an indelible mark on young Toby. The university jewelry course led to the thirst for making more designs. Toby rented a small cabin on the Oregon coast where hills of trees marched to greet the ocean. Working in seclusion for six months, Toby gleaned lessons of nature and began translating them into jewelry. He formed Tobias Silverworks in 1967 in Eugene and six years later Talisman Jewelers in Corvallis, Oregon. The Toby Pomeroy studio today is a handful of young artists who, fascinated with texture and form, like to work with their hands. Their work is sold in fine jewelry stores, art galleries and specialty boutiques across the country. The San Francisco Museum of Modern Art sells the collection in the design store. Cameron Diaz and Fred Sega in Hollywood have also been clients. www.tobypomeroy.com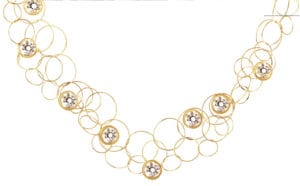 Zil Jewels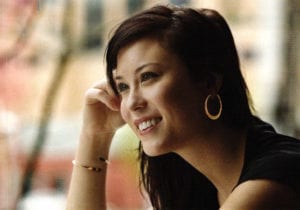 Toby Pomeroy
Zil Jewels – clear lines for modern women
Zil Jewels is a young start-up company from Brazil. The company founders have both switched from other careers. Renata worked in management for the Bank of America for 13 years and Monica was a senior advisor with the Boston Consulting Group Both simply wanted to do something different and completely change their lives. They applied their professional backgrounds in their work and initially explored the market. They also took part in jewelry design courses and educated themselves in gemology. Their company, founded in 2006, was quick to record success. Shortly after being founded, the company began exporting to New York The Zil design team has created something for the modern woman with its colors inspired by the nature of Brazil and location at the site of rare and beautiful colored gemstones. The jewels, set in 18 karat gold, are characterized by elegant and clear timelessness with a certain 'lifestyle' touch. www.ziljewels.com
Aurum Design Jewelry – the whole spectrum of gemstones
The firm Aurum Design Jewelry from Rochester, USA, is dedicated to goldsmithing, as the name suggests. Their comprehensive collection of rings includes engagement rings, colored gemstone rings and lines for men. 14 karat gold in all colors – from white to rose to yellow – is used in the rings. While the line of engagement rings sparkles with high quality diamonds, the 'Spectrum of color' collection impresses with its large striking colored gemstones. The collection for men is characterized by a masculine look, whether in one or two colors. Small white and black diamonds create discreet highlights. www.aurumdesign.com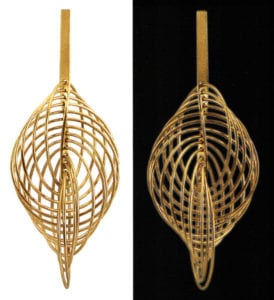 Antonio Bernardo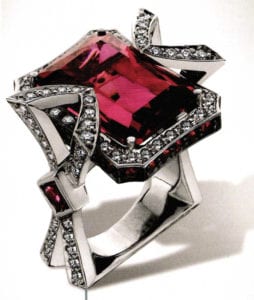 Aurum Design Jewelry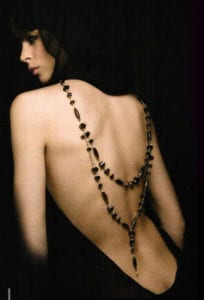 Jorge Revilla
Antonio Bernardo – Brazil's leading designer
The designer and goldsmith Antonio Bernardo combines traditional goldsmithing work with modern design. Bernardo is Brazil's leading jewelry designer. His motifs are often very ornamental. He often draws from mythology or incorporates personal experiences and impressions into his work. The pieces are mostly modern sculptures, Bernardo has been awarded the renowned German iF Design Award for three years in a row from 2004 for his unique ideas. Bernardo has seven shops in Rio de Janeiro and Sao Paulo. He also has representatives in Europe and the USA. www.antoniobernardo.com.br
Jorge Revilla's unusual gold and silver jewels
The Spanish designer Jorge Revilla is known for his unusual gold and sterling silver jewels. In his pieces, he exclusively uses authentic materials such as genuine, colored gemstones. The discerning design and the consistently high quality have made him famous way beyond the borders of Spain. www.jorgerevilla.com