Belle Brooke Barer of Belle Brooke Designs in Los Angeles created a successful union when she brought together 18k yellow gold and oxidized sterling silver in her necklace named for the Greek goddess of marriage, Hera.
The design began with five pear-shaped chrysoprase cabochons and an old sketch of a necklace with triangular links. The original drawing didn't have stones, but Barer quickly drew some in, first set vertically, then shifted to an angle. "On the sixth sketch it all came together for me," she says.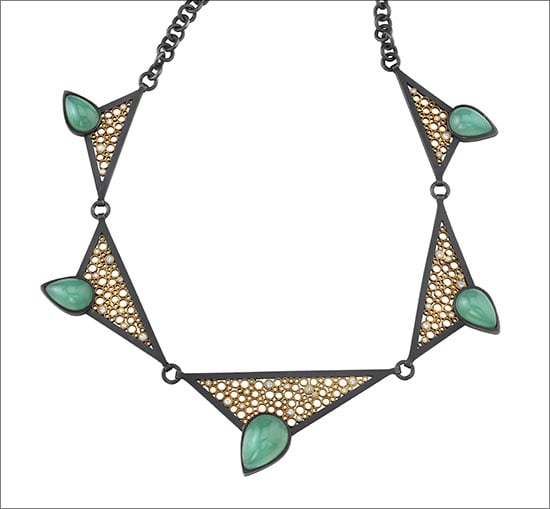 Moving from sketch to metal, the necklace slowly came to life. She focused on the center link first, loosely creating a "golden triangle" — an isosceles triangle in which the ratio of each longer side to the smaller base is the golden ratio (approximately 1.618), a proportion viewed by the ancient Greeks as mimicking nature and creating shapes that are pleasing to the eye. Once satisfied with that link, Barer designed the others so that they were in direct proportion to it. She shaped the links from square 2 mm wide sterling silver wire, cutting out the bottom corner of each triangle. She then constructed bezel settings from 3 mm by 1 mm flat wire backed with 18 gauge sheet, which she soldered to the cut-out corners.
Next came the process of assembling Barer's signature tubing style, what she calls "modern filigree." The filigree in this piece is composed of 18k yellow gold tubes (both open and bezel-set with diamonds) that measure about 2.5 mm long and are of various diameters and gauges. For the open tubes, Barer chose 22 gauge stock with outside diameters of 1.5 mm, 2.5 mm, and 3 mm. She used slightly heavier 18 gauge tubing with either 1.9 mm or 3 mm diameters for the bezel settings, which were placed where she knew she wanted diamonds — 23 0.01 carat stones and 13 0.03 carat stones, for a total of 0.62 carat. Before inserting them, she coated each tube halfway up in paste solder; when they were all in place, she soldered them together.
Using an 8-inch flat file (00 cut), Barer reduced the tubes to a uniform length of 1.8 mm, then sanded them with a flex-shaft (320 grit, then 800 grit). She next soldered 3 mm sterling at each end of the triangles to form the bails that, with sterling rings, would join the links together. She soldered a handcrafted 2.5 inch length of chain made of 18 gauge round wire to each side and attached a purchased lobster claw clasp, giving the necklace a finished length of 16 inches.
After sanding the piece again to clean it up, Barer was ready for stone setting. This phase, she says, will reveal any problems in the filigree: As she applies pressure to set the stones, she'll discover which tubes didn't solder solidly. Because of this, she focused on setting all of the diamonds first, to avoid damaging the chrysoprase during any needed soldering repairs.
Barer matte-finished the silver sections with a sandblaster, covering the chrysoprase with duct tape to prevent them from harm. She then oxidized the silver with liver of sulfur. After she coated the oxidized areas with Renaissance Wax, the union of metal and stones was complete.
"I actually think this is the best piece I've ever made," she says. "This necklace is bold, and I thought naming it after Hera would be fitting. It's kind of regal when it's on, and a bit reminiscent of ancient Greece to me."