I made a hanging tool shelf between my setting and soldering bench. With it off the floor it allows easy access to dropped stones or other small parts. It gives me plenty of room for the Elector GX, and the Gravermax.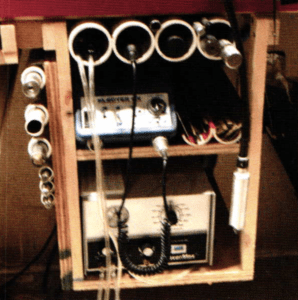 Plus plenty of room for tubes to hold hand pieces, mandrels, and miscellaneous small parts.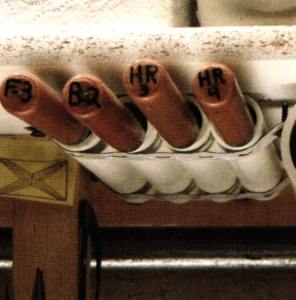 PVC pipe can be used to hold groups of files separate so they don't damage each other. This is 3/4″ ID pipe held to the shelf with steel pipe hanging iron. The hanging iron is held with drywall screws. This holds the pipes that are too small to be individually drilled and screwed on.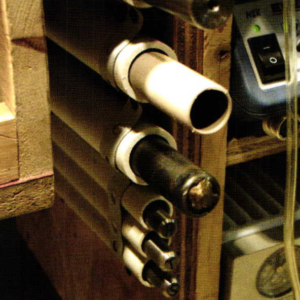 The 1″ PVC tubing used here works nicely to keep your mandrels out of your bench tray but still within close reach. It can easily be attached with steel pipe hanging iron and dry wall screws.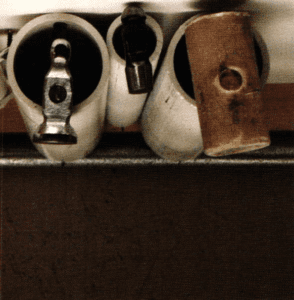 The larger tubing can be drilled individually and used for holding hammers and larger groups of items.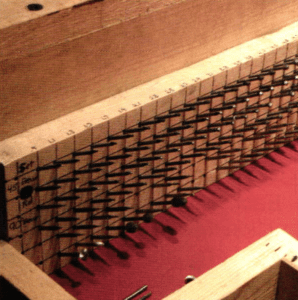 This is a piece of 1 x 4 wood that had a graph drawn on it with % inch spacing. It was placed in a drill press set at a 45 deg. angle. This allows you to store 6 different styles of burs against the side of your bench tray all organized by size and style.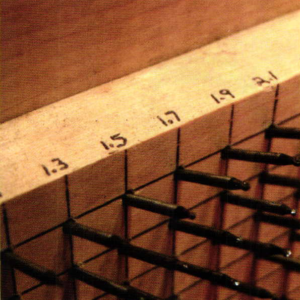 A larger board can be used to increase the amount of storage space and can be mounted other than in the bench tray.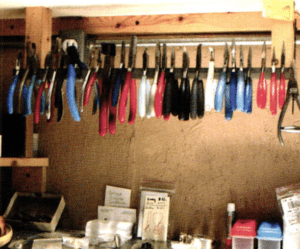 On my bench at home I installed a hanging plier rack to give me more counter top. Plus it gives me 24 in of space to hold pliers, much more than the small bench racks.