Richly detailed portrait sculptures of great American heroes—in solid pewter, solid brass and fine enamels. An heirloom chess set to be enjoyed for generations. Created by the world-famous craftsmen of The Franklin Mint.
THE NATIONAL HISTORICAL SOCIETY is dedicated to bringing the excitement and power of American history—as well as its significance—to people in every part of the land.
It is in keeping with this purpose that the Society is about to issue its own Civil War Chess Set. A dramatic tribute to the heroes of both North and South—and a work all the more intriguing because the playing pieces include richly detailed three-dimensional portrait sculptures of the great Generals of Union and Confederacy, captured for the ages in solid pewter, solid brass and fine enamels.
Major General
William Tecumseh Sherman
BISHOP
General in Chief
Ulysses S. Grant
KING
This extraordinary new chess set will be crafted to the highest standards of quality and historical authenticity. The National Historical Society has appointed The Franklin Mint to create the sculptures, each of which will be a new and original design. Some figures will be shown standing, some seated, some kneeling, some mounted on horseback. And each figure will be painstakingly crafted of solid pewter, hand-finished, then set atop a solid brass pedestal base embellished with a circular band of richly colored enamel—blue for the soldiers of the North, gray for those of the South.
Every sculpture, moreover, will be so rich with authentic detail that only the artists and master craftsmen of The Franklin Mint, steeped as they are in the tradition of precision coinage, could have achieved it. Indeed, every nuance of facial expression, uniform and weaponry—right down to the buttons, braiding, sabers and carbines—will be depicted with meticulous accuracy.
General in Chief
Robert E. Lee
KING
Major General
J. E. B. Stuart
KNIGHT
Thus, The National Historical Society Civil War Chess Set is also a magnificent collection. A triumphant achievement of portrait sculpture—and the ultimate in micro-detailed miniaturization.
A dramatic showpiece for your home or office
The chessmen themselves are scaled so that each one will suit the function assigned to it in the game of chess. And the handsomely crafted, pewter-finished playing board has been sized with equal care. Specially fitted, to also serve as the cover for the case which will house all 32 playing pieces, the board completes a presentation so attractive that the chess set will be played and displayed with pride and satisfaction. A Certificate of Authenticity, and specially written reference materials, will also be provided.
This handsome pewter-finished chessboard and fitted presentation case will be provided as part of the set.
Exhibited on a table or cabinet in your living room, family room, den or office, this is a possession certain to evoke both admiration and respect from all who see it. A unique tribute to unique Americans. A work of heirloom quality, that will bring you endless pleasure through the years. And a chess set eminently worthy of being passed on from generation to generation.
The subscription rolls are now open. The work may be obtained only by direct subscription, with a limit of one complete set per subscriber.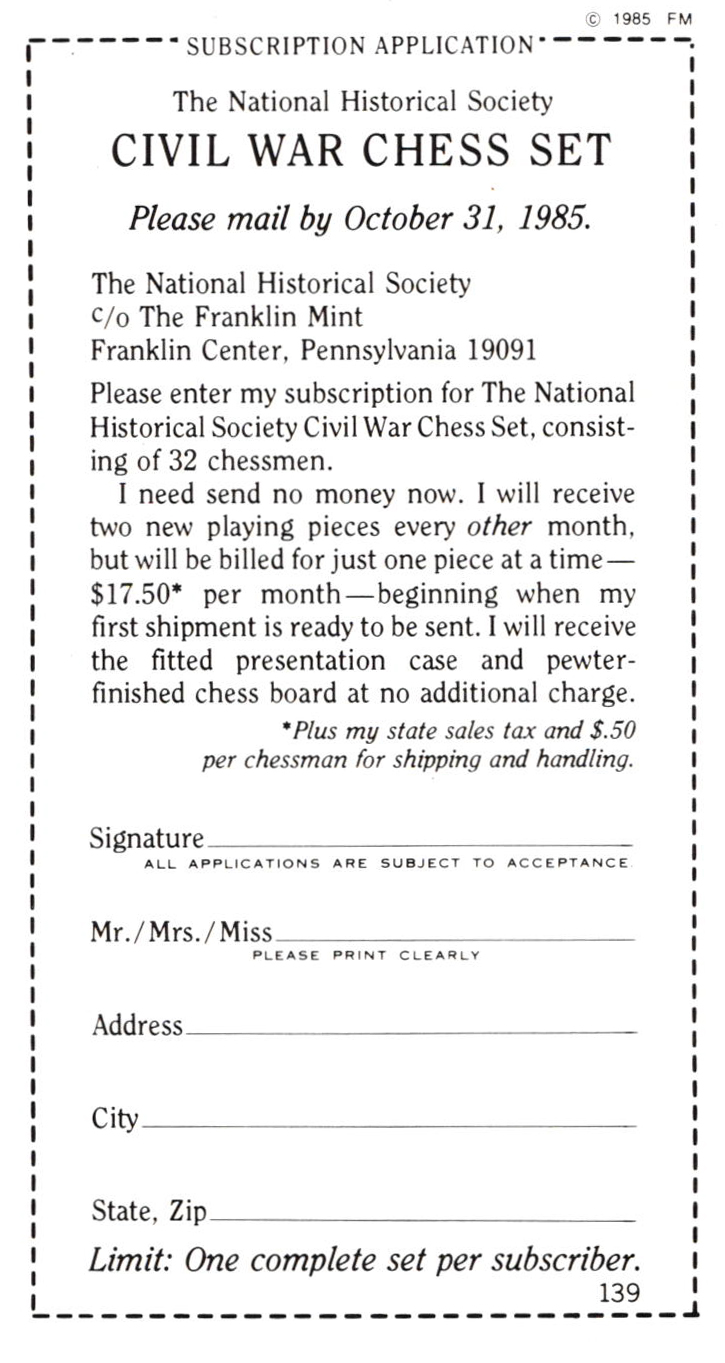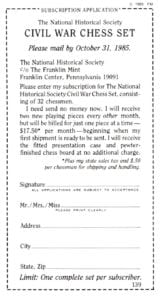 The chessmen will be issued to you at the attractive price of $17.50 each, with the specially designed playing board and protective case provided at no additional charge. As a subscriber, you will receive two sculptured pieces every other month. You will, however, be billed for only one chessman at a time—a total of just $17.50 per month. In addition, you will have the option to complete your set earlier, if you wish—but you will be under no obligation to do so.
Here, then, is a work that will bring lasting pleasure to chess enthusiasts, history buffs, collectors of military miniatures—to anyone who appreciates our nation's heritage. Indeed, it is an unmistakably American chess set, that will make a dramatic addition to any room. And an exciting showpiece that will be displayed, enjoyed and treasured by each succeeding generation.
To acquire The National Historical Society Civil War Chess Set, no advance payment is required. But please note that the accompanying Subscription Application is dated and should be returned postmarked by October 31, 1985.