Large and comfortable – this is the style of the rings created by the Munich-based jewelry designer Angela Hübel. The fact that she succeeds in uniting these apparently barely conformant properties in a high-quality item of jewelry is entirely due to her tenacious focus on perfection.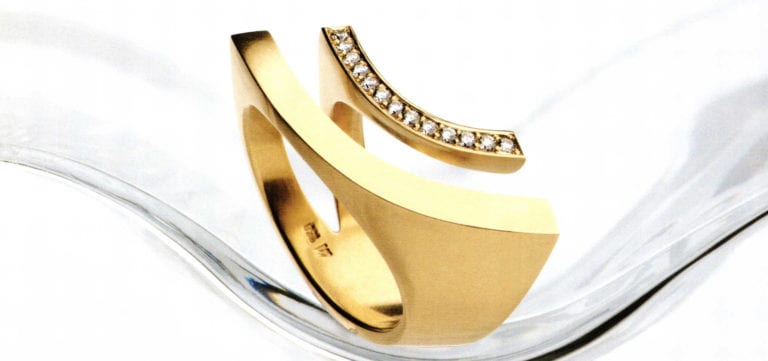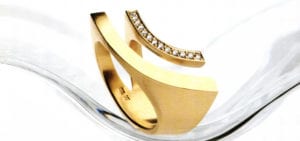 "When I design my rings, I place equal value on the wearing comfort, the formal correctness of the ring as an object, and the harmonious aesthetic interplay between the ring and the hand", is how Angela Hübel describes her work. For more then 20 years the designer is just as tireless as she is consistent when dealing with the comfort of wearing her rings. For some time now, this tenacity has paid off in the popularity of her jewelry. Although just 20 years ago her company was entirely focused around her own person and individual design. the name Angela Hübel is now an internationally recognized term for a willful and intellectually challenging jewelry line. The entire collection of brilliant and colored gemstone rings and the pearl and wedding rings is comprised of around 100 exclusive items of jewelry. New products are added each year. In addition to the high quality of workmanship and material – she only uses the choicest materials such as 18 karat gold, platinum and selected, fine gemstones – Angela Hübel's "sculptures for the hand" are above all characterized by their excellent fit. She even offers the client to choose their favorite ring model for the right or the left hand.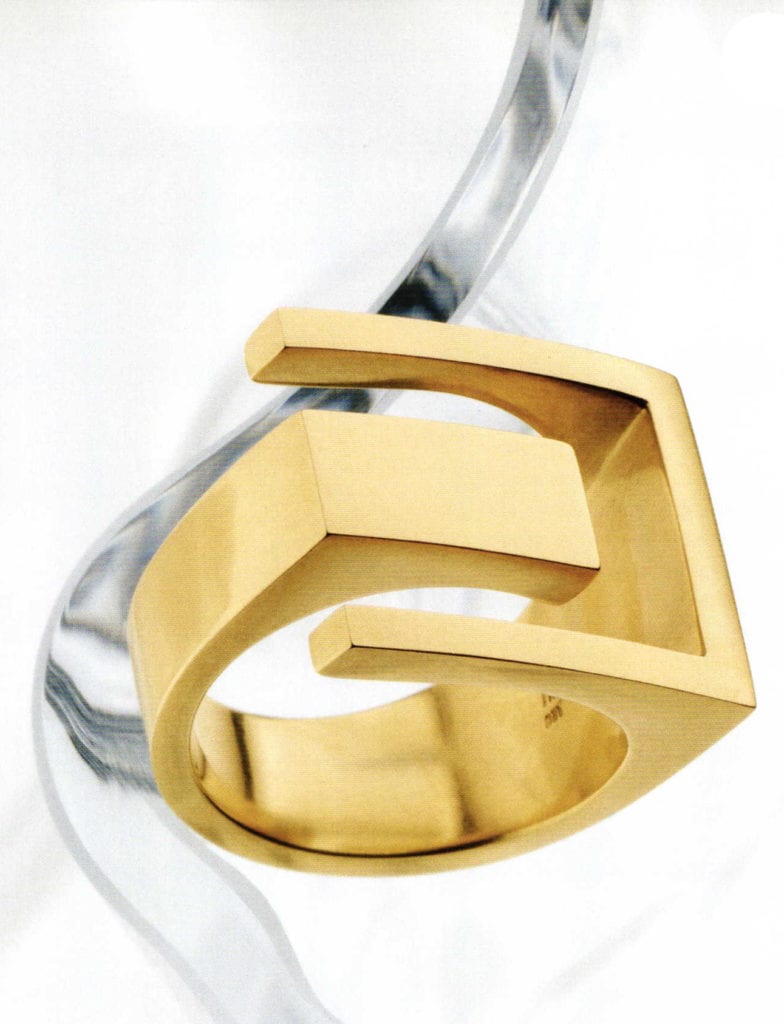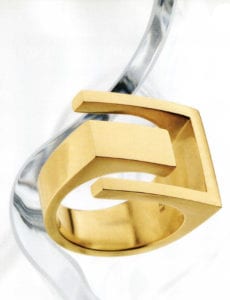 Trendsetter
Angela Hübel's designs have set new trends more than once, and some have established themselves over the years. Real experts can tell by their own physical response whether they are wearing a genuine "Hübel" or not. "I don't even have to look; I just press my fingers together to feel the ring. I don't even realize I'm smiling until the smile is returned", is a quote by the Austrian author Maria Benedickt about wearing an original Hübel ring. Over the last few years, numerous large museums – for example the Museums of Applied Arts in Cologne and Berlin, the Museum of Arts and Crafts in Hamburg or  inakothek of Modern Art in Munich – have recognized Angela Hübel's work by purchasing and exhibiting choice pieces.
Earrings and pendants to match some rings have also been offered for two years now. The sets are just as conclusively designed as the rings. "It stimulates me to continue varying a theme until I've exhausted all the possibilities and created a lovely series of related forms", explains Angela Hübel her methods. Accordingly, the results of her experimental or drawing work are frequently not just one item of jewelry but instead an entire family. For example, for many years now the designer has varied the topic "Between the finger ring" with consistently surprising results. The current collection has the surprising new feature of tourmaline cabochons in raspberry red and rare ocean-green tourmaline. Furthermore, there is also a series of new, purist rings made of gold with and without diamonds.