Alexandra Hart – Crowning Achievement
Putting a spin on tradition, Alexandra Hart of Alexandra Hart in San Diego crafted Bröllopskronan, or Bridal Crown, a regal wedding headdress. The commission from a half-Swedish bride for something unusual but still traditional had Hart exploring her own Swedish roots.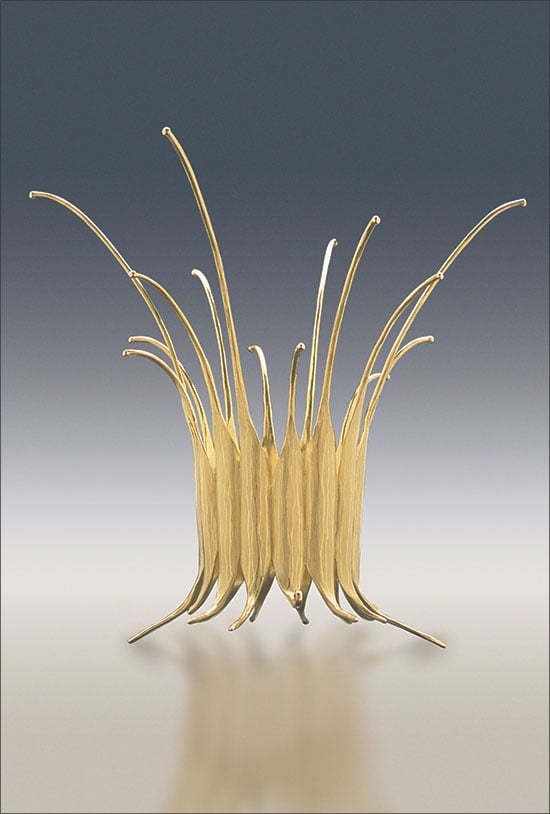 Sketching
She and the client considered many options through sketches before deciding to go with this modern interpretation of a practice that dates back to the Middle Ages, when Swedish brides wore crowns loaned to them by their churches on their wedding days. Alexandra Hart's tiny 18k crown, which measures just 1.5 inches across at its center, quickly shifted from a classic shape into Hart's signature. "The drawings I did were more and more my style — radiating, tendril forms," she says.
Once the sketches were finalized, she built a prototype in sterling silver, working in only recycled metals as she always does. "The silver helped me make one that I thought was exactly what I wanted, but then I could look at it as a whole," she says. Alexandra Hart and the client made a few tweaks to the design before beginning in gold. Because the bride was over six feet tall, Hart decided to lower and widen the crown so it would look better on her head.
Ganoksin is sponsored by
Using the same fabrication techniques she used on the silver prototype, Hart began with recycled 18k 9 gauge round wire cut into 14 sections of varying lengths, ranging from 1.5 inches to 2.5 inches. "I wanted different lengths and, though I could estimate, I didn't know how long my tapered pieces would be after forging." After tapering the tops of the tendrils in a rolling mill, she annealed, rolled, and repeated the process. She then hammered the tops and bottoms of each with a cross-peen hammer to lengthen the wire.
Shaping
At this point, the midsection of each tendril was still round. By pounding it flat with a cross-peen hammer, then annealing and hammering again, Hart changed the shape. "I didn't want the gold to get any longer, only to go wider," she describes. When she was close to the desired thickness, she moved the gold pieces to a flat area to "very deliberately build final texture, being very careful with the hammer marks," she says. "These are the blows you see on the finished piece."
To shape the flat midsections into curves, Hart placed each tendril into a forum constructed of a narrow length of wood with dips in it. Again using a cross-peen hammer, she pounded the middle of each tendril into one of the indentations and shaped it, careful to work on the back side to protect the finish.
Ganoksin is sponsored by
Alexandra Hart then took a flat file to the tendrils, shaping them to meet at an angle that's slightly wider at the top — a detail she determined on the silver prototype. She began soldering the tendrils together into half a crown, holding the shape with a pumice support and using soldering tweezers when necessary. After repeating the process, she joined the two halves.
With the crown formed, Hart continued tapering the tops and bottoms of the tendrils with a planishing hammer over an anvil with a coned end. She then shaped the tops of the tendrils in the wooden form and perfected the curve with plastic-lined half-round pliers.
Final Touch
After nipping the tops and bottoms of the tendrils to length, she beaded the tops with a torch. She tapered and smoothed the bottoms, then bent them away with pliers to fit into a shape that was not only pleasing but could also rest on a head.
Ganoksin is sponsored by
"As a contemporary metalsmith, I never expected to make a crown," says Hart. "But working on this piece gave me a great sense of continuity and connection to both my family's history and to the metalsmiths who came before me."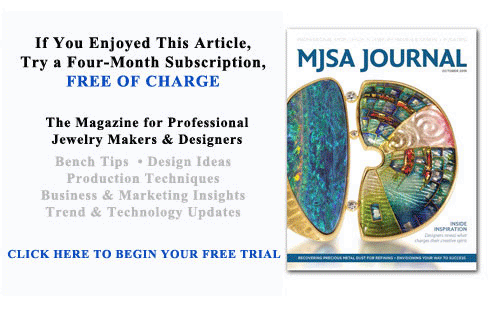 In association with

The award-winning
Journal
is published monthly by MJSA, the trade association for professional jewelry makers, designers, and related suppliers. It offers design ideas, fabrication and production techniques, bench tips, business and marketing insights, and trend and technology updates—the information crucial for business success.
"More than other publications, MJSA Journal is oriented toward people like me: those trying to earn a living by designing and making jewelry,"
says Jim Binnion of James Binnion Metal Arts.