Custom designer Jim Dailing of Bend, Oregon, has been making jewelry for 30 years. For a brief stint during the mid 1980s he did so in a traditional jewelry store that he helped to open. But he soon found that he was not a fan of all the distractions that come with a retail environment, preferring instead to concentrate on the design process and the clients involved in a more intimate setting. His main studio in Portland, Oregon, while mostly workshop space, has a comfortable meeting area for appointments. (He also has a studio in his hometown of Bend, splitting his time between the two spaces.)
Although he did not set out to specialize in wedding rings, his business evolved in that direction. For Dailing, the stories his customers share about their relationships motivate his art. During initial client meetings, which usually run from 30 to 60 minutes, talk of jewelry may not surface for quite a while.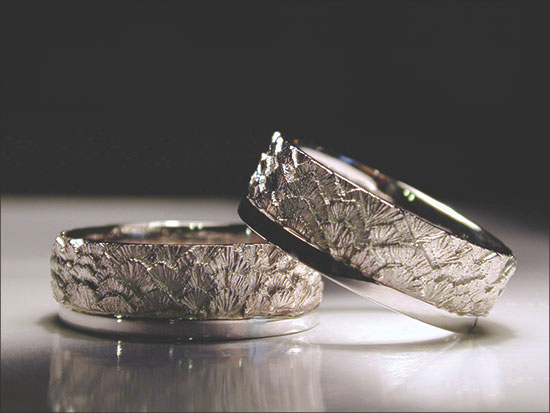 "We might discuss hobbies, art, architecture, or gardening," he says. "It's a great icebreaker, and a way to get to know the couple to create something that is really about who they are as individuals."
A teacher at the University of Portland and for private design students, Dailing especially enjoys educating his clients about the many possibilities in design styles and materials. Using a flat screen computer, he shares his portfolio with couples at the initial consultation as a way to brainstorm ideas for their rings.
Origin of the Story Rings
Dailing schedules a second meeting two weeks out, giving him and his clients time to consider their conversation. He might also assign homework to them to identify a symbolism or narrative that best expresses their relationship. This exercise has revealed some of the most intriguing designs in bands that Dailing has come to call his "story rings." He shares the example of a couple of avid birdwatchers that are into photography. "For our second meeting, I had them bring in something that would symbolize their pastime, and they chose their favorite close-up shot of a bald eagle," he recalls, noting that this image inspired him to carve stylized eagle feathers around their bands (above, middle).
Another couple wanted to express where they both came from. "One lived in the southwest desert, the other on the Oregon coast," he explains. "The red rock of the southwest inspired a band in red gold and the coastal area inspired a component in white gold, for each to give the other a bit of themselves in their wedding rings."
Dailing says a third of his clients choose this route, offering a specific idea or concept of how they want the rings to look. "Usually those who don't have a clue what to do are the most exciting projects," he says. "They're typically the ones who are more willing to do something different." While others, who like his aesthetic — which he describes as European in style — opt for simpler bands, usually in a satin finish or hammered texture.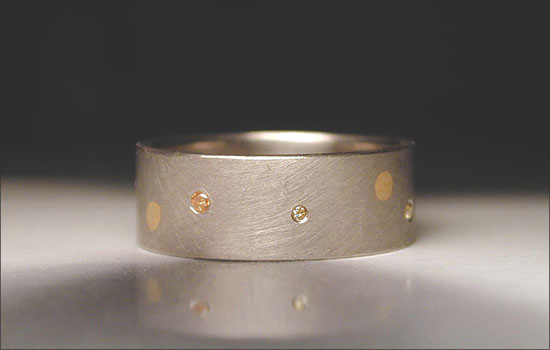 Creating the Story Rings
Once a design idea is decided on, Dailing will make a prototype in silver or carved wax. (He usually opts for the latter when a design is more sculptural and will need to be cast from a hand-carved wax.) "For many years I used to sketch designs for clients, but most of them wanted to know what it would look like on their hand," he says, noting that prototypes give them something tangible. "I try to get as close as I can get to what I perceive they want. If subtle modifications are needed, we can usually fine tune while the prototypes are on hand."
Interestingly, almost all of Dailing's clients go with one ring for the bride, as opposed to the traditional engagement and wedding set. "They're really not interested in the rock," he says of the engagement ring. "It's not about status." He notes that couples often use a part of an old piece in their rings for sentimental value, so he does a lot of gold recycling, which he reports is on the rise.
So much of what Dailing does is by referral. But he hails the Internet as a godsend for its social networking and linking opportunities. "I spend about 90 minutes a day on e-mails I receive via my website," he says. About one quarter of his business is from out of state. Void of face-to-face meetings with those clients, the Internet, telephone, and postal service become important modes of communication to get the job done.
Whether the clients are neighbors or live across the country, Dailing says the satisfaction of capturing their stories in rings that are as unique as the people who wear them keeps him inspired and energized every day.